Zaccagnini Lacrima di Morro d'Alba is one of Italy's most unique wines, and that says a lot: Italy grows more wine and possesses more indigenous vines than any other wine producing nation. Grown by a long-time family vintner on hillsides where wine has been produced for thousands of years, the 2007 Zaccagnini Lacrima di Morro d'Alba is a superb example of its D.O.C. appellation and the rare Lacrima di Morro d'Alba grape. Produced in a very limited area north of the ancient city of Jesi in Italy's Marche region, this intense red with a ruby and violet hue possesses a wonderfully alluring olfactory reminiscent of rose petals and violets. Even more captivating is the wine's smooth, distinctive mid-palate that offers up positively seductive flavors in which blueberry and blackberry tones blend artfully with fine floral characteristics and a touch of sandalwood. Made only from Lacrima grapes, Zaccagnini's Lacrima is a wine to be both cherished and remembered. This pleasing, positively unique offering should age for up to three years or more, but why wait? The wine is absolutely entrancing right now. In order to fully partake of the crescendo in your glass, we suggest you allow the 2007 Zaccagnini Lacrima di Morro d'Alba at least thirty minutes of aeration before consuming. Enjoy!
Among classicists and modernists alike the prevailing sentiment is that "Sancerre is made for seafood," and frankly there is hardly a better wine to pair with seafood than Sancerre. At the risk of sounding parochial, we could hardly resist the 2007 Domaine Moreux Les Bouffants with Pan Roasted Sea Scallops, served with saffron risotto, baby carrots, and sautéed spinach; Steamed New Zealand Green Lipped Oysters, prepared with a tomato, fennel, and crème fraîche; or just plain old-fashioned smoked salmon. In fact, just about any white fish or shellfish, including lobster, provides the ideal complement to Moreux's classic Sancerre. With such wine and seafood one might be tempted to re-think one's definition of paradise. Yet, why not ask for more? After all, Domaine Moreux's Sancerre is more than just a seafood wine. It pairs beautifully with sweetbreads, country pâtés and smoked meats; and it easily doubles as an aperitif par excellent. Last but hardly the least, we suggest you finish a bottle of Moreux's delicious Sancerre with Crottin de Chavignol – it is not to be missed. Bon Appétit!
Family owned and operated since 1964, Zaccagnini has become one of the Marche's foremost producers. Set amidst the rolling hills around Staffolo, a historic village said to be named after Staphilus, son of Bacchus, the winery benefits from decades of winemaking experience and a large selection of diverse, outstanding vineyard sites. Operated by Mario Zaccagnini with the help of his son Franco and daughter Rosella, the Zaccagnini winery is renowned throughout the Marche region as the leader in fashioning authentic, high quality Marchesan wines from indigenous grape varieties. The most interesting of these rare varietals is Lacrima di Morro d'Alba. From the name one might think the origin of this grape lies in Italy's Piedmont, but alas there appears to be no connection to Alba, the Piedmont's unofficial wine capital, or to any Piedmontese grape variety for that matter. So, we suggest you simply appreciate Lacrima di Morro d'Alba on its own terms and enjoy the ardent adventure and exquisite gustatory pleasure that this unique grape provides. The Marches The Marches is the green, picturesque region of central Italy that lies wedged between the Apennine spine of the Italian peninsula and the cliff studded coast of the gleaming Adriatic Sea. Aside from the two month onslaught (in July and August) of Italian and Teutonic tourists that descend upon the coastal regions of the province, the Marches remains an oasis of calm, rural charm, art, religious shrines, fine food, and of course excellent wines – the very glories of Italy. The most important wines of this rural oasis that sits just due east of Florence are Rosso Piceno, the most authentic and traditional of the region's wines; Rosso Conero, an even more robust version of Rosso Piceno in that its cépage is the same as Rosso Piceno, except here the Montepulciano grape plays the dominant character and Sangiovese the supporting role, whereby, the opposite is the case with Rosso Piceno; Lacrima di Morro, a rare local grape variety that produces tiny quantities of perfumed wine with enormous grace and charm; and finally Verdicchio, the quintessential fish wine that hails from two distinct DOC's: Castelli di Jesi and Matelica. Verdicchio from either region can be quite good, depending upon the producer, but by and large Matelica remains the source of the finest, fullest, and most authentic Verdicchio – a wine that also happens to be the Marches most compelling white wine, especially with seafood for which the Marches is justifiably renowned.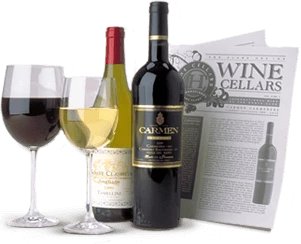 Enjoy Limited Production Estate
Bottled Wines
Discover limited production estate bottled wines such as Vergenoegd's internationally
acclaimed 2005 Cabernet Sauvignon, imported exclusively for our members.
DISCOVER OUR FOUR CLUBS