An exceedingly impressive barrel fermented Chardonnay from a pioneering Walla Walla producer, the 2014 Woodward Canyon Washington State Chardonnay positively sings from the glass. The show begins with the wine's attractive hue and follows up with tantalizing aromas of freshly picked apples and pears, brioche, and hazelnut. The bouquet on this wine alone sealed the deal for us. However, wait until this vibrant, complex Chardonnay has a chance to work its magic on the palate. Superbly integrated vanilla tones complement the wine's juicy fruit and vibrant acidity to enliven the palate. Burgundian in style, Woodward Canyon's 2014 Washington State Chardonnay offers a delightful set of complex flavors in the form of orchard and stone fruit flavors, lightly buttered toast, and subtle hints of spice before exiting with a long, racy flourish. The recipient of numerous 90+ ratings, including Editor's Choice and 91 points from Wine Enthusiast as well as 91 points from Wine Advocate, the 2014 Woodward Canyon Chardonnay is indeed special and quite enjoyable now, but one need not be in a hurry as this rock solid Chardonnay has plenty of years of life ahead of it and is just now beginning to hit its stride. For optimal enjoyment, we suggest moderate chilling (40°-45° F) before allowing the wine to unfold gracefully in the glass. The patient taster will be more than amply rewarded. Enjoy!
Although the 2014 Woodward Canyon Washington State Chardonnay needs no accompaniment to shine, it is truly the ideal wine to serve with the finest seafood, poultry and more. Sea Bass prepared with a red pepper beurre blanc served over creamy tarragon infused polenta gets our nod as does almost any fresh caught fish served in a warm cider emulsion with mussels, leeks, apples, hazelnuts, ginger and pearl barley. The spice elements in the wine ideally complement the complex notes in the dish. However, one need not be a gourmet cook to enjoy to the fullest Woodward Canyon's extraordinary Chardonnay. Sautéed scallops as well as a simple crab or lobster BLT on a buttery croissant also make splendid companions to Woodward Canyon's vivacious 2014 Washington State Chardonnay. Creamy chicken dishes and salads provide more winning combinations with this wine. And when cooking is not an option, break out the finest creamy cow's milk cheeses, apples and pears to accompany the 2014 Woodward Canyon Washington State Chardonnay and no one will be disappointed. In fact, they may thank you for allowing them to enjoy this wine unencumbered.
Woodward Canyon is named for the canyon that Rick Small's family farmed and where their estate vineyard now stands. Rick, a third generation farmer, planted the first forty-one acres of the Woodward Canyon Estate Vineyard in 1976 on his family's dryland wheat ranch. Rick Small and his wife Darcey established the winery in 1981 and were instrumental in creating the Walla Walla Valley Appellation by obtaining federal approval for what is now one of the nation's most important viticultural areas. Woodward Canyon Winery was just the second winery to open in the now renowned Walla Walla Valley. Since then Woodward Canyon has consistently fashioned distinctive, age-worthy Chardonnay, Cabernet Sauvignon, and Merlot that garner great critical acclaim and are highly sought after.
Although Woodward Canyon Winery is one of the oldest wineries in the appellation, it has consciously remained small, increasing its production slowly from 1,200 cases in 1981 to approximately 15,000 cases today. Its primary focus is growing world-class Chardonnay, Cabernet Sauvignon and Merlot, while Cabernet Franc, Barbera and Sauvignon Blanc also make their home at Woodward Canyon. Woodward Canyon's Estate Vineyard is Certified Sustainable by LIVE and is Salmon Safe. The Smalls are also implementing organic and bio-dynamic farming practices at the Estate Vineyard. They also supplement their estate fruit with purchased grapes from select growers and are in partnership with Champoux Vineyard, which lies on the other side of the Columbia River in the Horse Heaven Hills appellation.
Since 1998, Woodward Canyon has also produced wines under the Nelms Road label, namely Merlot and Cabernet Sauvignon made for early consumption from young vines or declassified estate fruit.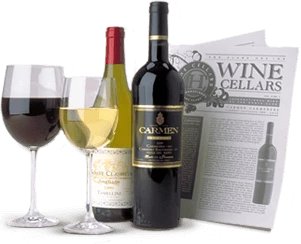 Enjoy Limited Production Estate
Bottled Wines
Discover limited production estate bottled wines such as Vergenoegd's internationally
acclaimed 2005 Cabernet Sauvignon, imported exclusively for our members.
DISCOVER OUR FOUR CLUBS