An excellent vintage for Sauvignon Blanc, the 2004 autumn in New Zealand produced a Wither Hills Marlborough Sauvignon Blanc that sports a pale yellow robe, with a sparkling green hue, brilliant clarity, and oodles of flavor. What's more, a vibrant bouquet of citrus and tropical fruits, with hints of cut grass and capsicum, delights the nose. On the palate, the Wither Hills exhibits crisp elegance, excellent weight, and considerable mouth feel. A bevy of concentrated tropical fruit flavors dominate its flavor profile. Lemon, lime, grapefruit, and pineapple flavors marry beautifully with herbs and a very pleasant grassiness for which the Sauvignon Blanc wines of Marlborough are famous. A crisp refreshing finish that lingers pleasantly in the mouth completes the picture and makes you wish you had another bottle or two of the Wither Hills because one bottle may simply not be enough. We suggest serving the 2004 Wither Hills Sauvignon Blanc well chilled (35°- 40° F), especially on warm days.
Sauvignon Blanc is made for summer or is summer made for Sauvignon Blanc? In either case, the two are inseparable in our minds, so bring on all the salads, seafood, barbecue, and cold pasta dishes you can muster with the 2004 Wither Hills Marlborough Sauvignon Blanc. For a genuine treat, boil up the lobster pot and chill down the Wither Hills. Copious quantities of boiled or steamed lobster, served with drawn butter, fresh corn, and a cold asparagus salad, is all the tasting panel needs to be happy. After all, our tastes are truly simple; we like only the best. Other enjoyable pairings include spaghetti with white clam sauce, shrimp on the barbie, and oysters just about any way you like them or care to prepare them. For the more adventuresome, Spiced Tilapia, drizzled with cilantro and mint vinaigrette, provides another excellent accompaniment. California rolls, Asian stir-fries, and most traditional Japanese fish, vegetable, and noodle dishes offer other splendid choices, so call a friend and have some fun.
The Wither Hills Winery is named after the range of starkly beautiful hills that ring the southern portion of the Wairau Valley. This is Marlborough Country, where vines flourish under ideal conditions. The Wither Hills provide a pristine environment for viticulture that is unmatched anywhere else. Amid cool translucent waters, green grass, and blue skies, one sees the very surroundings reflected in the outstanding Sauvignon Blanc, Chardonnay, and Pinot Noir produced at the Wither Hills Winery. Surprisingly, grapes are relatively new to both Marlborough and the Wither Hills. In fact, it was not until 1978 that grape growing was actually introduced to Marlborough by viticulturist John Marris. Soon after, Marris's son Brent was inspired to pursue a career in winemaking and became the first certified winemaker in Marlborough. In 1994, Brent established Wither Hills as his own brand, combining his own winemaking skills with his father's viticultural expertise. Since its inception, Wither Hills has enjoyed a well-deserved reputation for excellence, which is reflected in enormous critical acclaim and a long list of Trophies and Gold Medals.
Situated on the northern tip of New Zealand's mystical South Island, Marlborough enjoys a unique dry maritime climate. High mountains isolate this enchanted land from the cold alpine interior of the rest of the South Island, while the spectacular Marlborough Sound to the north provides a conduit to the sea as well as the planet's most majestic view of New Zealand's North Island as it soars skyward across the Wellington Straits – a sight that ranks as one of the world's most stunning vistas. Moreover, Marlborough is about as close to viticultural paradise as one can find, especially for white wines. Marlborough's sunny but not excessively hot growing season provides nearly ideal conditions for grape growing. The average summer daytime temperature hovers between 24° C and 28° C (72° - 80° F) depending upon one's altitude and proximity to the sea. The air is crystal clear and the light luminous; with nary an overcast day let alone much rain during the long growing season. Cool nights keep acid levels high in the grapes, even as sugar levels rise abruptly. Such conditions lend themselves to a long growing season, which provide slow even ripening and extended hang time for the grapes. The result is ripe healthy fruit with fresh vibrant fruit flavors and a crisp herbaceous zing. In addition to its superb summer climate, Marlborough also boasts excellent soil for grapes. Most of Marlborough consists of silty, free draining alluvial loams over gravelly sub-soils. In addition, river stones lie scattered throughout Marlborough, remnants of the many rivers that once coursed through the pretty valleys of Marlborough. These river stones store heat from the warm sunny days and radiate that heat back into the vineyards at night, thereby providing a unique microclimate and terroir, much like that of Châteauneuf-du-Pape. And the French thought they had a monopoly on terroir; we think not.
For ardent cheese enthusiasts, what could be better than an assortment of international cheeses to accompany the 2002 Landskroon Cabernet Sauvignon? Cotswald Pub Cheese, Dutch Gouda, and French Pont-L'Eveque are just a few of our favorites with this South African gem. The latter, Pont-L'Eveque, is especially tasty with the Landskroon as both the wine and the cheese are full-flavored and rich in texture. On account of its many attributes, Pont-L'Eveque has been called a cheese lovers cheese. For other great cheese selections, contact our international gourmet cheese of the month club at www.cheesemonthclub.com, and enjoy the good life!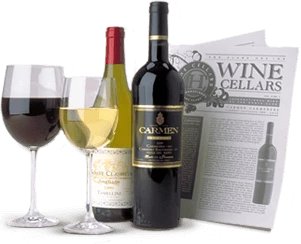 Enjoy Limited Production Estate
Bottled Wines
Discover limited production estate bottled wines such as Vergenoegd's internationally
acclaimed 2005 Cabernet Sauvignon, imported exclusively for our members.
DISCOVER OUR FOUR CLUBS