The 2003 Whitford Haynes Vineyard Pinot Noir is no lightweight, wimpy, fruit bomb of a Pinot. Rather, it is California Pinot Noir at its best. This substantial single vineyard offering possesses a rich robe and a deep down amplifying bouquet that a number of tasters described independently as "simply fantastic," and that accolade may even be a bit modest. A heaven scent of ripe black cherry fruit, oriental spice, and a gentle waft of vanilla tantalize the nose. And better still, a beautiful well integrated tactile feel coats the palate and imparts a whole array of complex flavors, beginning with what one panel member aptly describes as "the very essence of Pinot Noir." In short, the 2003 Whitford Haynes Vineyard Pinot Noir is a rare Pinot; it is wrought with the dynamism of delicacy and power, as well as sensual allure. For maximum pleasure, enjoy this superb example of New World Pinot Noir at no more than 66º F. A half hour or more of aeration will certainly improve this wine, but it is so good straight away, hardly anyone will notice if it has breathed, let alone complain.
Food and wine are natural companions. One without the other is generally regarded as seeing only half the equation or more precisely is viewed as experiencing just half of the pleasure, and this is certainly true of the 2003 Whitford Haynes Vineyard Pinot Noir. Indeed, one could quite happily, if not ecstatically, sit and consume as much of a bottle of this wonderful Pinot Noir as his or her fellow imbibers would permit, but Whitford's Haynes Vineyard Pinot Noir is so perfect with certain foods that it would be a real shame not to enjoy it with several well-selected accompaniments. Our premier choice then with Whitford's masterful Pinot Noir is a very fresh lightly grilled tuna steak, served with mango jalapeño chutney. The tropical fruit flavor of the mango accentuates the oriental spice and complexity in the wine; at the same time the gentle use of jalapeño magnifies the fruit in the wine and highlights the fresh broad flavor of the tuna itself. Salmon, pork, and even lamb provide other excellent accompaniments to this well endowed Pinot Noir, so as you like it.
All of Whitford's wines are the progeny of the outstanding Haynes Vineyard, which is located in the Coombsville area of Napa Valley. This small 43-acre vineyard has been in the same family since 1885 when James Whitford, the grand uncle of the present owner Dunc Haynes, purchased it from Nathan Coombs for a little more than $3,000. For most of its history the Haynes Vineyard has done double duty, serving both as a vineyard and a prime source of almonds, peaches, and prunes. In addition, it has acted as a personal refuge for the Whitfords (Dunc Haynes' mother's family) during hard times, mostly notably in 1906 when the fire that followed the legendary San Francisco earthquake destroyed the Whitford's San Francisco home. Today, the Haynes Vineyard, which was totally replanted in 1967 by Dunc Haynes, reigns as one of Napa Valley's greatest single vineyards. Its cool microclimate and unique soil composition make it ideal for the cultivation of cool climate grapes such as Chardonnay, Pinot Noir, and Syrah. Not surprisingly, these three noble grapes are the only ones grown at Whitford.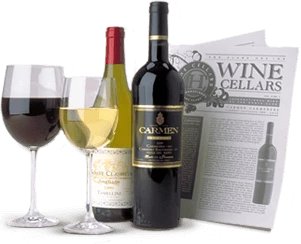 Enjoy Limited Production Estate
Bottled Wines
Discover limited production estate bottled wines such as Vergenoegd's internationally
acclaimed 2005 Cabernet Sauvignon, imported exclusively for our members.
DISCOVER OUR FOUR CLUBS