The 2002 Whitford Haynes Vineyard Chardonnay is no ordinary California Chardonnay; so forget the lightweight candied fruit and the overbearing vanilla oak that oppress far too many New World Chardonnays. Instead, savor the scent and flavor of a limited production, truly remarkable, 100 % barrel fermented Napa Valley Chardonnay that puts to shame the majority of its California counterparts. Moreover, the recently released 2002 Whitford Cellars Chardonnay is at the peak of its prowess: Whitford does not release its Chardonnay until it is ready for consumption. Hence, this substantial single vineyard offering possesses great color, sophisticated flavor, and tremendous texture – all of which recall the tradition of the finest white Burgundies. The scents of apple, pear, hazelnut, and vanilla cream all come to fore in this heavenly wine. And better still, a beautiful well integrated tactile feel coats the palate and imparts a whole array of complex flavors, beginning with what one panel member described as "the symphony in my glass." In short, the 2002 Whitford Haynes Vineyard Chardonnay is the rare California Chardonnay that can hang with the best white Burgundies; it possesses both a body and a soul, which are worth discovering. For maximum pleasure, enjoy this superb Napa Valley Chardonnay at approximately 40º- 45º F.
Food and wine are natural companions, and this is especially true when the wine in question is a mature high quality Chardonnay like the 2002 Whitford Haynes Vineyard. Certainly, one could easily and ecstatically consume copious quantities of this wine without the benefit of tender morsels, but when Sautéed Lobster is served in a broth of savory succotash, with polenta, garlic butter, and fried pasta, it becomes difficult to image that fine wine alone, even the 2002 Whitford Haynes Vineyard Chardonnay, is truly better than the same wonderful wine in the company of a great meal. Truly, who among us is content with half the pie when we can have it all? Other faithful accompaniments to Whitford's Haynes Vineyard Chardonnay include Alaskan King Crab Legs, served with drawn butter; Sautéed Halibut, served with a creamy corn sauce and accompanied by a Monterey Jack cheese and potato cake; and a Free Range Chicken Breast, stuffed with herbs and duck confit, and served over a bed of creamy mashed potatoes. Almost any pasta with an Alfredo Sauce provides innumerable pleasure as well. Enjoy!
All of Whitford's wines are the progeny of the outstanding Haynes Vineyard, which is located in the Coombsville area of Napa Valley. This small 43-acre vineyard has been in the same family since 1885 when James Whitford, the grand uncle of the present owner Dunc Haynes, purchased it from Nathan Coombs for a little more than $3,000. For most of its history the Haynes Vineyard has done double duty, serving both as a vineyard and a prime source of almonds, peaches, and prunes. In addition, it has acted as a personal refuge for the Whitford family (Dunc Haynes' mother's family) during hard times, most notably in 1906 when the fire that followed the legendary San Francisco earthquake destroyed the Whitford's San Francisco home. Since the early 1940's Dunc Haynes has worked the land at Haynes Vineyard. During World War II, Dunc harvested prunes from the property and later, while attending law school, he worked summers at the estate. Later, the prune trees were uprooted and the land leased for cattle grazing. In the 1960's, when property taxes began to exceed the rental revenue, Dunc decided to plant the existing vineyard. He consulted U.C. Davis and one of his law firm's more renowned clients, Louis M. Martini. Martini wisely advised Dunc to plant Chardonnay and Pinot Noir, since they were perfectly suited to the vineyard's cool climate. Happily, Dunc followed Martini's advice and Haynes Vineyard was born. In the first two decades of its existence, Haynes Vineyard was the source for Stags Leap Wine Cellars' many outstanding and award winning Chardonnays. It became quickly apparent to everyone, including Dunc, that the Haynes Vineyard possessed an extraordinary terroir. After several decades of growing fruit for one of Napa Valley's most prestigious and expensive winery's, it was time for Dunc Haynes to produce and bottle his own wine; hence, the birth of Whitford Cellars. In the early 1990's, the legendary Andre Tchelistchef was responsible for making Whitford's wines, but since 1997 Ken and Teresa Bernards have been at the winery's press and pump. Ken and Teresa are two of California's most respected winemakers. In addition to overseeing all of Whitford's 1,500-2,000 case production of wine, the Bernards also fashion limited quantities of their own wines, which bear the Ancien label. Both Ancien and Whitford are entirely produced and bottled at Whitford Cellars. Today, the Haynes Vineyard reigns as one of Napa Valley's greatest single vineyards. Its cool microclimate and unique soil composition make it ideal for the cultivation of cool climate grapes such as Chardonnay, Pinot Noir, and most recently Syrah. Not surprisingly, these three noble grapes are the only grapes grown at Whitford Cellars.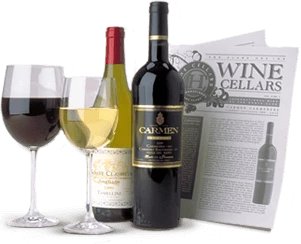 Enjoy Limited Production Estate
Bottled Wines
Discover limited production estate bottled wines such as Vergenoegd's internationally
acclaimed 2005 Cabernet Sauvignon, imported exclusively for our members.
DISCOVER OUR FOUR CLUBS