Always quintessential Sonoma Chardonnay, Walt's 2018 Sonoma Coast Chardonnay (92 points – Wine Enthusiast) truly dazzles the eyes, entices the nose, and caresses the palate. Radiant and sun splashed in the glass, the 2018 Walt Sonoma Coast Chardonnay emits an intoxicating array of floral and fruit aromas in the form of acacia, forsythia, pineapple, and pear, with delicate infusions of toasted hazelnut and creamy vanilla, too. The wine's palate appeal is no less attractive, exhibiting a delightful mélange of apple, pear and tropical fruit tones along with a suave creamy texture that plays counterpoint to hints of spice, crème brûlée, and well-integrated acidity, all of which leave the mouth refreshed and pleading for more. Elegant and vivacious, Walt's 2018 Sonoma Coast Chardonnay could easily be the poster child for classic Sonoma County Chardonnay. For optimal enjoyment of Walt's award winning Chardonnay, we suggest only moderate chilling (40°-45° F) before allowing it at least several minutes in the glass to fully yield its considerable charms and focused, nuanced flavors. Enjoy!
Walt's 2018 Sonoma Coast Chardonnay needs little to shine, which comes as no surprise to those familiar with Walt. Consummate Chardonnay lovers won't be able to get enough of this wine, with and without food. But why settle for half the pleasure when you can have it all? Walt's 2018 Sonoma Coast Chardonnay pairs beautifully with seafood, salads, poultry, cheeses, and rich creamy dishes. Classics such as Charleston Shrimp and Grits and Cedar Plank Salmon provide ideal companions. Jumbo Lump Crab Cakes and Pan Seared Scallops over a seasonal risotto with beurre blanc also earn two thumbs up. A well-made Cobb Salad or heart healthy Pear Salad with baby spinach, Anjou pears, candied walnuts and mild bleu cheese offers another splendid accompaniment to Walt's food friendly 2018 Sonoma Coast Chardonnay. A thick Butternut Squash soup makes a tasty pairing, too. And for the minimalists among us, for whom less is better if not more, consider serving several of the world's finest cheeses such as a buttery Camembert, Brie, Cheddar, Mt. Tam or Saint André. For a little more variety, add slices of mountain apples and ripe Anjou pears. Bon appétit!
Walt is an outstanding boutique producer of hand-crafted Chardonnays and Pinot Noirs from a growing number of California's premier vineyards in Anderson Valley, the Sonoma Coast, the Santa Rita Hills, and Oregon's Willamette Valley. Walt limits the variables by specializing in just two varietals, which they fashion in small batches. This month's feature, Walt's 2018 Sonoma Coast Chardonnay, emanates from California's most iconic Chardonnay vineyards, including Bob's Ranch and Sonoma's legendary Sangiacamo Vineyard.
Walt is owned by Kathryn Walt Hall and Craig Hall. Kathryn Walt Hall has been involved in the wine industry since her family first purchased a vineyard in the 1970s. She and her brother managed the family vineyard from 1982-1992. Kathryn has also enjoyed a distinguished career as a businesswoman, attorney and community activist. She also served as the United States Ambassador to Austria from 1997-2001.
Winemakers Steve Leveque and Megan Gunderson Paredes work magic with Walt's small hand-crafted wines. They practice non-interventionist winemaking that naturally allows each vineyard site to express its individual character. Taste and see why critics have been wowed by Walt's wines and why Walt's Chardonnays and Pinot Noirs consistently receive 90+ ratings from the world's leading wine critics.
Chardonnay is the most widely cultivated white varietal on the planet. Twice each year at harvest time in its native France and countless locales on six continents north and south of the equator Chardonnay grapes command premium prices. In tribute, Chardonnay produces the finest, most flavorful dry white wines in the world to which writers and connoisseurs devote countless columns and untold hours exalting its virtues and dissecting its flavors. Whether it be from Chablis or Champagne, Napa or Sonoma, or from the most illustrious of vineyards perched atop the slopes of Corton and Montrachet, Chardonnay is the yardstick by which all other dry white wines have come to be measured.
With food, Chardonnay is a peerless match. Chablis and other Chardonnays that see little or no oak provide superb complements to seafood. Fuller, fleshier, and more heavily oaked renditions of Chardonnay, typified by the best Californian versions, can more than hold their own with more complex fare, such as rich cream sauces, poultry and white meats. Moreover, the finest Chardonnays, such as Walt's 2018 Sonoma Coast Chardonnay, shine on their own, and they require nothing but a clean glass and a reflective moment to be pleasing to the palate.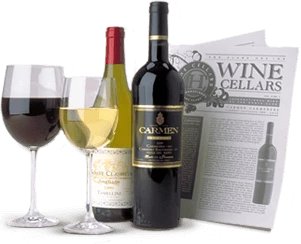 Enjoy Limited Production Estate
Bottled Wines
Discover limited production estate bottled wines such as Vergenoegd's internationally
acclaimed 2005 Cabernet Sauvignon, imported exclusively for our members.
DISCOVER OUR FOUR CLUBS