Pale yellow and shimmering in the glass with flashes of green, the 2021 Waldschütz Kamptal Grüner Veltliner exudes great energy and vitality. A pleasantly fruity aroma of lemon zest dusted with ginger and exotic spices greets the nose. In the mouth, this Grüner Veltliner bursts with flavor and enlivens the palate. Fruit and spice along with Kamptal's distinctive minerality come front and center, offering Grüner Veltliner's unique zing on the finish. Allow a few minutes of aeration and enjoy Waldschütz's quintessential 2021 Grüner Veltliner moderately chilled (40°-45° F). Anticipated maturity: 2023-2026. Prost!
The 2021 Waldschütz Kamptal Grüner Veltliner provides a great complement to a wide variety of foods, but when paired with spicy, unusual, or traditionally hard to pair dishes, it shines brightest. One can easily choose a traditional Viennese specialty, such as Veal Paprika or a simple pork or veal schnitzel to accompany this delicious Grüner Veltliner, and be more than satisfied. Yet, an Asian stir fry in the company of Waldschütz's Grüner Veltliner can be a true work of art. Thai Chicken and Basil served with a medley of lightly spiced vegetables makes a fine complement. A rich, heart-stopping pâté or a persnickety vegetable dish prepared with asparagus, eggplant, or cucumber fare equally well with this bright, flavorful wine. Waldschütz's 2021 Grüner Veltliner also provides a worthy companion to Mexican dishes, especially Chicken Fajitas and flour tortillas stuffed with chicken, cheese, and spicy salsa. On the other hand, Alpine cheeses, the likes of aged Apenzeller or Emmenthaler, offer other stellar ways to enjoy a bottle of Waldschütz's delicious 2021 Kamptal Grüner Veltliner. Guten Appetit!
Weingut Waldschütz is situated in Strass-Elsarn, Strassertal on the south slopes of the Manhartsberg in the picturesque Austrian wine region of Kamptal, renowned worldwide for producing exquisite, dry white wines from Grüner Veltliner and Riesling. Four generations of the Waldschütz family have practiced their trade in Kamptal, passing down the art of winemaking from father to son. Since 1994, Reinhard Waldschütz has been the guardian of the family's special terroir and in charge of the nearly 86-acre family wine estate, serving as both winegrower and cellar master. In 2010, Reinhard's son Markus joined him in the family affair to broaden his experience and hone his winemaking skills alongside his father. Together, father and son fashion exceptionally fresh, natural-tasting Grüner Veltliner, Riesling, Sauvignon Blanc, and more year after year in defiance of the vagaries of each vintage. We invite you to taste and enjoy what the Waldschütz family has to offer.
The indigenous varietal Grüner Veltliner is Austria's most important white grape – a magical varietal producing one of the world's most unique wines. Grown in nearly all of the major wine producing regions of Austria, Grüner Veltliner is at its best around Vienna and atop the steep hillsides and valleys of the Kampt and Danube rivers to the north and west of the capital. In the hands of a skilled winemaker, Grüner Veltliner yields either a fresh, lively wine for near term consumption or a concentrated, complex wine that is capable of long maturation. In each case, Grüner Veltliner offers tremendous flavor, rich fruit, spicy accents, and a citrus-like freshness that makes it a perfect match for many difficult to pair dishes.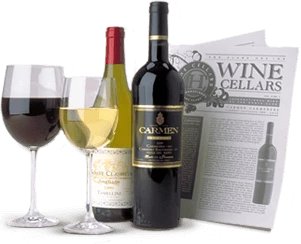 Enjoy Limited Production Estate
Bottled Wines
Discover limited production estate bottled wines such as Vergenoegd's internationally
acclaimed 2005 Cabernet Sauvignon, imported exclusively for our members.
DISCOVER OUR FOUR CLUBS