Vinoterra's 2007 Tsinandali is a traditional blend of 80% Rkatsiteli and 20% Mtsvane.It is fragrant, dry white wine with lovely fruit, lively spice, and a light herbal minerality.Soft and elegant in the nose with hints of citrus, apple, and apricot, Vinoterra's Tsinandali promises ease and charm.It delivers all that and more.It follows through on the palate with equal grace and style in the form of satiny fruit and a silky texture, making this unique white wine so very easy to drink.Medium-bodied and impeccably balanced, Vinoterra's Tsinandali shapes up to be a real crowd pleaser. We suggest serving it moderately well chilled (35-45º F).Enjoy!
With its bright acidity and long, fresh finish the 2007 Vinoterra Tsinandali makes for a great aperitif.At the same time the Vinoterra Tsinandali is an especially food friendly wine.It pairs ideally with seafood, salads, and most white meat dishes.It can even stand up to lightly spiced Thai specialties such as Curried Tofu with Vegetables.Seviche, Linguini with White Clam Sauce, and Fried Calamari provide other winning combinations.Shellfish, sautéed or on the half shell, offers another tasty option.
Vinoterra is a winery with great passion and energy. It is also a winery that displays true dedication and respect for the more than seven thousand year long tradition of winemaking in the Republic of Georgia. Here head winemaker Gogi Dakishvali works his magic with both traditional European production methods and Georgia's ancient techniques of fermentation in amphorae known as Kvevri (KWAIR-ee). The resulting wines are some of the most stylish and sophisticated wines made in Georgia, a proud country with a deeply rooted wine culture and indigenous grape varieties that offer elegant flavors, superb balance, and unparalleled food friendliness. Despite Georgia's more than 7,000 years of winemaking history, Georgian wines have been practically unavailable in the United States and other export markets. While under the Soviet Union, Georgia was unable to sell its wine on the open market. And after the breakup of the Soviet empire, neighboring Russia with its growing thirst for luxury goods swallowed up most of Georgia's export production. However, in 2006 Russia instituted a trade embargo against the western allied nation of Georgia, freeing the republic to seek international markets. With more than 400 indigenous grape varieties and a long tradition of unique styles of winemaking, Georgian wines and Vinoterra in particular offer a thirsty world a host of high quality wines that thankfully defy the modern winemaking world's march to homogeneity and a singular international style of wine. We are pleased to offer a taste of Georgia in one of Vinoterra's many artfully crafted wines. Tsinandali (tsin-uhn-DAH-lee) Tsinandali is both the name of a wine and a strictly controlled micro-zone of the Kakheti (kah- KET-ee) region of the Republic of Georgia.The Kakheti is Georgia's most important wine producing region, accounting for 70% of the country's wine production.It has been called the Napa Valley of Georgia.Tsinandali is a blended white wine comprised of two important grape varieties: Rkatsiteli (kahts-i-TEL-ee) and Mtsvane (TSWAH-nee).A typical Tsinandali blend is 80% Rkatsiteli and 20% Mtsvane.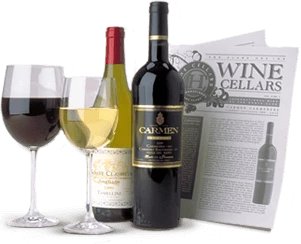 Enjoy Limited Production Estate
Bottled Wines
Discover limited production estate bottled wines such as Vergenoegd's internationally
acclaimed 2005 Cabernet Sauvignon, imported exclusively for our members.
DISCOVER OUR FOUR CLUBS