The 2000 Torreon de Paredes looks and acts like good white Bordeaux. Reminiscent of a fine Entre Deux Mers, this fresh, lively Sauvignon Blanc sports a pale yellow robe with a green hint. Fresh, tropical fruits: grapefruit, guava and pineapple, combine forces with light floral and herbal notes in this wine's beguiling bouquet. Grass, herbs and tropical fruits overlay crisp acidity in the mouth, giving this Torreon de Paredes a healthy balance-the very attribute so often lacking in other Chilean whites. Not surprisingly, several tasters picked this Sauvignon Blanc as a white Bordeaux, no doubt on account of its cepage, (80% Sauvignon Blanc, 20% Semillon) as well as its lively acidity. Serve the Torreon de Paredes Sauvignon Blanc well chilled and have a party!
Although the 2000 Torreon de Paredes Sauvignon Blanc makes an excellent aperitif or party wine, the fruits of the sea transform this enjoyable white wine into a bona fide elixir. Plates of shrimp, steamed or lightly fried, offer a wonderful accompaniment to the Torreon de Paredes. A Maryland-style crab cake on a bed of aromatic greens also makes an excellent partner to this Chilean dandy. Yet, several tasters voted for a grilled tilapia with a mango and red pepper chutney as the perfect foil to the 2000 Torreon Sauvignon Blanc. A spicy, Brazilian-style shrimp in a roasted garlic and tomato compote was another favorite. Clams, oysters and scallops also bring out that tangy, sweet and fresh scent and flavor of the sea, which renders the Torreon de Paredes Sauvignon Blanc so much more than the simple quaff it first appears. Hot peppers and normally hard to pair spices don't pose too much of a problem either, as the Torreon de Paredes Sauvignon Blanc is as versatile as any light, dry seafood wine. Enjoy!
Vinedos Torreon de Paredes is one of Chile's "hottest" new wineries. Founded in 1979 on the sight of an ancient vineyard by industrialist Amado Paredes, this relatively young venture is already producing a whole gamut of exciting Bordeaux-style wines, as well as small quantities of Chardonnay and Gewurztraminer. Located in and around the Chilean town of Rengo, Vinedos Torreon de Paredes is a thriving family concern of over 300 acres. Presently, two of Amado's seven sons, Javier and Alvaro, manage this burgeoning estate. Putting aside their own successful careers in law and architecture respectively, the Paredes brothers have transformed an old rundown vineyard into one of the country's leading estates. With the help of many international consultants - several from France's prestigious Montpellier University, as well as others from as far away as South Africa - Vinedos Torreon de Paredes has become a leader in vineyard management. The Paredes family has also started its own vine nursery with cuttings from France. However, the most impressive of the family's projects has been the development and planting of 35 hectares of a stony wasteland, so desert-like that a viticulture professor at Montpellier University, published a study on it with the title, "How to Plant a Vineyard on the Moon". It took no less than five years to successfully cultivate vines at this sight. Nevertheless, the results have been outstanding due to a special drip irrigation system developed for the site, extremely low yields, and a stalwart refusal to fertilize. Considering Chile's success and tradition of excellence with Bordeaux varietals, it should come as no surprise that Vinedos Torreon de Paredes has chosen to specialize in Cabernet Sauvignon, Merlot, Sauvignon Blanc and Semillon. In addition, the estate is cultivating Chardonnay, Riesling, and even Gewürztraminer, a rare varietal in Chile. In keeping with Bordeaux tradition, Vinedos Torreon de Paredes uses a combination of concrete and stainless steel for fermentation and is increasingly turning to oak barrel ageing of its wines in the estate's romantic 18th century cask cellar. A fresh, Bordeaux-like Sauvignon Blanc consisting of 80% Sauvignon Blanc and 20% Semillon is the only white wine produced in any sizeable quantity at Vinedos Torreon de Paredes. Reminiscent of fine Entre-Deux-Mers from Bordeaux, it is one of the few Chilean examples of this varietal with true crispness and definition. Two other fine offerings (a regular and a Reserve bottling) of each of the estate's primary reds: Cabernet Sauvignon and Merlot, constitute the majority of Vinedos de Torreon's production. All other varietals are produced in limited quantities, although plans are afloat to augment the estate's production as young vineyards mature. We are also told that a very limited release of a special Meritage (Cabernet Sauvignon, Merlot, Carmenare blend) named Don Amado Reserva Especial, is also produced here in very limited quantities, but only in exceptional vintages. Heretofore, this luxury bottling has not been exported, but through the efforts of the wine club, we have been assured of at least a tiny allocation upon the next release. Aptly named for the ancient, restored watchtower or Torreon that stands guard over the estate's vineyards, the brothers Paredes pay great attention to detail at their estate, overseeing all aspects of production from the cultivation of the vine to the final shipment of bottled wine from the cellar. To insure that a bevy of delicious, fresh tasting wines continue to pour from the estate that bears their name, Javier and Alvaro spare little expense, including washing all bottles in purified water and corking the estate's wines under vacuum to boost the life of the wine and insure the utmost purity in the finished products. Under the watchful eyes of "los hermanos" Paredes, it is no wonder Vinedos Torreon de Paredes is Chile's hottest new winery.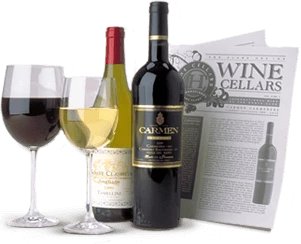 Enjoy Limited Production Estate
Bottled Wines
Discover limited production estate bottled wines such as Vergenoegd's internationally
acclaimed 2005 Cabernet Sauvignon, imported exclusively for our members.
DISCOVER OUR FOUR CLUBS