A product of an extraordinary vintage in Burgundy, the 2005 Vincent Girardin Santenay Premier Cru La Comme offers all the charm and vigor that southern Burgundy has to offer. The wine is deep ruby, almost purple, in color, which highlights Girardin's propensity for fashioning highly extracted red Burgundies – no wimpy wisps of Pinot Noir need apply here! On the nose, one can already grasp hints of the deep down burgeoning fruit that lies within, and on the palate spice, violets, and an incredibly smooth texture come together to tantalize the senses. Moreover, a nice touch of new oak adds to the wine's overall appeal. Indeed, there is little doubt that Girardin has hit the mark with this 2005 Premier Cru Santenay; it is a smooth, supremely balanced, and artfully crafted wine. However, we strongly suggest you wait to consume this Sleeping Beauty. With another year or two in bottle, this red Burgundy will display its full majesty. Anticipated maturity: 2009-2015. As with any fine Premier Cru red Burgundy, service at cool room temperature is the order of the day. Enjoy!
Endowed with the richness of the 2005 vintage, the lusty, robust Girardin Premier Cru La Comme provides an outstanding foil to hearty fare. Traditional Burgundy favorites, such as Coq au Vin and Boeuf Bourguignon, offer the promise of gastronomic delight with this wine, but one need not be confined to traditional French country classics. The 2005 La Comme can make even pot roast and meatloaf as well as fine cuts of beef and veal shine. Chicken or turkey, dressed with a savory bread and sage stuffing, offers a gustatory delight with this Girardin beauty, too. Game birds, stuffed with a wild rice and mushroom farce provides another good choice. A simple veal stew, quiche, onion and leek tart, or even just a loaf of good French bread with a full cream, un-crusted cheese will fill the bill with an aged, mature bottle of this superb Santenay, so bon appétit!
Vincent Girardin is one of the scions of the great Girardin family of Santenay in southern Burgundy. Born in Santenay on the Côte de Beaune, Vincent is part of a winemaking family whose roots stretch back to the 17th century. He is in many ways the archetypal Burgundy grower and producer. That is to say, his domaine is a true family affair. Vincent tends the vineyards, works in the cellar, and makes the wines; while his wife of nine years Véronique complements him in running their formidable domaine. The Girardin family has for generations been well represented among the finest names in Burgundy. Vincent's father Jean was a renowned winemaker as is his brother Jacques. Vincent has been producing fine estate bottled offerings at his domaine since 1982. Vincent began his winemaking career with only 2 hectares (4.4 acres) of vines. However, when his father Jean retired, Vincent took over several additional hectares from which he fashions exceptional red and white Burgundy. The white wines of Vincent Girardin display great finesse and a pure aromatic profile; they are impeccably balanced white wines that exude considerable richness as well as refreshing vibrancy. Correspondingly, Girardin fashions intense, profound red wines that balance ripe fruit with a tannic structure for ageing. This estate's wines all reflect considerable care and exceptional breeding, which render them capable over time of unmistakable grandeur. Success in winemaking requires great rigor and attention to detail at all times for each individual wine. Therefore, at Domaine Vincent Girardin respect begins in the vineyard and surrounding lands. No herbicides or insecticides are used at the estate. The grapes are all hand harvested and then sorted twice, once in the vineyard and a second time in the winery. The sorting process eliminates any grapes or elements that would render an ensuing wine less than optimal. The pressing of grapes is a gentle affair at this estate, and the resulting wines are all aged in the finest oak barrels. A carefully controlled ageing process allows each wine to achieve its full potential. Vincent Girardin employs no fining or filtration of his red wines and only a very light fining and filtration of his whites in order to preserve the wines' natural qualities.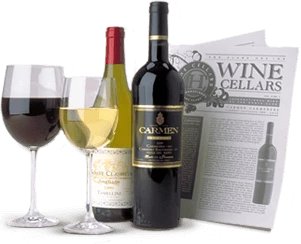 Enjoy Limited Production Estate
Bottled Wines
Discover limited production estate bottled wines such as Vergenoegd's internationally
acclaimed 2005 Cabernet Sauvignon, imported exclusively for our members.
DISCOVER OUR FOUR CLUBS