To reach José Antonio Martín's Vinae Mureri Xiloca estate one must first climb a steep narrow road into the rugged heart of Aragon. There is no sign to show the way. Instead, a massive orchard of century-old cherry trees with ancient Garnacha vines interspersed among them greet visitors brave enough to make the venture, and this stand of cherry trees confirms to the rare visitor that he has indeed arrived at Xiloca. Whether it is the proximity of the cherry orchard or the propensity for old vine Garnacha to offer savory scents of black cherry, the deeply colored 2010 Oro de Xiloca opens with a ripe black cherry bouquet, infused with subtle hints of plum, espresso bean and vanilla. Although the 2010 Oro de Xiloca weighs in at 14.5% alcohol, it never appears weighty in the mouth and comes across as both fresh and medium-bodied. The wine's rich cherry fruit is backed by firm acidity and dusty tannins to keep everything in balance. Dry and refined, the 2010 Oro de Xiloca reflects Old World charm and the delights of old vine Garnacha. For optimal enjoyment, allow the 2010 Oro de Xiloca at least 20-30 minutes of aeration before serving it at cool room temperature (60°-65° F).
Having enjoyed a splendid dinner, a veritable feast really, at Xiloca with José Antonio Martín, some of us can attest to the virtues of the 2010 Oro de Xiloca at table. Roast leg of lamb, rubbed with garlic, olive oil and wild Mediterranean herbs, provides a delicious accompaniment to the 2010 Oro de Xiloca. Grilled rib eye steaks served with garlic mashed potatoes and root vegetables make tasty complements to Oro de Xiloca as well. Fresh pasta and roasted Acorn Squash with Manchego Cheese provides another opportunity to let the 2010 Oro de Xiloca shine. Spicy eggplant and zucchini dishes pair nicely with this wine, too. In fact, most Mediterranean meat, pasta, cheese and vegetable recipes offer excellent opportunities to showcase the 2010 Oro de Xiloca.
A visit to José Antonio Martín's beloved Xiloca estate in the high, rugged Jiloca River Valley of the ancient province of Aragon is a voyage back in time – literally. Xiloca's vineyards range in elevation from 2,900 to 4,000 feet, and their slopes, which consist of exposed slate, harbor enormous Cambrian fossil deposits of trilobites murerienses and other prehistoric remnants that paleontologists journey to Xiloca to study.
José Antonio Martín was born and raised in the remote Jiloca River Valley, and he fondly recalls a youth spent among the vineyards of his forefathers in Murero's Pago de la Moratilla. He returned to the Ribera del Jiloca later in life with friends, including noted Spanish wine authorities, and formed a partnership with friends in 2001 to recuperate Jiloca's nearly forgotten old Garnacha vines. He revitalized plots of ancient vines (some nearly 100 years of age) that he purchased from local growers looking to retire. Two years later he completed a new bodega in time for Xiloca's debut 2003 harvest.
Ribera del Jiloca is the highest growing region in the Zaragoza province of Aragon where it is widely thought that the Garnacha variety originated, and José Antonio Martín's 85 acres of vineyards are some of the highest in Spain. With an average age of 80 years and yields averaging less than 700 pounds (a miniscule 1/3 ton) per acre, Xiloca's yields are also among the tiniest in Spain. Less than 5,000 cases are produced each year, most of it unoaked Garnacha, and the balance barrel aged Garnacha in two special bottlings, one of which is the Oro de Jiloca – this month's feature. All of Xiloca's grapes are hand-picked and all vineyard labor at the estate is done manually due to the steep, nearly inaccessible slopes.
Although it is costly and rare, Xiloca employs a combination of French, American and Hungarian oak barrels to age its special bottlings, which include this month's feature, Oro del Xiloca. In this combination of barrels, the very old, low-yielding Garnacha vines develop firm tannins to balance the wine's concentrated fruit and pronounced minerality.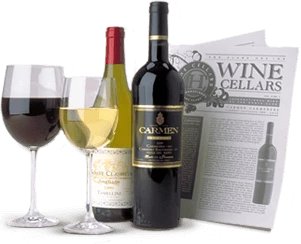 Enjoy Limited Production Estate
Bottled Wines
Discover limited production estate bottled wines such as Vergenoegd's internationally
acclaimed 2005 Cabernet Sauvignon, imported exclusively for our members.
DISCOVER OUR FOUR CLUBS