Charming, elegant, and impeccably balanced, the 2000 Vina Sastre Roble is pure charisma in a glass, and a veritable crowd pleaser, too. Exhibiting a seductive array of beguiling scents and flavors, the Vina Sastre is eminently drinkable and just about impossible to resist. Ripe current fruit, an expressive cigar box scent, and that oh so much more the French refer to as je ne sais quoi make this medium-bodied, unfiltered, purebred Tempranillo a clear standout among its peers. Unequivocally, the Roble is one of the most irresistible Spanish reds we have encountered in quite some time… and we haven't even mentioned the Roble's well-integrated cachet of new oak and its alluring, utterly satisfying finish. We suggest serving the Vina Sastre Roble at about 65º F, after allowing it to breathe for a half hour. Since the Roble has been bottled unfiltered, some may prefer to decant it, as some harmless, natural sediment may form with additional time in the bottle.
del Duero, lamb seems to be the traditional favorite of the local cognoscenti and not surprisingly the tasting panel echoes those sentiments when pairing the 2000 Vina Sastre Roble with food. However, as tasty as chops, legs, shanks (and as pleasurable as this wine is, perhaps, even the wool, too) of lamb may be in the company of the Roble, there is no need to typecast this rising star. A good old-fashioned steak from the grill, sizzling fajitas, a spicy black bean and chicken chili, a brick oven baked calzone, or Veal Pizzaiola (veal in a cherry tomato and Kalamata olive sauce) all provide diverse but equally memorable complements to the Vina Sastra Roble. In fact, most grilled meats and vegetables pair well with the Roble. One of the panel's favorites is Portabella Mush-rooms that have been marinated in high quality balsamic vinegar, then lightly grilled with a little rosemary and thyme. Come to think of it, just about everything we have tried so far with the Roble has been a hit, even no accompaniment at all. Typically, Spanish reds require food to shine, but the 2000 Vina Sastre Roble needs no additional accoutrements or support, save for a clean glass. Enjoy!
Hermanos Sastre is a family-run winery in the heart of the Ribera del Duero, Spain's most revered wine region. Sastre boasts some of the oldest and finest vines in the entire Ribera del Duero Denominacion de Origen (D.O.), a region whose wines are the most expensive in Spain and the most widely sought on the international market. Until recently, the Sastre brothers, Pedro and Jesus, ran Sastre. They inherited their prime vineyard sites in the Burgos region of Ribera del Duero from their father and grandfather. Tragically, Pedro died suddenly in December of 2002, leaving Jesus with the family winery and a great store of wine that he and his brother had worked so hard to create. Pedro was Sastre's primary winemaker and its window on the world, while Jesus had always tended the vineyard and overseen the agricultural side of winemaking. By all accounts, Pedro was a true bon vivant. He loved to take special visitors through an extensive barrage of barrel tastings, followed by memorable meals that even the most committed gourmands have described as incredible. His brother and all who knew him sorely miss him. Yet, it seems that most great artists, poets, writers, and even scientists become more known to the general public in death than in life. They leave a legacy for the rest of us to treasure and a spirit to savor, and indeed this scenario is once again being played out in the case of Pedro Sastre, whose treasure trove of magical wines are becoming increasingly popular and highly sought after since his untimely death. We invite you to taste and see the goodness of Vina Sastre, while you rest secure in the knowledge that this winery will continue to put out pure, flavorful wines of distinction under brother Jesus's tutelage. Although often in the background in the old days, Jesus is and has always been a driving force in the success of Vina Sastre. He is committed to organic farming and biodynamic agricultural principles and is considered and expert in the field of sustainable viticulture. In addition, the wines at Vina Sastre are never fined or filtered, nor are they artificially cold stabilized; all stabilization is done naturally by moving the wine from the barrel room to separate tanks in a part of the winery where the temperature is naturally regulated by the outdoor temperatures.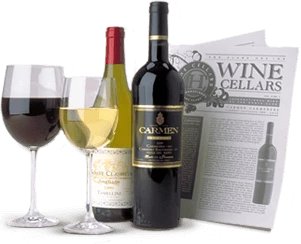 Enjoy Limited Production Estate
Bottled Wines
Discover limited production estate bottled wines such as Vergenoegd's internationally
acclaimed 2005 Cabernet Sauvignon, imported exclusively for our members.
DISCOVER OUR FOUR CLUBS