From its tall slender, masculine bottle to its long lingering, beguiling finish the 2000 Casa Silva Reserve Chardonnay cuts a handsome figure. Vibrant in color and confident in all respects, this Chilean Chardonnay can give many more expensive white Burgundies and Napa Valley Chardonnays a run for their money. The wine's aroma is enchanting: ripe fresh fruit scents, dripping with butter, protrude through a layer of vanilla and spice from new toasted barrels, reminding the taster of what it's like to come home after a long absence. In the mouth, layered, textured fruit, hazelnut and vanilla coat the palate and linger like old friends, whose presence remains long after their departure. Full-bodied and persistent, the 2000 Casa Silva Reserve Chardonnay puts to rest the old adage that supposes 'white wine is lighter than red wine.' We suggest serving the Casa Silva Reserve Chardonnay chilled, but allow the wine to breathe and open in the glass like a fine red.
Given the body and extroverted nature of the 2000 Casa Silva Reserve Chardonnay, this lovely wine need not be relegated to standard white wine fare. Certainly poultry and most full-flavored fish dishes provide excellent accompaniments, but so do more traditional red wine foods. Tuna steak, lean meats, especially pork tenderloin or veal in a savory marinade, make splendid accompaniments to the Casa Silva. We have even paired this full throttle Chardonnay with strips of rare roast beef, much to our delight. True blue Chardonnay freaks will probably forbid any accompaniment to this gutsy wine, insisting upon enjoying the experience neat, but food is truly enhanced by the Casa Silva Reserve Chardonnay and in turn an extra dimension emerges in the wine when it is paired with complex food. Enjoy!
Casa Silva's story begins in the 19th century. After four centuries of wine production under Spain's autocratic and often capricious colonial masters, an independent Chile looked towards France for its oenological renaissance. At the same time, top Bordeaux growers and winemakers were looking for pristine vineyards and a more conducive climate, ecologically and politically, in which to plant and prosper. At this time Emilio Bouchon Poitvin left his native Bordeaux, France and took up residence on his Angostura estate near San Fernando in the now famous Colchagua Valley. On this plantation he cultivated the healthiest and most noble French varietals and began construction of the current centenary winery known today as Casa Silva. Since Casa Silva's original founding, five generations of Poitvin descendents have worked and embellished the antique estate. Today Casa Silva boasts over 1600 acres in three Colchagua Valley locations, including the original 700 acres surrounding the winery. Moreover, like nearly all Chilean vines, Casa Silva's vines grow on their own rootstocks, a practice that has proven nearly impossible in Europe since the 19th century. Casa Silva produces very fine red wine, as well as white. Merlot, Cabernet Sauvignon and a very special Carmenere dominate this estate's red wine portfolio, while excellent Chardonnay and Sauvignon Blanc constitute the white wine offerings. Limited quantities of extraordinary Reserve offerings are also bottled of each varietal in good vintages.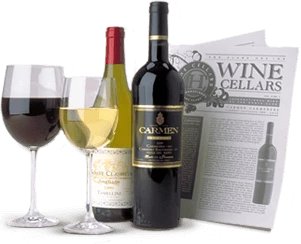 Enjoy Limited Production Estate
Bottled Wines
Discover limited production estate bottled wines such as Vergenoegd's internationally
acclaimed 2005 Cabernet Sauvignon, imported exclusively for our members.
DISCOVER OUR FOUR CLUBS