From its tall slender bottle to its suave sophisticated finish, the 2000 Casa Silva Reserve Carmenere provides a delicious and unique tasting experience. Carmenere has been described as the Bordeaux grape most likely to charm the pants off beginners and connoisseurs alike. Indeed, if Carmenere were in school today, it would almost certainly be voted the most likely to succeed: it combines all the finest attributes of both Merlot and Cabernet Sauvignon, making it hard to resist. And the Casa Silva Reserve Carmenere is no exception. It exudes confidence, wearing a rich ruby robe with indigo highlights. A bit reticent at first, the wine's aroma opens tremendously after just a few minutes in the glass, revealing tailored scents of red and black fruits and suave spice tones. In the mouth, soft ripe fruit combines with subtle earth tones, gentle spice, and that certain je ne sais quoi, which makes Carmenere so charmingly seductive. Yet, there is neither flab nor flatulence in this Carmenere. Perhaps, one taster's comment sums it up best, this medium-bodied wine's allure is that it tastes like a first rate Merlot with abs. or a Cabernet with a feminine side. Take your pick as you like it. We suggest serving the Casa Silva Reserve Carmenere at just a little above cellar temperature.
Like most Bordeaux and Cabernet or Merlot based wines, the 2000 Casa Silva Reserve Carmenere adds pure pleasure to an elegant dinner party. Whether the main course is a stuffed veal chop, beef or pork tenderloin, roast leg of lamb or even sashimi, the Casa Silva provides an added touch of elegance. Simple roasted meats and vegetables tend to highlight the subtle more feminine side of this Carmenere, while rich gravies and grilled meats accentuate the masculine side of this wine: full rich flavor allied to strength and power. So when the table is set to impress, the candles scutter and a romantic light glows on crystal glasses, it is time to serve the 2000 Casa Silva Reserve Carmenere. And who cares if the party is just the two of you; that will leave more Carmenere for each of you. Enjoy!
Casa Silva's story begins in the 19th century. After four centuries of wine production under Spain's autocratic and often capricious colonial masters, an independent Chile was looking towards France for its enological renaissance. At the same time, beginning with the odium epidemic around 1850, top Bordeaux growers and winemakers were searching for pristine vineyards and a more conducive climate, ecologically and politically, in which to plant and prosper. At this time Emilio Bouchon Poitvin left his native Bordeaux, France and took up residence on his Angostura estate near San Fernando in the now famous Colchagua Valley. On this plantation he cultivated the healthiest and most noble French varietals and began construction of the current centenary winery known today as Casa Silva. Since Casa Silva's original founding, five generations of Poitvin descendents have worked and embellished the antique estate. Today Casa Silva boasts over 1600 acres in three Colchagua Valley locations, including the original 700 acres surrounding the winery. Moreover, each of the varietals grown at the estate is matched with the most appropriate terroir for optimum results. And like nearly all Chilean vines, Casa Silva's vines grow on their own rootstocks, a practice that has proven nearly impossible in Europe since the 19th century. Casa Silva produces very fine red wine, as well as white. Merlot, Cabernet Sauvignon and a very special Carmenere (Chile's own Bordeaux-style varietal) dominate this estate's red wine portfolio, while excellent Chardonnay and Sauvignon Blanc constitute the white wine offerings. Limited quantities of extraordinary Reserve offerings are also bottled of each varietal in good vintages. Stylistically, tradition is artfully blended with the contemporary at Vina Casa Silva. All of this fine winery's grapes are still picked by hand, but each wine has its history registered from the very beginning of the production cycle of the grapes - right in the winery's own extensive ultramodern laboratory. Mario Pablo Silva and his three sons are responsible for the daily operation at Casa Silva, while Mario Geisse Garcia, the internationally acclaimed oenologist, oversees the lab. It is nice to know who is minding the store, and what capable hands these are!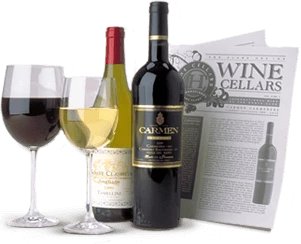 Enjoy Limited Production Estate
Bottled Wines
Discover limited production estate bottled wines such as Vergenoegd's internationally
acclaimed 2005 Cabernet Sauvignon, imported exclusively for our members.
DISCOVER OUR FOUR CLUBS