Once again Andrea Faccio has crafted a light, lovely elixir that captures the essence of spring and captivates the senses. It is comforting to taste and see how consistent this great producer is with his wines. The 2006 Villa Giada Moscato d'Asti exudes the pure scent and savor of Moscato: pear, peach, mango, and just enough of that kinky, exotic touch of true Moscato to be compelling. Moscato d'Asti is typically light, effervescent, low in alcohol, and long on flavor, but the Villa Giada is more than the usual pleasant dose of small bubbles and lush Moscato fruit one comes to expect from the Muscat Canelli of Piedmont. Rather, the scent and savor of ambrosia haunt every sip of this naturally fruity bubbly. The Villa Giada provides a fine dollop of the ancient Muscat grape in every glass as well as an impeccably balanced format, so it never comes off as cumbersome or syrupy. We advise serving the 2006 Villa Giada Moscato d'Asti lightly or moderately chilled. Since it is easier to let a wine warm up in the glass rather than cool down, we suggest chilling this Moscato to approximately 40° F, then allowing it to unfold gracefully in the glass. Enjoy!
The 2006 Villa Giada Moscato d'Asti is an easy wine to drink, even guzzle. It is as comfortable on its own as it is with fruit, poached fish, or an elegant dessert. One of our favorite summer pastimes is adding a little Villa Giada Moscato d'Asti to a ripe Honeydew or Crenshaw melon and allowing the two to stew for a few hours, or even overnight, before serving the glorious concoction as an appetizer or dessert. Additional suggestions as a finale include serving the Villa Giada Moscato with poached pears, a creamy fruit and custard tart, or a white chocolate cheesecake. In addition, many panel members continue to insist that less is more with this delicious Moscato and prefer consuming it au naturel or with tiny bits of a soft fruity cheese like Mascarpone. Moreover, the 2006 Villa Giada Moscato can take the place of dessert or simply be dessert itself.
Andrea Faccio's Azienda Agricole Villa Giada brings exquisite wines to the table from the classic grape varieties his family has grown in Italy's Piedmont for more than two centuries. Located midway between Asti and Alba, the world's foremost production zones for Moscato and Barbera, Villa Giada specializes in the making of handcrafted Piedmontese wines from single vineyards. With more than forty-five acres of estate vineyards, located around three ancient farmhouses, Villa Giada's aim is to fashion great wines from individual vineyards and terroirs – a goal that local cognoscenti and international wine critics alike believe this classic estate has certainly fulfilled. Villa Giada's historical property dates to 1790, and the estate's ancient farmhouses and winery remain in use today. The old part of the winery still plays host to all of the estate's barriques (small oak barrels), which refine the classic Barbera wines that Andrea Faccio so adeptly crafts. In addition, Villa Giada also sports a modern winery that features stainless steel vats, temperature and pressure control equipment, and the latest technological accoutrements, which Andrea uses for making exquisite Moscato d'Asti, Piedmont's lovely frizzante (lightly, naturally sparkling white wine). Moreover, Donato Lanati, a professor at nearby Turin University and one of Italy's foremost oenologists, assists Andrea in the crafting of Villa Giada's wines. Together this dynamic duo fashion wines that are both internationally appealing and traditional in character.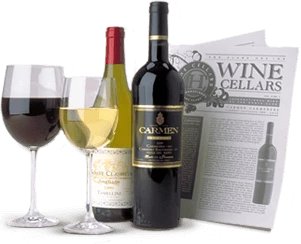 Enjoy Limited Production Estate
Bottled Wines
Discover limited production estate bottled wines such as Vergenoegd's internationally
acclaimed 2005 Cabernet Sauvignon, imported exclusively for our members.
DISCOVER OUR FOUR CLUBS