A gentle waft of woodlands, mingled with roses, violets, bark and dew covered brush rise from the 1997 Villa Giada "La Quercia". Richly robed, but hardly foreboding, this single vineyard offering captures the charm as well as the power of Barbera. Textured fruit covers a masculine core of alcohol, tannin and an inexplicable strength of character that emanates from the very center of this wine. Slightly rustic yet gracious and polite, the Villa Giada "La Quercia" is a joy to drink. It requires no muss nor fuss. No need to decant this wine hours ahead; it's at the perfect age for a fine single vineyard Barbera (four years). Simply open the wine, pour it in the glass, let the wine breathe for ten or fifteen minutes, swirl and sip. Serve this delightful wine at cool, cellar temperature (55-60°F).
Bow tie pasta with artichoke, feta and fresh blood red cherry tomatoes or penne with white beans, red onion, celery and fresh garden herbs are just a couple of the traditional Old World dishes we have enjoyed with the 1997 Villa Giada "La Quercia"! Grilled sausage, pork barbecue, cassoulet and country stews are other good choices with the Villa Giada, too. A three-cheese pizza, calzone or even a plate full of hard Italian cheeses marinated olives and thinly sliced pepperoni provide other winning combinations with this Barbera. If you wish to accentuate the charm rather than the power of this wine, try "La Quercia" with risotto, the most traditional of Piedmontese dishes, and see why Barbera is the most appreciated grape in the Piedmont. Its versatility is born in its charm as well as its structure, so serve this delightful Barbera as you like it!
The Azienda Agricole Villa Giada brings wines to your table with over two centuries of intense and careful work in expert vineyard management. Located midway between Asti and Alba, the world's two greatest zones for the production of Barbera , Villa Giada specializes in the production of Barbera from single vineyards sites. With more than 45 acres of estate vineyards around three ancient farmhouses, the estate's aim is to produce great wine from each individual vineyard or terroir. The historical unit of Villa Giada dates back to 1790 and is still in use today. This old part of the winery hosts all the barriques (small oak barrels) for the refining of the estate's great Barberas: Barbera "Bricco Dani" and Barbera "La Quercia". Since the 1980s, Villa Giada also sports a modern cellar, featuring customized stainless steel vats with controlled temperature and pressure, along with many other oenological and technical pieces of equipment. Moreover, Donato Lanati, a very well known oenologist and professor at Turin and Florence universities, assists owner/winemaker Andrea Faccio in the cellar, researching and developing the optimum use of modern technology for each individual wine, without compromising the traditional character of the single vineyard. In addition to the estate's flagship Barberas, Villa Giada also turns out small quantities of fine still whites from native varietals and a lovely, traditional frizzante Moscato d'Asti.
The Piedmont In the north of Italy, nestled beneath the great alpine wall of mountains and the gleaming Mediterranean Sea, lies the Piedmont. It is the region of Italy closest to France in proximity, as well as in the quality and variety of its exceptional wines. For centuries, the Piedmont has been renowned for its robust, exquisitely prepared cuisine, but today it is Piedmontese wines: robust reds, still elegant whites and naturally sweet muscats that command the most attention. Certainly, Barolo, Barbaresco and Gattinara are the most celebrated red wine names of the Piedmont; yet, it is the region's hearty, mouth filling Barbera that captures the hearts and palates of the Piedmontese themselves. By combining traditional practices, such as long vatting times, with the use of modern equipment and small oak barrel aging, Barbera has claimed its rightful place among the great red wines of the Piedmont. Like the noble Nebbiolo vine of Barolo fame, Barbera is a native Piedmontese varietal and presently the region's most popular red variety. And, in addition to its great Barbera and Nebbiolo, the Piedmont produces a host of other fine reds, including Dolcetto, Freisa, Grignalino and Brachetto. No other Italian viticultural region offers such a wide variety of fine, distinctively styled reds as the Piedmont. As if the coterie of great red wines produced in the Piedmont were not enough to insure its place atop Italy's viticultural hierarchy, this oenological bastion shines with white wines, too. Not surprisingly, the Piedmont counts more DOC-DOCG zones (bonafide wine areas making many distinct types of wine) than any other region of Italy. Yet, the Piedmont often ranks seventh or eighth or even less in total production, underscoring the areas dedication to quality rather than quantity. Burton Anderson, acknowledged widely to be the world's foremost authority on Italian wines, sums up the greatness of the Piedmont when he says: For craftsmanship, respect for tradition and devotion to native vines in their historical habitat, the Piedmontese have no rivals in Italy.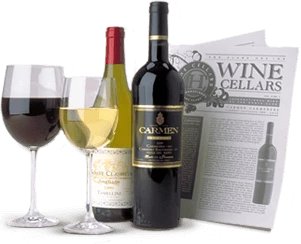 Enjoy Limited Production Estate
Bottled Wines
Discover limited production estate bottled wines such as Vergenoegd's internationally
acclaimed 2005 Cabernet Sauvignon, imported exclusively for our members.
DISCOVER OUR FOUR CLUBS