The 2003 Villa Bricco Dani Barbera d'Asti Superiore is a true Piedmontese classic. It is a wine born of an excellent vintage on the slopes of one of the world's finest terroir. When the sun, the moon, the stars, and the weather align as they did in 2003, no place on earth produces better Barbera than Italy's Piedmont. Moreover, Bricco Dani is this producer's finest wine and the ultimate expression of Barbera d'Asti. The scion of the finest grapes, natural yeasts, four gentle rackings, and a 14 month hiatus in traditional barriques, the 2003 Bricco Dani possesses great intensity and finesse as well as a myriad of well integrated flavors, all set in a silky smooth texture. In the words of one panel member, "the 2003 Bricco Dani could break your heart. It is so lush, plush, and well-endowed, but it keeps slipping away ever so ostensibly down my throat." Indeed, this is an easy wine to love. The 2003 Bricco Dani tantalizes the senses with plenty of luxuriously ripe fruit that seems infused with the essence of forest woodlands, truffles, violets, and even the captivating savor of oriental spice. Better still, the longer one allows the 2003 Bricco Dani to breathe the more complex and voluptuous it becomes. For optimal enjoyment, we strongly recommend decanting the Bricco Dani for the purpose of aeration and to limit the harmless, tartrate sediment that may appear due to the wine's natural, unmanipulated upbringing. In addition, our preference is to serve the 2003 Bricco Dani Barbera d'Asti Superiore fairly cool (60°-65° F) in order to unleash completely the litany of ripe, textured flavors that make this wine the envy of Barbera aficionados and producers the world over. Anticipated maturity: 2007-2011.
Given the consummate quality and the careful upbringing of the 2003 Villa Giada Bricco Dani Barbera d'Asti, is any dish less than the complex lively cuisine of Italy's Piedmont fit to accompany this magnificent Barbera? Indeed, our first inclination is to seek out Piedmontese classics such as Risottos, Sautéed Rabbit and Peppers, Braised Duck in a savory Barbera wine reduction, Osso Bucco (Braised Lamb Shanks), or Sautéed Veal Chops, the mouthwatering specialty of Milan to serve with the Bricco Dani. However, one of Bricco Dani's greatest attributes is its ability to transform a plain, but well prepared mid week meal into a veritable feast and celebration. So, whether you re-construct Grandma's meatloaf recipe or fuss over a Tournedos Rossini (filet mignon with artichoke hearts, foie gras, and truffles in a Madeira sauce), the 2003 Villa Giada Bricco Dani is ready and willing to provide "extra" ordinary pleasure. In fact, another simple but rewarding accompaniment to the Bricco Dani remains a platter of classic Italian cheeses such as Montasio, Peccorino, and Toscano Reggiano, a loaf of crusty bread, and some finely cured olives. Salud!
Andrea Faccio's Azienda Agricole Villa Giada is a reference point for traditional Piedmontese wines. Faccio brings exquisite wines to the table from the classic grape varieties his family has grown in Italy's Piedmont for more than two centuries. Located midway between Asti and Alba, the world's foremost production zones for Barbera, Villa Giada specializes almost exclusively in the making of handcrafted Barbera wines from single vineyards. With more than forty-five acres of estate vineyards, located around three ancient farmhouses, Villa Giada's aim is to fashion great wines from individual vineyards and terroirs – a goal that local cognoscenti and international wine critics alike agree that Andrea Faccio's Villa Giada has more than fulfilled. Villa Giada's historical property dates to 1790, and the estate's ancient farmhouses and winery remain in use today. The old part of the winery still plays host to all of the estate's barriques (small oak barrels), which refine the classic Barbera wines that Andrea Faccio so adeptly crafts. In addition, Villa Giada also sports a modern winery that features stainless steel vats, temperature and pressure control equipment, and the latest technological accoutrements. Moreover, Donato Lanati, a professor at nearby Turin University and one of Italy's foremost oenologists, assists Andrea in the crafting of Villa Giada's wines. Together this dynamic duo fashions wines that are both internationally appealing and traditional in character. In spite of this erudite producer's ability to fashion modest quantities of other Piedmontese specialties, including a superb Moscato d' Asti, Barbera remains the focal point and raison d'être at Villa Giada. Bricco Dani, a splendid single vineyard Barbera, is this estate's most prized wine. It is a very limited production that is rarely available in the United States.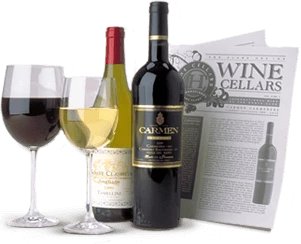 Enjoy Limited Production Estate
Bottled Wines
Discover limited production estate bottled wines such as Vergenoegd's internationally
acclaimed 2005 Cabernet Sauvignon, imported exclusively for our members.
DISCOVER OUR FOUR CLUBS