The 2003 Villa Giada Ajan Barbera d'Asti is one of those rare Piedmontese classics, a wine born in an excellent vintage on the slopes of some of the world's finest terroir. When the sun, the moon, the stars, and the weather align as they did in 2003, no place on earth produces better wine than Italy's Piedmont, and this outstanding offering from Andrea Faccio is ample testimony to that claim. Ajan is named for Agliano, a village in the heart of the Piedmont that is known for producing the region's most intensely flavored Barbera grapes, which Andrea Faccio fashions into wines of great finesse, flavor, texture, and longevity. The richly colored 2003 Villa Giada Ajan Barbera d'Asti is one lush, plush, well-endowed Barbera. Heady with the scent of ripe fruit that is tinged with truffle, violet, and oriental spice, the 2003 Ajan delivers a litany of ripe, textured flavors that boggle the mind as well as the senses. It has been years since the tasting panel has sampled a Barbera as elegant, ripe, textured, and enjoyable as the 2003 Villa Giada Ajan. Indeed, it is hard to believe that the 2003 Ajan is only a little more than a year old, and already it speaks of great hedonistic pleasure and eminent seduction. And if one could only wait a few more years or even a mere six more months, the latent greatness and secondary and tertiary characteristics that critics commonly refer to as complexity will emerge full force from the Ajan to provide even more innumerable pleasure (hard to image), but alas there will be no more of this fine Barbera available in six months as Villa Giada's modest production of Ajan sells out all too quickly. Therefore, we suggest allowing the 2003 Villa Giada Ajan Barbera d'Asti a little breathing time in the glass before consuming it; better yet, let it air in a decanter for as long as you can keep your hands off of it, and enjoy at cool room temperature! P.S. If you can find a couple of extra bottle to put away for a cold winter's day, you will be more than amply rewarded – that is if Ajan's present charms are not already too great to resist.
As ripe, round and structured as the 2003 Villa Giada Ajan Barbera d'Asti is, consummate chefs and bumbling kitchen hacks alike can delight in the myriad of choices and accompaniments this fine Barbera affords. Whether it be a mid week meatloaf or a genuine Tournedos Rossini (filet mignon with artichoke hearts, foie gras, and truffles in a Madeira sauce), the Villa Giada Ajan is ready to please. And like most top end Barbera wines, this latest release from Andrea Faccio provides a splendid choice to the complex lively cuisine of Italy's Piedmont. Consequently, if your culinary ability gravitates more towards that of the consummate chef than the kitchen hack, we suggest you try the 2003 Ajan with Sautéed Rabbit and Peppers, Braised Duck in a savory Barbera wine reduction, Osso Bucco (Braised Lamb Shanks), or Sautéed Veal Chops, the mouthwatering specialty of Milan.
Andrea Faccio's Azienda Agricole Villa Giada brings exquisite wines to the table from the classic grape varieties his family has grown in Italy's Piedmont for more than two centuries. Located midway between Asti and Alba, the world's foremost production zones for Barbera, Villa Giada specializes in the making of handcrafted Barbera wines from single vineyards. With more than forty-five acres of estate vineyards, located around three ancient farmhouses, Villa Giada's aim is to fashion great wines from individual vineyards and terroirs – a goal that local cognoscenti and international wine critics alike believe they have fulfilled. Villa Giada's historical property dates to 1790, and the estate's ancient farmhouses and winery remain in use today. The old part of the winery still plays host to all of the estate's barriques (small oak barrels), which refine the classic Barbera wines that Andrea Faccio so adeptly crafts. In addition, Villa Giada also sports a modern winery that features stainless steel vats, temperature and pressure control equipment, and the latest technological accoutrements. Moreover, Donato Lanati, a professor at nearby Turin University and one of Italy's foremost oenologists, assists Andrea in the crafting of Villa Giada's wines. Together this dynamic duo fashions wines that are both internationally appealing and traditional in character. For this reason Villa Giada wines has begun sealing its wines with a specially designed synthetic cork, which preserves the wines original fruit and character while it prevents any possible taint that cork can imbue. Although Barbera remains the flagship varietal at Villa Giada, this erudite estate also turns out small quantities of other classic Piedmontese specialtiess, including several still whites from local varieties and a lovely frizzante (lightly, naturally sparkling) Moscato d' Asti.
The Piedmont In the north of Italy, nestled just beneath the great Alpine wall as it tumbles out of Switzerland and the gleaming Mediterranean Sea, lies the Piedmont. It is a region of myriad beauty. It is also the region of Italy closest to France in proximity as well as in the sheer quality and variety of exceptional wines it produces. For centuries, Italy's Piedmont remained a prize to be won, no doubt in part on account of the province's world famous cuisine that still draws happily on the abundance and quality of local truffles. Yet today, it is the superbly made wines of Italy's Piedmont that garner the most international recognition: complex, hedonistic red wines, still delicate whites, and sweet haunting Muscats. With such exquisite fare, should anyone question why the hearty robust delights of the Piedmontese table remain the region's most famous ambassadors to a hungry and thirsty world?
For ardent cheese aficionados and those less endowed in the culinary arts or just plain short of time, we suggest they try the 2003 Villa Giada Ajan Barbera d'Asti with a three-cheese pizza or a first rate antipasto, replete with black olives and authentic classic Italian cheeses such as Montasio, Peccorino, and Toscano Reggiano. In fact, most hard and semi soft cheeses pair beautifully with the 2003Villa Giada Ajan. So for the love of cheese and a chance to indulge in a great selection of international cheeses to accompany the Villa Giada Ajan and the many other fine wines we feature, you need look no further than www.cheesemonthclub.com to enjoy a simple, easy to prepare treat. Salud!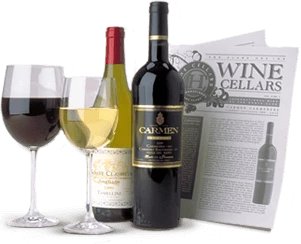 Enjoy Limited Production Estate
Bottled Wines
Discover limited production estate bottled wines such as Vergenoegd's internationally
acclaimed 2005 Cabernet Sauvignon, imported exclusively for our members.
DISCOVER OUR FOUR CLUBS