Crisp, racy, and subtly complex, the 2020 Vignerons Réunis de Buxy Montagny Premier Cru highlights the true character of Chardonnay as well as Montagny's superb terroir. The bright sun-splashed 2020 Montagny Premier Cru regales with finesse and purity in its pleasing bouquet of spring flowers, forsythia, and freshly picked mountain apples. In the mouth, the wine's subtly seductive bouquet re-emerges, offering pure Chardonnay fruit flavors, superb texture, and a refreshing mineral-driven finish. Although the Vignerons Réunis de Buxy always manage to fashion a crowd pleasing Montagny Premier Cru, their 2020 Montagny Premier Cru appears to be the finest example to date and a candidate for further ageing as this youthful Chardonnay is just beginning to reveal all that is has to offer. For optimal enjoyment, we suggest only moderate chilling (40º-45º F) of the 2020 Vignerons Réunis de Buxy Montagny Premier Cru as well as a bit of aeration in order to capture all of this young wine's charm and complexity. Anticipated maturity: 2023-2027. Enjoy!
Although a fine white burgundy such as the 2020 Vignerons Réunis de Buxy Montagny Premier Cru makes a splendid aperitif, it shines greatest in the company of poultry, shellfish, and many fruits of the sea. Pan seared scallops constitute one of our favorite accompaniments with this wine. Crab, shrimp, prawns, and lobster make fine partners, too, as do mussels sautéed in a cream sauce infused with saffron. Baked, grilled, or poached sole and sea bass also pair beautifully with the elegant 2020 Vignerons Reunis de Buxy Montagny Premier Cru. And for those who eschew the fruits of the sea, there is chicken fricassee, light pastas, and salads. However, the glory of a fine Montagny Premier Cru Chardonnay is its ability to shine unadorned, so as you like it. Whatever you decide, you may want to be prepared and have a second bottle on hand. Bon appétit!
Vignerons Réunis de Buxy has become a source of highly sought after white burgundies by consistently fashioning a bevy of high quality, satisfying 100% Chardonnay wines. We discovered this tiny gem of a cooperative more than a decade ago and continue to be impressed by the consistent quality and value that this superbly run winery has to offer. Whether it is the winery's excellent Premier Cru Montagny from the Côte Chalonnaise or Cuvée Réserve Bourgogne Chardonnay, the thirty growers of the Vignerons Réunis de Buxy fashion white wines that are truly worth seeking out. The 2020 Vignerons Réunis de Buxy Montagny Premier Cru (this month's feature) is especially gratifying. It emanates from a hillside 5-hectare Premier Cru vineyard (12.5 acres) in the villages of Jully les Buxy and Saint Vallerin in Montagny on Burgundy's picturesque Côte Chalonnaise. All the grapes for this month's feature, the 2020 Montagny Premier Cru, were hand-harvested, fermented with natural yeasts, and matured in French oak barrels for one year.
The Côte Chalonnaise is the least known of Burgundy's wine regions, but this sequestered set of low hills and tiny villages is garnering both considerable attention and great acclaim. In the last two decades, Côte Chalonnaise has become the source of many unexpected pleasures and a veritable treasure trove of beautiful wines at more affordable prices than its neighbors. Situated to the east of the sleepy little town of Chalon-sur-Saône, from which the region inherits its name, the Côte Chalonnaise is for all intents and purposes a continuation of the fabled Côte de Beaune that lies just to the north.
As is the case throughout Burgundy, Chardonnay and Pinot Noir comprise the predominant grape varieties on the Côte Chalonnaise, with allowance made for small amounts of Pinot Blanc for the region's white wines and Pinot Liebault and Pinot Beurot for its reds. The latter two Pinots are nearly identical to Pinot Noir. Four important communes dominate the region: Givry, Mercurey, Montagny, and Rully – all bona fide Burgundy appellations in their own right. In Givry and Mercurey, the emphasis is on the production of good to excellent red wines, as Pinot Noir reigns supreme in their vineyards. Meanwhile, Rully and Montagny specialize in fashioning crisp, delicious white burgundies from Chardonnay grapes. The tiny town of Buxy is part of the Montagny appellation, which in recent years fashions wines that compete with many of the more renowned white burgundies of the Côte de Beaune, where wines of comparable quality cost two, three, and four times the price. The wines of the Côte Chalonnaise that are grown just outside the boundaries of the four major communes or exceed the legal production for their respective communes are sold as Bourgogne Blanc (Chardonnay) and Bourgogne Rouge, yet they, too, constitute some of Burgundy's best values and unexpected pleasures. Enjoy!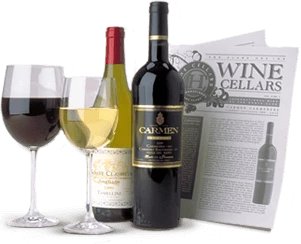 Enjoy Limited Production Estate
Bottled Wines
Discover limited production estate bottled wines such as Vergenoegd's internationally
acclaimed 2005 Cabernet Sauvignon, imported exclusively for our members.
DISCOVER OUR FOUR CLUBS