Unlike its New World counterparts, the pleasure of Chardonnay in the form of Bourgogne Blanc lies neither in power nor in the preponderance of new oak. Instead, the 2013 Vignerons Réunis de Buxy Cuvée Réserve Bourgogne Chardonnay, like all good Bourgogne Blancs, offers a wine of blithe spirit. It is a wine imbued with ethereal charm, finesse, purity, and subtlety of flavor. It possesses all of Chardonnay's unadulterated characteristics and offers real thirst quenching drinkability. The delight begins with the wine's color, a brilliant glint of afternoon sunshine, and continues with a pleasing bouquet of spring flowers, citrus oil and freshly picked summer apples. The wine's charming aroma persists in the mouth to both please and refresh the palate. As the 2013 Vignerons Réunis de Buxy Bourgogne Chardonnay glides over the tongue and ever so easily slips down the throat, it may make you beg for more. We found ourselves wishing we had several more bottles of this Cuvée Réserve ready to go. For optimal enjoyment, we suggest only moderate chilling (40º-45º F) of the 2013 Vignerons Réunis de Buxy Bourgogne Chardonnay, so as not to detract from the wine's delicate flavors. Enjoy!
Although most hors d'oeuvres and light starters offer excellent accompaniments to the 2013 Vignerons Réunis de Buxy Cuvée Réserve Bourgogne Chardonnay, shellfish and the fruits of the sea provide our favorite pairings with this friendly, quaffable Côte Chalonnaise. Scallops, shrimp, and prawns make good partners to this wine, as do mussels, sautéed in a cream sauce infused with saffron. Baked, grilled, poached or sautéed flounder, sole or sea bass pair beautifully with this elegant white wine, too. And for those who eschew the fruits of the sea, there is chicken fricassee, light pastas, and salads. However, the glory of any good Bourgogne Chardonnay is its ability to shine unadorned, and this offering from Vignerons Réunis de Buxy shines brightly as an aperitif. Either way, before you know it, the glass and the bottle will be empty.
Vignerons Réunis de Buxy fashions several tasty, gratifying white Burgundies. We discovered this tiny gem of a cooperative several years ago and continue to be impressed by the consistent quality and value that this superbly run winery has to offer. Whether it is the winery's excellent Premier Cru Montagny or Cuvée Réserve Bourgogne Chardonnay, the thirty growers of the Vignerons Réunis de Buxy fashion white wines worth seeking out. The wine for this month's feature (Cuvée Réserve Bourgogne Chardonnay 2013) emanates from the growers' vineyards surrounding the tiny Burgundy village of Buxy.
The Côte Chalonnaise is perhaps the least known of Burgundy's wine regions, but this sequestered set of low hills and tiny villages is not likely to remain unnoticed for much longer. Increasingly, the Côte Chalonnaise is becoming the source of many unexpected pleasures and a veritable treasure trove of beautiful wines at affordable prices. Situated to the east of the sleepy little town of Chalon-sur-Saône from which the region inherits its name, the Côte Chalonnaise is for all intents and purposes a continuation of the fabled Côte de Beaune that lies just to the north.
As in all of Burgundy, Chardonnay and Pinot Noir comprise the predominant grape varieties on the Côte Chalonnaise, with allowance made for small amounts of Pinot Blanc for the region's white wines and Pinot Liebault and Pinot Beurot for its reds. The latter two Pinots are nearly identical to Pinot Noir. Four important communes dominate the region: Givry, Mercurey, Montagny, and Rully – all bona fide Burgundy appellations in their own right. In Givry and Mercurey, the emphasis is on the production of good to excellent red wines, as Pinot Noir reigns supreme in their vineyards. Meanwhile, Rully and Montagny specialize in fashioning delicious easy to drink white Burgundies from Chardonnay. The tiny town of Buxy is part of the Montagny appellation, which in recent years has begun to fashion wines that compete with many of the more renowned white Burgundies of the Côte de Beaune, where wines of comparable quality cost two and three times the price. The wines of the Côte Chalonnaise that are grown just outside the boundaries of the four major communes or exceed the legal production for their respective communes are sold as Bourgogne Blanc (Chardonnay) and Bourgogne Rouge, and they constitute some of the region's best values and unexpected pleasures. Enjoy!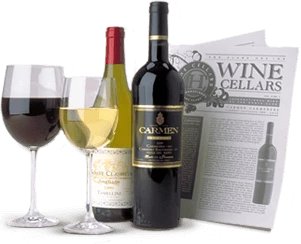 Enjoy Limited Production Estate
Bottled Wines
Discover limited production estate bottled wines such as Vergenoegd's internationally
acclaimed 2005 Cabernet Sauvignon, imported exclusively for our members.
DISCOVER OUR FOUR CLUBS