Vesevo has turned in an impeccable performance with their 2010 Vesevo Beneventano Aglianico. Although Beneventano Aglianico is always one of this inspiring winery's finest wines, the folks at Vesevo have truly outdone themselves with their latest release. Born on the hills of Italy's scenic Campania, the 2010 Vesevo Beneventano truly accentuates the seductive side of Aglianico. Vesevo's Aglianico embodies all of the elements that make the ancient Aglianico varietal so appealing: the savory scents and flavors of ripe red cherries, plump black fruits, and deep down earth and spice tones that seem to spring from the very marrow of the wine and the very good earth of Campania. Happily, this graceful Aglianico comes across as beautifully balanced, too, as it glides across the palate with plenty of lush juicy flavors. Furthermore, ample tannic structure and a deft touch of oak skillfully frame the wine's fruit and earth tones, without imbuing a hard edge to the finish. This is a wine made for pleasurable drinking from the moment it is poured. Nevertheless, we suggest affording the 2010 Vesevo Beneventano Aglianico 15-20 minutes of aeration. You can also be assured that in spite of its early drinkability, this Vesevo Aglianico will most assuredly develop further depth and complexity with another year or two in the bottle.
In Italy's Campania, heart-healthy Mediterranean specialties and full-flavored meats and cheeses represent the traditional choices to accompany Vesevo's 2010 Beneventano Aglianico, and this latest release from Vesevo certainly provides the perfect foil to the region's robust fare. It provides a wonderful complement to traditional southern Italian recipes, including Pasta e Fagioli and other bean and lentil dishes. Homemade pasta served with a thick red arrabiata sauce laden with plenty of garlic and olive oil also provides a splendid backdrop to the Vesevo Aglianico. Grilled lamb rubbed with copious quantities of mint, rosemary, and thyme constitutes one of the most traditional hometown companions to Aglianico; it also happens to be one of the panel's favorite accompaniments. Calzones, oven baked pizzas, Eggplant Parmigiana, grilled Italian sausage, Veal Sorrentino, and homemade minestrone soup provide other fine choices with Vesevo's smooth, full-bodied Aglianico. Barbecue, burgers and rib-eye steaks, served with garlic mashed potatoes and sautéed green beans, offer additional tasty accompaniments. Aged Parmesan or Provolone cheese in the company of the 2010 Vesevo Aglianico provides a special treat, too, especially as a way to end a fine meal. Buon Appetito!
Vesevo draws its name from the ancient name of the volcano Mount Vesuvius, as it pays homage to the traditional grapes and winemaking of Italy's Campania. Known as Enotria, "land of the vine" or "land of the vine posts," winemaking around mighty Vesuvius dates back to the days before Ulysses. Mycenaean and Phoenician sailors found that grapes grew in abundance in this part of Magna Graecia and spread the vines of ancient Greece along the shores of the Tyrrhenian Sea and surrounding Bay of Naples. Homer in Book XI of The Odyssey expounds upon the proliferation of the vine in Enotria. And after more than 2,500 years of continuous cultivation, Vesevo continues the rich traditions and superb winemaking of this blessed land we now more commonly refer to as the Amalfi Coast.
Thanks to a favorable climate, modern technology, and expert winemaking, Vesevo fashions an enviable assortment of wines that embody thousands of years of winemaking tradition. They work exclusively with the Campania's ancient varietals, most notably Aglianico (derived from the word Hellenic, which refers to the vine's earliest origin), Falanghina, Greco di Tufo, and Fiano di Avellino. In the past several years, Vesevo has garnered much deserved praise and critical acclaim for their outstanding work with Campania's traditional varietals.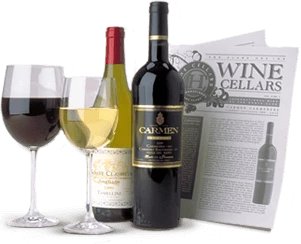 Enjoy Limited Production Estate
Bottled Wines
Discover limited production estate bottled wines such as Vergenoegd's internationally
acclaimed 2005 Cabernet Sauvignon, imported exclusively for our members.
DISCOVER OUR FOUR CLUBS