Flinty, lemony, cheesy…and oh so tasty, the 1999 Verget Chablis is a meal in a glass. This Chablis is what fine, truly dry white wine is all about. Neither acidic nor flabby, an amplifying nose of stony fruit combined with racy satisfying flavors in the mid palate make this Verget offering one of the most enjoyable dry white wines we have tasted. There is just one problem, the 1999 Verget Chablis is so good that it's hard to put down, and like good red wine, it continues to open up as it breathes; revealing more and more nuance of flavor and subtle complexity in each sip. From characteristic green hue to its long, lingering finish, all the liquid mineral goodness that has made real French Chablis (the only real Chablis) the yardstick by which all other dry white wine is measured, is alive and well in the 1999 Verget. Serve moderately chilled, or allow the wine to open in your glass, after a couple of hours of refrigeration. Salut!
Whether you decide to step up or step down with the menu, or even step out and skip food entirely, the 1999 Verget will have no difficulty responding. Chablis is the quintessential white wine. Perfect in summer or winter, the 1999 Verget Chablis is equally comfortable with lobster as it is with chicken salad or even cold cuts. In fact, we have often used the Verget with great satisfaction to jazz up ordinary weekday fare. So when faced with spending a little extra on the wine or whole heck of a lot more on the food, go for the Verget Chablis. You deserve it, after all…who's better than you! Holiday fare, particularly rich seafood, shellfish and poultry in a light but complex cream sauce are the traditional pairings with Chablis, but why not be daring, and step out?
Jean-Marie Guffens left his home in Belgium nearly a quarter century ago at age 21, determined to become a maker of great wines. His quest appeared more like a dream for this task is a most difficult one even for a Frenchman with a host of family vineyards, but more arduous for a penniless Belgian. In the past twenty-five years Jean-Marie has come a long way to achieving his ambition. The Macon Pierreclos Blanc and Pouilly Fuisse from his Domaine Guffens – Heynen have become famous for their uncompromising quality and have been praised by Robert Parker, Jr. as some of the very best white wines in southern Burgundy. Successive vintages of Guffen's wines have startled a sophisticated audience with their pure, ripe flavors and eminent breeding, forcing the inevitable comparison of his wines from relatively modest appellations with the greater appellations of Meursault and elsewhere on the Cote d'Or to the north. The production of Guffen-Heynen wine is very much an artisanal family affair. Guffen makes the wines, while Madame Guffen-Heynen tends their 7 acres of vineyards, which are spread out in parcels on steep slopes long ago abandoned by others who found them too difficult to cultivate. Madame tends the vines in a manner rarely seen in these days of modern convenience and mechanization. Needless to say, the estate is entirely hand harvested. With only 7 acres of craggy vineyards, Guffen was literally living on the edge. Having reached a point where his domaine could not expand, Jean-Marie had another ambition and challenge. He wanted to make an impact in quality on other Burgundy appellations with greater quantity, so he formed a "negoce" in order to fulfill his dream. That is, he became a negociant, selecting prime growers and parcels of vineyards to bottle under his Verget label, but Guffen does dot simply buy up lots of unselected grapes as do most negociants, he makes the viticultural and vinification decisions that account for the quality difference, and which set him apart from other negociants. Jean-Marie visits the chosen grower's entire vineyard to select the parcels of vines to be picked for him. His aim is not to buy a large portion of the total production but only to choose the grapes he wants. In choosing the grapes to harvest, Guffen considers the age of the vines, yields and terroir. This is one reason why many of this Chablis and Macon offerings under the Verget name are single vineyard offerings and hear the name of the site on the label. Once the selection is made, Jean-Marie acts as the grower, deciding on the final pruning, as well as the picking date. He then vinifies the wine himself, either at the domaine or at his own nearby constructed winery in Sologny. The vinification of Verget wines is based upon the same principles and techniques that have made Guffens so famous for his Chardonnays in Macon and Pouilly Fuisse. He very gently presses the best Chardonnay grapes, clarifies only by gravity feed, utilizes slow barrel or tank fermentation and partially barrel ferments some of each selection. After malolactic fermentation (a secondary fermentation whereby the wine's harder malic acid is converted naturally into the softer, more buttery lactic acid), Guffens continues to age his wines on the lees and practices only a very light filtration (rare for whites) in order to preserve the greatest amount of flavor in the finished wine. And, because there is no cold process stabilization prior bottling, Verget wines tend to be fuller and more vivacious than other white Burgundies, though they may throw a bit of sediment or harmless tartrate crystal as a result – a small price to pay for such delicious wine.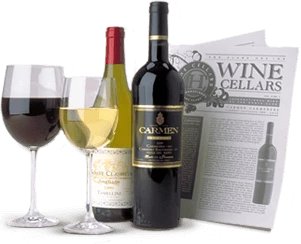 Enjoy Limited Production Estate
Bottled Wines
Discover limited production estate bottled wines such as Vergenoegd's internationally
acclaimed 2005 Cabernet Sauvignon, imported exclusively for our members.
DISCOVER OUR FOUR CLUBS