Just one taste of the 2008 Ventana Arroyo Seco Pinot Noir was enough to convince the panel of Reggie Hammond's ability to fashion outstanding Pinot Noir in Arroyo Seco's cool climate. Lusty scents of smoky cherry, peat, black fruits, and soft spice permeate the nose and seep into the mid palate of this delectable Pinot Noir. Packed with flavor and smooth-textured from start to finish, Ventana has hit the mark with this offering. Moreover, the 2008 Ventana exits with a long, seductive finish reminiscent of crème de cassis reduction that lingers happily long after the wine has gone to its just reward. For optimum enjoyment, allow this elegant, medium-bodied Pinot Noir to breathe for at least a few minutes before consuming at cool room temperature.
Pinot Noir is perhaps the most versatile of all red wines. Its tannic structure pales in comparison to Cabernet Sauvignon, Syrah, or even Merlot, which allows for early consumption. Furthermore, the grape's complex flavors pair easily with a wide variety of foods, and the 2008 Ventana Arroyo Seco Pinot Noir is no exception. Herbed Loin of Lamb with a Pinot Noir reduction; Braised Duck or Partridge in a rich gravy; Pan-Seared Pork Tenderloin, served with a pomegranate and Pinot Noir sauce; and Grilled Tuna in a spicy mango sauce all pair beautifully with this wine. Simple cream based pastas, salmon patties, and rotisserie roasted chicken complement Ventana's delicious Pinot Noir, too, but whatever you fancy . . . Enjoy!
Doug Meador, a former Navy jet pilot and University of Washington Econometrics graduate, was planning a career in Washington State where his family owned orchards, when he was unexpectedly waylaid. On his way to Washington from the Navy, some college friends persuaded Doug to supervise the planting of 2,500 acres of grapes in Monterey County. Suddenly, Doug's plans changed. He had become fascinated with the challenge of cool climate viticulture, so he decided to remain in Monterey. Doug subsequently purchased the finest area of the large planting he was supervising and named it Ventana Vineyards. Doug chose the vineyard's name (the Spanish word for window) because the vineyard abuts to the Ventana Wilderness, and the vineyard symbolized to him the "window to the future" in viticulture in Monterey. However, not even Doug could have envisioned just quite how prophetic the name Ventana would become and how it would come to symbolize Monterey's miraculous transformation. From the outset Doug became involved in clonal vine research, discovering that many Monterey vines had been mislabeled or were never the best varietals or clones for the region's cool climate. With Doug in the vanguard, the Arroyo Seco American Viticultural Area of Monterey became legendary for growing Chardonnay and Pinot Noir. It also became the fastest growing wine region in the world. From Doug's original plantation in 1972, the Arroyo Seco has grown to more than 50,000 acres, more than many other world renowned viticultural regions such as Spain's Rioja. Moreover, the Arroyo Seco now attracts the very top names in American and European viticulture. Today, Ventana Vineyards is owned by a group of long time growers and its wines are now being made by Reggie Hammond who continues Doug Meador's dedication to vineyard selection and deft touch in the cellar. All Ventana wines remain estate grown and bottled. Moreover, because of the many fine wines Ventana has produced over the years and the quality of the fruit it has supplied to other leading California wineries, Ventana has earned the reputation of being "The Most Award Winning Single Vineyard in America." Bernardus, Cain, Fogarty, Geyser Peak, and others have all benefited from Ventana's fruit, which has the propensity to make wines with an abundance of fruit with a European sensibility. In addition to fashioning its traditional Burgundian and Rhône blends and varietals, Ventana recently acquired Le Mistral, the legendary Joseph Phelps' Rhône Ranger that flows from a single vineyard in Monterey County. In 2008 Ventana purchased the vineyard as well as the rights from Phelps for Le Mistral.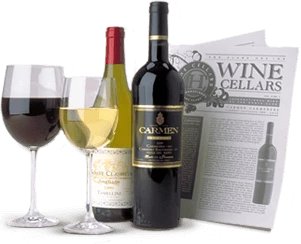 Enjoy Limited Production Estate
Bottled Wines
Discover limited production estate bottled wines such as Vergenoegd's internationally
acclaimed 2005 Cabernet Sauvignon, imported exclusively for our members.
DISCOVER OUR FOUR CLUBS