After just one taste of the 2000 Ventana Arroyo Seco Syrah, it will come as no surprise to learn that Ventana's Syrah is the progeny of the oldest Syrah vines in Monterey County. Lush, hedonistic and supremely balanced in bouquet as well as flavor, this offering from Ventana recalls the glory of Chateauneuf-du-Pape. Red fruits, black fruits, Asian spices and a hint of pepper caress the nose and coat the palate. Similarly, just the right amount of smooth American oak frames the center and finish of the 2000 Ventana Arroyo Seco Syrah, which leaves the imbiber begging for more. For optimum enjoyment, allow this elegant, medium-bodied Syrah to breathe in a decanter or glass for at least a few minutes before consuming it.
While the timeworn tradition of pairing Syrah with beef and lamb is certainly a propos in the case of the 2000 Ventana Arroyo Seco Syrah, both the wine and the consumer deserve a broader palette upon which to draw. So, by all means dust off that recipe you have been saving for the ultimate braised lamb shank or the perfect beef tenderloin; and after that is all said and done, let's talk Mediterranean. Roasted quail, grilled chicken with rosemary and garlic, Provencal pizzas, stuffed ravioli, and just about any pasta dish of consequence provide other delicious accompaniments to the 2000 Ventana Syrah. A classic Florentine Pizza, with fresh garden spinach, garlic, chopped tomatoes ricotta, and mozzarella, in the company of the Ventana Syrah, remains one of our favorite meals. A fresh mushroom pizza is another winning combination. And for those drawn to the sea, a fine cut of tuna, brushed with olive oil and grilled rare with Mediterranean herbs, provides another taste sensation. Enjoy!
Doug Meador, a former Navy jet pilot and University of Washington Econometrics graduate, was planning a career in Washington State where his family owned orchards, when he was unexpectedly waylaid. On his way to Washington from the Navy, some college friends persuaded Doug to supervise the planting of 2,500 acres of grapes in Monterey County. Suddenly, Doug's plans changed. He had become fascinated with the challenge of cool climate viticulture, so he decided to remain in Monterey. Doug subsequently purchased the finest area of the large planting he was supervising and named it Ventana Vineyards. Doug chose the vineyard's name (the Spanish word for window) because the vineyard abuts to the Ventana Wilderness, and the vineyard symbolized to him the window to the future in viticulture in Monterey. However, not even Doug could have envisioned just quite how prophetic the name Ventana would become and how it would come to symbolize Monterey's miraculous transformation. Today, Ventana Vineyards remains entirely owned and operated by Doug and Luann Meador, with assistance from their production staff. Moreover, Ventana Vineyards is the Most Award Winning Single Vineyard in America. For over thirty years, Ventana has essentially been a research vineyard the result of Doug Meador's single-minded dedication to earn Monterey County a respected place on the California wine map. This accomplishment is due in large part to his research and dedication to solving the challenges and reaping the rewards of cool climate viticulture. Some of Doug's innovations include close vine spacing and split canopy trellising methods that protect the vines from wind and open the grapes to sunlight and air circulation. This increases yields while improving overall fruit quality. Doug Meador has also tackled clonal vine research, finding that many vines were mislabeled and were not the best varietals or clones for Monterey's cool growing region. With Doug in the vanguard, the Arroyo Seco American Viticultural Area of Monterey is now the fastest growing wine region in the world. From Doug's original plantation in 1972, the Arroyo Seco has grown to more than 50,000 acres, more than many other world renowned viticultural regions such as Spain's Rioja. Moreover, the Arroyo Seco now attracts the very top names in American and European viticulture. The benefits of many years of study are found in the many fine wines of Ventana Vineyards. By his own proclamation, Meador describes his wines as possessing a European sensibility with an abundance of California fruit. In addition, each wine from Ventana Vineyards is true to its labeled varietal and is 100% estate grown and bottled from a single vineyard; these are qualities found in only the finest wines. Yet, these remarkable attributes are only part of the quality quotient at Ventana. The other half of the equation is Ventana Vineyard's refusal to bottle more than a third of its entire grape production. In choosing this path, the winery is able to bottle only the finest portion of each vintage, which assures the overall quality of its wines as well as consistency from vintage to vintage. The rest of the estate's production is sold off to other premium wineries, such as Bernardus, Cain, Fogarty, and Geyser Peak; the quality of Ventana's fruit as well as Doug Meador's reputation for viticultural research makes Ventana's grapes some of the most sought after fruit in California. Not surprisingly, these other wineries have made an unprecedented number of award winning wines from Ventana's fruit, augmenting further Meador's claim to fame with his own wines.
Climate Regions of California Years ago the Viticulture and Enology Department of the University of California studied the various climatic zones within the state, confirming the long held notion among grape growers and ordinary residents alike that the Golden State was home to a multitude of microclimates. In order to assist growers, who were seeking the answer to the age-old question of what grape varietals to plant in what location, University scientists zoned the state into five distinct climatic regions, based upon a method of heat summation. According to the University of California's method, each day of the growing season (April 1 October 31) is classified on a scale of degree days, whereby the length of time the temperature remains over 50º F on any given day is measured, resulting in a maximum number of degree days for each zone. The zones range from Region I, with 2,500 degree days or less, to Region V, with more than 4,000 degree days. Region I growing areas (Ventana Vineyards is located entirely within a Region I zone of Monterey County) are to be found in varying parts of California, including many of the choicest areas of Monterey, Santa Barbara, and Sonoma Counties, which specialize in the cultivation of Chardonnay, Gewürztraminer, Pinot Noir, and Syrah the so called cool climate varietals. The advantage of cool climate viticulture in California for the appropriate grapes is an additional hang time of 30-60 days in the vineyard, which concentrates the flavor and balances the sugars and acidity in the grapes, resulting in wines of considerable flavor as well as finesse.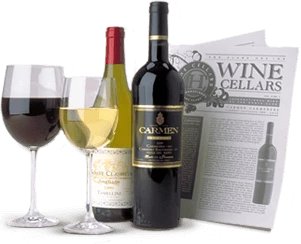 Enjoy Limited Production Estate
Bottled Wines
Discover limited production estate bottled wines such as Vergenoegd's internationally
acclaimed 2005 Cabernet Sauvignon, imported exclusively for our members.
DISCOVER OUR FOUR CLUBS