An amplifying nose of pure, sweet butter greets the nose, before that luxurious aroma proceeds to the palate, where it fills the mouth with clear bright fruit, hints of citrus and just a touch of vanilla butter. Such is the uncomplicated but utterly gratifying calling card of the 2003 Van Loveren Reserve Chardonnay. In short, this is one tasty, eminently drinkable Chardonnay. This is the style of Chardonnay many more premium California producers could provide consistently, if they were not so obsessed with acid balancing and the taste of oak rather than the natural flavors of the Chardonnay grape. We suggest serving this friendly, huggable wine fairly well chilled (40°- 45° F), and often. Although thoroughly enjoyable from the onset, the 2003 will continue to improve in bottle for at least another year or two.
The 2003 Van Loveren Reserve Chardonnay makes an excellent aperitif as it provides a great opening act to a splendid affair. Nonetheless, it is not the least bit recalcitrant in providing escort service to a large array of star-studded dishes. Some of the panel's favorite accompaniments include mesquite smoked chicken wraps or marinated grilled chicken, served with either a mild Mediterranean herb paste and plenty of ripe avocados or a mild sweet and sour sauce with mandarin oranges. A light salmon mousse, a pecan encrusted salmon, and expertly prepared California rolls provide other exemplary pairings with the 2003 Van Loveren Reserve Chardonnay. An old fashioned Pasta Primavera renders yet another tried and true complement. For cheese lovers we suggest pairing the Van Loveren with both mild and medium-bodied cheeses, and that you check out other expert cheese selections from our Gourmet Cheese of the Month Club at www.cheesemonthclub.com In order to accentuate the soft, easy style of this Chardonnay and highlight the wine's subtlety and nuance, we suggest that you eschew raw garlic and onion and overtly piquant flavors like jalapeños and other hot peppers. Enjoy!
Van Loveren is located on the banks of the Breede River in Robertson, South Africa's premier Chardonnay producing region. Two brothers, Nico and Wynand Retief, own this beautiful red canna lily lined property only 100 miles from Cape Town. In the days of yore, Van Loveren was a large farm affectionately called Goudmyn (Goldmine). Today, it is a 330 acre wine estate that is highly regarded for its picturesque beauty and liquid gold, mostly in the form of Chardonnay. Van Loveren is currently one of the leading producers of premium Chardonnay in South Africa and a driving force behind the recent success of Robertson as a prime viticultural area. The region's limestone rich soil is perfect for Chardonnay, which have led some critics to compare the Robertson and Van Loveren's wines in particular to the charming, round Chardonnays of Pouilly-Fuissé. With these pundits we heartily concur. However, the Retief brothers also fashion other high quality white wines at their estate. Specifically, this property's Sauvignon Blanc is world-class wine as well, a hypothetical cross of the bright, herbal New Zealand-style of the varietal and the tropical fruit, big boned body of prime Australian Sauvignon Blanc. In addition, Van Loveren crafts excellent Colombard, Pinot Gris, and Riesling, along with two fine dessert wines and a delicious sparkling wine they have named Papillon. Since the early 1990's the Refief brothers have also been working with premium red varietals, most notably Cabernet, Merlot, Shiraz, and Pinotage - South Africa's own unique varietal. Most assuredly, we will be hearing a lot more about this property in the years to come, and hopefully we will be tasting many more of their wares as well.
South African Chardonnay South Africa's victory in the 1999 Tri-Nations Chardonnay Challenge against Australia and New Zealand highlights just how far the South African wine industry has traveled in just a decade. Spearheaded by the premium producers of the Cape, South Africa's oldest and most important viticultural area that stretches to the east and west of Cape Town at the very tip of Africa, South Africa has developed a distinctive, elegant, yet flavorful style of Chardonnay that many New World producers of Chardonnay would be wise to emulate. Rarely are estate-bottled South African Chardonnays insipid or tragically steeped in oak à la the majority of California Chardonnays, whose producers seem bent on proving that spending considerable sums on new oak barrels automatically guarantees a quality product. Instead, the emerging Cape style of Chardonnay expresses elegance and the natural flavor profile of the grape. From premium Cape Chardonnays one can typically glean citrusy, refreshing aromas and flavors that provide a splendid counterpoint to the varietal's buttery tones, providing balance and setting the stage for the full expression of the Chardonnay grape and the distinctive terroir of the Cape. Vive la différence!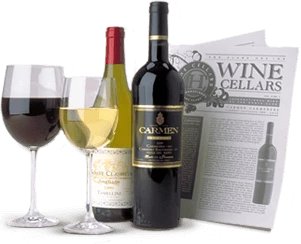 Enjoy Limited Production Estate
Bottled Wines
Discover limited production estate bottled wines such as Vergenoegd's internationally
acclaimed 2005 Cabernet Sauvignon, imported exclusively for our members.
DISCOVER OUR FOUR CLUBS