Fire and power permeate the character of the 1997 Valley of the Moon Zinfandel. Produced from old vines, this muscular, nearly opaque wine offers up scents of bramble, wild raspberry and pepper in its heady, alcoholic nose. "No white Zinfandel aficionados need apply for this big-boned beauty", carped one of the panel's tasters. And how! In the mouth, brawn, bramble and blueberry flavors present themselves in statuesque fashion, followed by a hefty dose of healthy tannin; reminiscent of a first rate Barbera or Nebbiolo from Italy's Piedmont, this Valley of the Moon Zinfandel is sure to raise some eyebrows and draw a few smiles, too, especially among old-timers and cognoscenti, who remember the wines of yesteryear. Serve at cool room temperature, and enjoy this good old-fashioned Zinfandel.
No longer any need to worry about what wine to serve with the heartiest, stick-to-your-ribs fare that comes off your summer barbecue; the 1997 Valley of the Moon Zinfandel will stand up to just about any summertime fare you can muster. Pork or Texas-style beef barbecue, briskets and marinated steaks are all fine choices with this Valley of the Moon offering. Garlic laden pasta salads, marinated eggplant and roasted pepper, prosciutto and mortadella, sausage and peppers, along with just about any other antipasto offerings from a good Italian deli provide first class accompaniments to this fine Zin. Have a party and enjoy!
Haunted by history and romance, the Sonoma Valley was called "Valley of the Moon" by the Native Americans who inhabited the area. As the moon ascended in the evening sky, it appeared to rise, again and again over the peaks and glens of the Mayacamas mountain range. Thus, the moon in all its phases is the symbol for Valley of the Moon Winery and vineyards, located in the very heart of the Sonoma Valley. The etched design on the bottle of each Valley of the Moon wine depicts the lunar phases surrounded by a "cosmos" of white dots, and the expression of moonlight, the reflected light of the sun. Zinfandel is the premier red varietal of this historic estate, eclipsing all other offerings with its ultimate expression of strength and vigor. However, Valley of the Moon does produce several other fine reds, including: Syrah, Sangiovese, Barbera, and a Meritage blend called Cuvee de la Luna. On the fairer side, Pinot Blanc is the estate's flagship offering, while a small quantity of noteworthy Chardonnay is also released each year. All of the Valley of the Moon wines are bottled with the minimal amounts of sulfites - typically in a range of twenty-five to thirty-five parts per million free-sulfites. Furthermore, Valley of the Moon uses no other preservatives in its wines, underscoring this estate's dedication to healthy, natural tasting wine.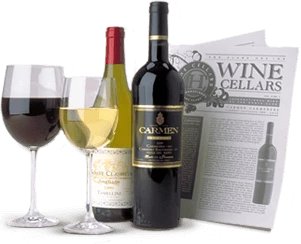 Enjoy Limited Production Estate
Bottled Wines
Discover limited production estate bottled wines such as Vergenoegd's internationally
acclaimed 2005 Cabernet Sauvignon, imported exclusively for our members.
DISCOVER OUR FOUR CLUBS