Valle Secreto's 2012 Private Syrah-Cabernet Sauvignon-Carmenère displays a deep purple color that remains nearly impenetrable, but that should come as no surprise from a wine made from equal parts Syrah, Cabernet Sauvignon, and Carmenère – three very compatible, richly colored grape varietals. From the moment it is poured, soaring full-blown aromatics and rich, polished flavors set the 2012 Valle Secreto Private apart. Reminiscent of classified Bordeaux, the 2012 Valle Secreto Private offers up a staggering bouquet of blackberry, cassis, herbs, unsmoked tobacco, and dark chocolate, all of which are neatly framed by a pleasant patina of oak. Better still, deep, complex flavors reminiscent of the wine's bouquet emerge in the center, bolstered by ripe tannins that add energy and lift, not to mention wonderful balance and a satisfying finish. A seductive pungency permeates the wine, which renders the 2012 Valle Secreto Private both utterly satisfying and immensely intriguing. In short, the 2012 Valle Secreto Private rocks. Allow this preeminent wine from Valle Secreto a few minutes of aeration before consuming at cool room temperature (60°-64° F) and enjoy it now through 2022!
The rich fruit, deep-down flavors and firm structure of the 2012 Valle Secreto Private Syrah-Cabernet Sauvignon-Carmenère make this wine a natural accompaniment to full-flavored dishes. Although I suspect many of our members would just as soon consume this wine on its own, why settle for half the pleasure, when you can have it all? Marinated New York Strip Steak served with mushroom truffle butter over red pepper risotto and roasted butternut squash offers a splendid accompaniment to Valle Secreto's flagship wine. Horseradish Crusted Beef Tenderloin served with cheesy Arborio rice and sautéed vegetables offers another tasty complement. Lamb prepared in a variety of ways provides a tasty accompaniment, too, as will duck, quail and other game birds. Braised grouse with grapes and walnuts gets especially high marks. A grilled veal chop served with a red pepper stuffed with creamy risotto, spicy sausage, and Parmesan cheese offers additional companionship to this wine. A plate of creamy cow's milk cheeses served with ripe Bosc pears makes a nice, easy to prepare accompaniment as well. Enjoy!
Valle Secreto, which means secret or hidden valley, is true to its name. This estate and its vineyards had eluded most of the outside world until we came upon it several years ago. Just when we thought we had scoured every bit of a region for its finest wines and most compelling producers, another hidden treasure suddenly appeared. I suppose we shouldn't be surprised. It happens all the time, and we're not complaining; there's nothing better than stumbling upon a new and exciting cache of wine. Besides, who in his right mind turns down an embarrassment of riches? But what makes the appearance of Valle Secreto somewhat startling is that the estate lies just 60 miles or so south of Chile's capital Santiago in the Cachapoal Valley (pronounced kah-cha-po-AL).
Cachapoal Valley, also known as Rapel Valley, is one of Chile's oldest wine producing areas. It is part of the great Central Valley of Chile, the country's agricultural heartland that stretches south from Santiago, etching the green coastal mountain ranges and the towering Cordillera of the Andes. Cachapoal is red wine country, a region renowned for producing balanced, full-bodied Cabernet, Syrah, and Carmenère based wines. The cool maritime influences from the nearby Pacific temper the hot summer days. The extreme variation between day and night time temperatures results in wines of pronounced aromatic profiles and ripe, fresh fruit flavors.
Valle Secreto fashions a number of delicious red and white wines. First Edition, as the name implies, is the first set of varietals produced by Valle Secreto. The winery refers to its First Edition wines as its first secret. Valle Secreto's First Edition portfolio includes Cachapoal's premier varietals: Syrah, Cabernet Sauvignon, Cabernet Franc, Carmenère, Merlot, and Sauvignon Blanc. First Edition wines strike a fine balance between vibrant fruit, tannic structure, and oak barrel ageing, while Valle Secreto's age-worthy flagship offerings bear the name Private. These wines, including this month's feature, are all limited reserve offerings that set the highest standard for excellence. Only a few hundred cases of this month's feature, the 2012 Private Syrah-Cabernet Sauvignon-Carmenère, are available for all of North America.
Syrah, also known as Shiraz, has been grown for centuries in the Rhône Valley of France, where it is responsible in all or part for many of the greatest red wines of France (Hermitage, Côte Rôtie, and Châteauneuf-du-Pape, specifically). Like Cabernet Sauvignon and other traditional French varietals, Syrah has traveled the world, consistently producing many of the world's finest and most expensive red wines. Australia, California, Chile, and South Africa all lay claim to high quality Syrah-based wines.
Cabernet Sauvignon and Carmenère hail from Bordeaux. Cabernet Sauvignon, the more prominent and prolific of the two varietals, has made its way to nearly every wine growing region on earth. It is often referred to as the "King of Red Grapes" for its dominating flavor profile as well as the myriad of world class wines that rely upon it. The greatest wines of Bordeaux and California are just a few examples of Cabernet's preeminence in the world of wine. On the other hand, Carmenère, one of six legal red Bordeaux varietals, only occasionally now makes its appearance in Bordeaux. However, Carmenère has been resurrected in Chile where it thrives in the dry, phylloxera-free environment of Chile's Central Valley. Although cultivated in Chile for centuries, Carmenère has in the past generation come to fore, producing Chile's most emblematic wine. Carmenère shines on its own when bottled as a varietal, and it also makes a wonderful partner to Syrah, Merlot and Cabernet Sauvignon.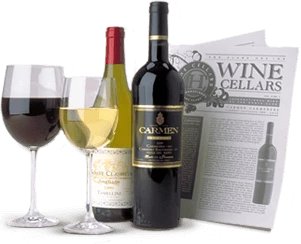 Enjoy Limited Production Estate
Bottled Wines
Discover limited production estate bottled wines such as Vergenoegd's internationally
acclaimed 2005 Cabernet Sauvignon, imported exclusively for our members.
DISCOVER OUR FOUR CLUBS