The 2011 Valle Las Nencias Reserve displays the deep bluish-purple of the nencias as well as a profound bouquet of red and black fruits. Blackberry, plum, mocha and crushed violet aromas quickly emerge from this beautifully robed wine. On the palate, the wine's deep core of crème de cassis fruit melds with floral and dark chocolate flavors to fill the mouth and caress the senses. Full-bodied, yet ripe and seamless in the mouth, it's hard to believe that this youthful Malbec blend can be so smooth and charming at such a tender age. In any case, the 2011 Las Nencias Reserve is ready to stand and deliver now, but the wine's healthy ripe tannins will easily allow it to mature and improve in bottle for up to five years or more. Give this special blend at least 15-20 minutes of aeration and enjoy it at cool room temperature (no more than 65°F).
The deep red wines of Argentina, including the 2011 Las Nencias Reserve, are bred for the flavorful free range beef and hearty Mediterranean inspired dishes that Argentineans love to consume in copious quantities. As for the 2011 Las Nencias Reserve, it is gracious and versatile enough to enhance any elegant dinner party or home barbecue. So, whether the evening fare is a stuffed veal chop, thick rib eye steak grilled to perfection, or bacon and cheddar cheese burger, the Las Nencias Reserve Blend will provide excellent company. And since nearly 40% of the Argentine population has its roots in Italy, why not consider such Italian favorites as grilled Italian sausages made with cheese, fennel, or hot spices, to accompany a glass or two of this Reserve offering? And if you want to perk up a mid week meal, serve those sausages over creamy polenta or grits. Meatloaf, lamb stew and grilled lamb kebobs with roasted peppers, onions and root vegetables will do justice to this wine as well. And last but by no means least, Eggplant Rollini and Zuccchini Parmigiana offer excellent accompaniments, too. Buen Provecho or should we say Buon Appetito!
Nothing in the world of wine quite matches the high Andean valleys of Argentina and Chile, steep vine covered slopes and mountain slots that doze under pure blue skies at the base of the towering Andes. But if you have never seen the Andes up close and personal, it may be hard capture the true magic and utter majesty of the land of Valle Las Nencias.
Valle Las Nencias Reserve is a special blend of Malbec, Cabernet Sauvignon, Bonarda, Cabernet Franc and Syrah that is grown at an altitude of 3,300 feet in the beautiful Las Nencias Valley. The Marmolejo Glacier amidst the Andes forms the majestic backdrop for the vineyard. However, the most distinctive feature of this exceptional terroir is the wild growth of "nencias" (Gentianella multicaulis), a stunningly beautiful bluish-purple flower for which the valley and this fine blend of wine are named. The Las Nencias Reserve is a Malbec blend characterized by the deep color of the nencias that grow abundantly in the valley.
Malbec is one of the original red wine grapes of Bordeaux, France (where it is called Cot or Pressac). While Malbec plays a purely supporting role today in Bordeaux, adding color and body to the region's Merlot and Cabernet blends, it remains one of the five legal grape varieties permitted in red Bordeaux (along with Cabernet Sauvignon, Cabernet Franc, Merlot and Petit Verdot). However, south of Bordeaux in the region of Cahors, Malbec still reigns supreme. It remains the chief grape used in what historically has been called the "black wine" of Cahors.
Today, Argentina is the true champion of Malbec, where the varietal is the most important grape variety, both in terms of quality and quantity. The best Argentine Malbecs and Malbec blends are age worthy wines of true distinction.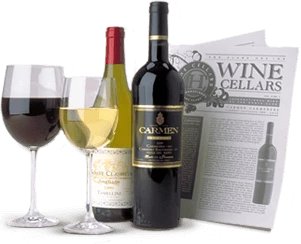 Enjoy Limited Production Estate
Bottled Wines
Discover limited production estate bottled wines such as Vergenoegd's internationally
acclaimed 2005 Cabernet Sauvignon, imported exclusively for our members.
DISCOVER OUR FOUR CLUBS