Elegance, precision, and haunting aromatics best describe the 2016 Valenciso Rioja Blanco, a wine that sheds a whole new light on Rioja Blanco. This is a wine made with the same care that goes into Valenciso's remarkable Rioja Reserva and has earned Valenciso effusive press, including many 90+ ratings for its Rioja Blanco and Decanter's Winery of the Year Award. The 2016 Valenciso Rioja Blanco is fashioned from 80-100 year old Viura (70%) and Garnacha Blanca (30%) grown in the Rioja Alta. Moreover, the 2016 Valenciso Rioja Blanco will appeal to white and red wine drinkers alike. It offers a gorgeous set of aromatics: tangy fruit and citrus twists tempered by refined oak tones and a racy minerality, all of which thoroughly delight the nose and fortuitously reappear on the palate. In the mouth, this youthful Rioja Blanco expands with each sip, showcasing its precision and ever-evolving complex flavors. The 2016 Valenciso Rioja Blanco is a serious white Rioja that delights now but will continue to evolve gracefully in the bottle for at least five more years. Valenciso's remarkable, creamy, barrel-aged Rioja Blanco has few rivals. For optimal enjoyment now we suggest moderate chilling (40° F) and a few minutes of aeration before consuming. Enjoy!
At the apogee of barrel-aged white Rioja, the 2016 Valenciso Rioja Blanco deserves culinary accompaniments to match its stature. Undoubtedly, this exceptional Rioja Blanco could be used as a substitute for the finest Chardonnay, but why stop there? For starters, consider pairing Valenciso's 2016 Rioja Blanco with some excellent tapas such as mushroom caps stuffed with cheese and herbs or fried bread with fresh tomatoes and Garrotxa cheese. Better still, plan a main course around this splendid Rioja Blanco. Fish and shellfish provide excellent accompaniments. Salmon and tuna also make especially fine companions to Valenciso's flavorful, yet refined, Rioja Blanco. Salmon with a rich fennel sauce pairs exceptionally well. For even more punch, consider pairing the Valenciso Rioja Blanco with tuna served with a piquant mango salsa replete with a touch of heat. Couscous with grilled chicken, nuts and white raisons makes a fine showing, too. And a plate full of lobster or crab legs with a touch of warm drawn butter offers another truly stellar pairing. Buen Provecho!
The Compania Bodeguera de Valenciso is run with great care and precision by the gracious Luis Valentin and his partner in wine, Carmen Enciso. A visit to this meticulous winery always provides one of the highlights of our buying trips to Spain, as this bodega's winery and vineyards raise the bar for everyone in Rioja interested in making world class wine. This month's offering – a rare and highly allocated release of outstanding white Rioja – comes on the heels of Valenciso's extraordinary 2010 red Rioja Reserva that has garnered international acclaim. Normally, The International Wine of the Month Club does not feature the same winery to members during the course of any calendar year, but this rare, equally impressive offering we thought too good to pass up. Apparently, others have felt the same way. Valenciso has received such rave reviews that we felt compelled to break with tradition. We trust you will agree.
The name Valenciso, a combination of the proprietors' two last names, was born when Luis and Carmen left their respective positions at one of Rioja's oldest and most prestigious bodegas. With a shared vision for creating a truly boutique Rioja in their own cellar, Luis and Carmen have created two of the finest and most seductive of all Rioja wines. Their dream comes to life each vintage in the outstanding Rioja Reserva and rare, age-worthy Rioja Blanco, both of which flow harmoniously from their bodega into our glasses.
The secret to the nearly instantaneous success of Valenciso is the passion Luis and Carmen apply to making wines. They first established their reputation by coaxing greatness from old vine Tempranillo, the quintessential Spanish grape varietal that steals the heart and defines the soul of Rioja. Recently, Valenciso has embarked on fashioning an equally impressive white Rioja from Viura and Garnacha Blanca, Rioja's traditional white grape varieties. Yields in the vineyard are kept draconically small in order to fashion wines of finesse, flavor, and symphonic harmony. In addition, all of Valenciso's wines are made in very small lots or cuvees in the cleanest, most impeccably run winery we have ever visited. Moreover, only small barriques are used for aging, a third of which are renewed annually. French oak predominates and all their corks are classified as "flor" quality, the highest level possible. Yet, without expert winemaking, all of these measures would be of marginal value at best. With a string of successes that began with Valenciso's inaugural vintage in 2000, Luis and Carmen have made their dream come true. Only one Rioja Reserva and a limited quantity of highly allocated exceptional Rioja Blanco are made at Valenciso.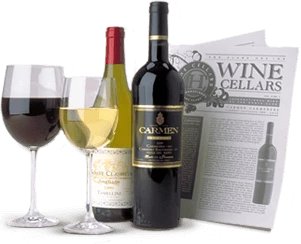 Enjoy Limited Production Estate
Bottled Wines
Discover limited production estate bottled wines such as Vergenoegd's internationally
acclaimed 2005 Cabernet Sauvignon, imported exclusively for our members.
DISCOVER OUR FOUR CLUBS