Wrought from Chile's outstanding 2003 vintage, Undurraga's 2003 Founder's Collection is a soft exquisitely textured Cabernet that not only tastes terrific now, it holds the promise of many more good years to come. From its deep majestic robe to its chocolate, menthol, spice box nose, straight through to its impeccably balanced finish this youthful Undurraga Cabernet shines with personality, good breeding, and great flavor. This is not the usual raw power, tannic monster of a Cabernet that so many young New World Cabernets appear to be these days. Instead, currant and cassis fruit mingle in the elegantly crafted center of this wine, whose core is accentuated all the more by sweet tannins and a long finish. Although quite elegant and flavorful from the onset, the 2003 Undurraga Founder's Collection benefits from extended aeration and continues to improve even after several hours open. If only we could always have a bottle of this wine at table and still have a case set aside to forget about for a while – just imagine! Enjoy it now and in the future!
Exquisite wine deserves the finest food one can put on the table, or nothing at all. However, fine food does not necessarily mean fancy food. Simple, well-prepared meals that use only the best cuts of meats and the choicest vegetables or cheeses truly offer the most discriminating complements to the 2003 Undurraga Founder's Collection. Consequently, roast Cornish hens, prime aged filet mignon, and rack of lamb provide patrician choices to complement Undurraga's premier wine. A bottle of Founder's Collection in the company of a thick stuffed veal chop makes the mouth water, too. And come to think of it, Founder's Collection and a few large slices of authentic Dutch Edam or French Mimolette cheese promise to make a veritable feast of an ordinary meal or provide a grand finale to a gourmet affair, so as you like it. But remember, the Founder's Collection's tastes are simple; it likes only the best.
Vina Undurraga was founded back in 1882 by Francisco Undurraga, and since that time five generations of the Undurraga family have successfully managed the winery and maintained the spirit and Old World character of the founder. However, for this writer a visit to Vina Undurraga is more than a step back in time; it is an interlude in the Old World, a visit to a time and place where gentility, grace, and good manners predominate. Furthermore, a day spent at this attractive estate, a mere 20 miles from Santiago, constitutes the culmination of a personal quest and the fulfillment of a sort of pilgrimage that began decades ago with a chance encounter with an outstanding Undurraga Cabernet Sauvignon that put to shame many costly red Bordeaux wines at a formal tasting. Today, Undurraga produces a great assortment of outstanding wines, only some of which are red and readily available outside of Chile. Certainly, red wine offerings that are comprised of Cabernet Sauvignon, Carmenere, Merlot, and Pinot Noir, constitute the lion share of production at Undurraga as they do at most prestigious Chilean wineries. However, the quality of Undurraga's white wines is now on par with its reds. The firm's Chardonnay Reserva, Sauvignon Blanc, and Late Harvest Semillon are all clear standouts. Nonetheless, Undurraga's greatest wine remains the outstanding luxury proprietary red called Founder's Collection, which is named of course in honor of Francisco Undurraga, the firm's founder. Founder's Collection is one of South America's most expensive and sought after wines.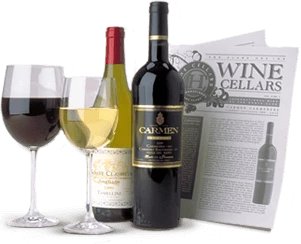 Enjoy Limited Production Estate
Bottled Wines
Discover limited production estate bottled wines such as Vergenoegd's internationally
acclaimed 2005 Cabernet Sauvignon, imported exclusively for our members.
DISCOVER OUR FOUR CLUBS