We marveled at the 1999 Turramurra Pinot Noir the first time we tasted it, and now with a little additional bottle age we are even more impressed. This wine is all about pure Pinot pleasure. Amplifying scents of red cherry, kirsch, oriental spice, and smooth French oak commence the allure of this superbly crafted Pinot Noir. Ripe clean cherry, raspberry, and current flavors follow on the palate, while deep down ever changing touches of oriental spice, smooth vanillin, and the ethereal, almost mystical, array of flavors that great Pinot Noir can paint on the palate bedazzle the senses. And even though this wine is already smooth, flavorful, and haunting, the1999 Turramurra Pinot Noir is nowhere near its apogee; another year or two in bottle will further transform this already great Pinot Noir into a true classic. The 1999 Turramurra Pinot Noir is crafted in the Burgundian tradition and is far and away the finest example of the finicky Pinot Noir grape that we have ever tasted from Australia. We suggest consuming this outstanding Pinot Noir at cool room temperature (66°-68° F).
All traditional Burgundian fare, such as Coq au Vin and Boeuf Bourguignon, provide splendid accompaniments to David and Paula Leslie's outstanding Turramurra Pinot Noir. In turn, the company of the1999 Turramurra Pinot Noir will enhance these classic dishes. In addition, this wine excels equally well with chicken, duck, and turkey with all the trimmings. It especially likes to highlight the savory parts of a meal like stuffing. Veal and spring lamb offer other fine pairings, too, as does the company of an old friend to enjoy a bottle of this splendid wine, in which case no other accompaniments need apply. The the1999 Turramurra Pinot Noir is one red wine that is most enjoyable as is or with just a few slices of a soft ripe cheese like Morbier. A Votre Santé!
Editor's Note: The International Wine of the Month Club rarely features wines from the same producer more than once in any calendar year. However, there are times when flexibility and good sense must prevail, and this is one such occasion. Turamurra is unquestionably one of Australia's finest estates, and this property's 1999 Pinot Noir is simply outstanding. Moreover, this rare, very limited offering could easily sell for double its $25.00 price and still be a bargain. Hence, we are proud to offer a select few of our club members the opportunity to taste this wine. Enjoy! Turramurra flourishes just an hour's drive from the hustle and bustle of Australia's second largest city, Melbourne. This lovely estate sits on a hill overlooking a beautiful garden and a small lake, all of which lay only a stone's throw from stunningly beautiful Phillip's Bay, the mystical body of water that separates Australia from "Van Damein's Land," or Tasmania as it is more commonly referred to today. The Turramurra Estate is aptly named for the aboriginal word for high hill, a picture of which appears in some fashion on every one of Turramurra's wine labels. Turramuura's proprietors, David and Paula Leslie, are warm and welcoming hosts, who aptly set the tone for the special wines that flow from their cellar. Spending time with the Leslies is indeed one of life's pleasant interludes. Both are passionate about producing great wine. Moreover, a visit with the Leslies is a respite from the ordinary marketplace mentality of marketing and hype in favor of a glimpse into a well-ordered world in which the rhythms of life, the seasons, family and friends play an integral part. Perhaps, it is precisely this couple's integrated approach to life that appears in Turramurra wines, manifesting itself year after year in a myriad of multi dimensional wines that take on a seamless quality as they age and mature. Whether it is the estate's flamboyant Chardonnay, superb Pinot Noir or Bordeaux style reds, one is sure to discover the magic and comfort of an old friend or the glow of a roaring wood fire as it wards off the chill of a cold winter's night while sipping a Turramurra wine.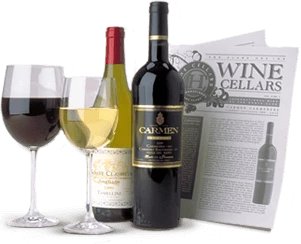 Enjoy Limited Production Estate
Bottled Wines
Discover limited production estate bottled wines such as Vergenoegd's internationally
acclaimed 2005 Cabernet Sauvignon, imported exclusively for our members.
DISCOVER OUR FOUR CLUBS