Oh baby, is this a Cabernet, or what? Opaque, purple, and loaded with flavor, the 1998 Turramurra Estate Cabernet is a gift from the Land Down Under. Produced on the Mornington Peninsula of Victoria, this Turramurra Cabernet offers up rich, complex scents of blackberry, current, cedar, and tobacco, the likes of which are hard to come by in Australia or elsewhere. In the mouth, this wine explodes, revealing layer after layer of blackberry fruit, mingled with the taste of olive and deep down barrel flavors. A good dollop of tannin frames the finish, and reminds the taster that this is still just the beginning of a long eventful life for this fine Bordeaux-style Cabernet. Enjoy it now and in many years to come. We plan on stocking our cellar, and suggest you do, too.
The ultimate beef tenderloin, rack of lamb or braised lamb shank would probably be most meat lover's first choices with the full flavored, highly structured 1998 Turramurra Cabernet Sauvignon. It is the tasting panel's philosophy that regal Cabernet based wines such as Turramurra deserve noble foods, at least the very best quality food you can bring to table. Simple can be as pleasing as complex, but this is not a wine to skimp on; it is too polished and subtley complex. So, in addition to classic red meat choices, we also recommend the Turramurra with a gently smoked Supreme of Duck, served with wild greens and a cassis reduction or mild cassis vinaigrette or even Rock Cornish Hen Forestière, roasted with natural pan gravy and presented with braised wild rice and mushrooms. For a meatless delight, why not try grilled organic vegetables with a pistachio mint sauce, and enjoy?
David and Paula Leslie's tiny Turramurra Estate (only 22 acres of vines are cultivated) was established in 1989 on the north facing slopes (the sunny side south of the equator) of Victoria's Mornington Peninsula. This secluded property is a mere 65 kilometers southeast of Melbourne, but it seems more like eons away from the hustle and bustle of Australia's second largest city. This lovely estate sits on a hill overlooking a beautiful garden and a small lake, all of which are only a stone's throw from stunningly beautiful Phillip's Bay, which separates Australia from Van Damein's Land, or Tasmania as it is more commonly referred to today. The Turramurra Estate is aptly named for the aboriginal word for high hill, a picture of which appears in some fashion on every one Turramurra's wine labels. Proprietors David and Paula Leslie are the consummate hosts. They are both warm and genuinely welcoming, but without pretense. Spending time with the Leslies is indeed one of life's pleasant interludes. Both are passionate about producing great wine. Moreover, a visit with the Leslies is a respite from the ordinary marketplace mentality of marketing and hype in favor of a glimpse into a well-ordered world in which the rhythms of life, the seasons, family and friends play an integral part. Perhaps, it is precisely this couple's integrated approach to life that appears in Turramurra wines, manifesting itself year after year in a myriad of multi dimensional wines that take on a seamless quality as they age and mature, becoming with time as comforting as an old friend or the glow of a roaring wood fire in the hearth as it wards off the chill of a cold winter's night. Increasingly, the Mornington Peninsula is garnering attention as one of the most exclusive cool climate viticultural areas of Australia because of the region's moderate climate (a rarity in Australia) and prolonged growing season, and Turramurra Estate is indeed at the vanguard. Chardonnay, Sauvignon Blanc, Cabernet Sauvignon, Pinot Noir and Syrah are all grown and painstakingly produced by Turramurra, all with fine results that set the standard for the entire viticultural area and redefine the flavor profile and expectations in Australia of each of the wine's respective varietals. WOW is about the best way to describe these wines: we think you will agree.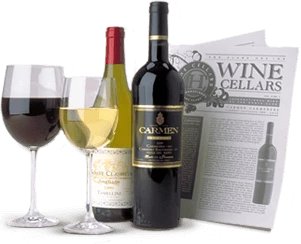 Enjoy Limited Production Estate
Bottled Wines
Discover limited production estate bottled wines such as Vergenoegd's internationally
acclaimed 2005 Cabernet Sauvignon, imported exclusively for our members.
DISCOVER OUR FOUR CLUBS