The 2005 Turner & Cole Riesling is an excellent example of Eden Valley's success with Riesling and testimony to Henschke's acumen with one of the planet's most complex grape varieties. Furthermore, the winery has stated that "2005 is sure to be ranked as one of the best Riesling vintages on record," and we agree. The 2005 Turner & Cole is a rich, full-throttle Riesling that combines sweet floral aromas, lush fruit, great minerality, and crisp acidity all into one beautiful wine. Scents of nectarine, white currant, peach, and citrus blossoms are followed by a pleasing burst of fruit, complex mineral tones, and lime zest in the mid palate — all of which are garnished by a crisp refreshing acidity on the finish. Drink this wine now or lay it down for a few years. For maximum enjoyment of the Turner & Cole Riesling, we suggest moderate chilling (37°- 45° F).
Like all of the best dry Australian Rieslings, the 2005 Turner & Cole is one of the world's most versatile wines with food. Yet we must confess that this Riesling is also quite satisfying and endlessly faceted on its own. But why settle for half the pleasure when you can have it all? Chinese, Thai, and Vietnamese specialties meld beautifully with this Riesling. Stir-fried eggplant with basil, bell peppers, and onion (Pad Ma Kour); stir-friend ground chicken with bell peppers, green beans, onion, basil, and hot chilis (Gra Prao); and even fresh spring rolls make ideal partners to accompany the Turner & Cole Riesling. More traditional American and continental fare offer a wealth of possibilities: chicken, ham, pork, and seafood all get our nod as well. Enjoy!
Turner & Cole is grown and produced by the great Henschke estate of South Australia. With premium vineyards in the Adelaide Hills, Barossa and Eden Valley, Henschke fashions a staggering number of award-winning wines each year. In fact, Henschke is one the oldest and most revered wineries in Australia; and its wines are benchmarks by which nearly all other Australian wines are measured. Although most renowned for their single-vineyard Shiraz offerings, including the amazing Hill of Grace from Eden Valley, Henschke enjoys an equally fine reputation for its outstanding Rieslings and Semillons. The founder of Henschke, Johann Christian Henschke, was one of the first pioneers to plant Riesling in the Eden Valley in the 1860's. It was also the Henschke estate that helped revitalize Eden Valley after two world wars by replanting Riesling there. Since the 1950s, Henschke has fashioned award-winning Rieslings in Eden Valley, longer than nearly anyone else. Turner & Cole is one of Henschke's unbroken strings of success with Riesling, one of the most difficult of all white grape varietals to grow. Eden Valley The Eden Valley is a region of rugged beauty. It is a cool climate area nestled between 400 and 600 meters in the Barossa Range, which is part of the larger Mount Lofty Range. Despite its name, Eden Valley is actually not a valley at all. Rather, it takes its name from the township of Eden Valley. The region's cool climate provides ideal conditions for the production of high-quality Chardonnay, Riesling, and a spate of elegant red wines. The history of Eden Valley parallels that of the nearby Barossa, with which it shares its eastern boundary. Henschke, Yalumba, and several of the finest names in Australia have substantial vineyard holdings here. Yalumba founder Samuel Smith planted the first vines in the Eden Valley in 1849. Johann Christian Henschke, who was already well known in the mid 19th century for excellent red and white table wines, was an early pioneer of Eden Valley as well. He established a winery at Keyneton in the late 1860s. These two estates continue to possess some of the most significant plantings in the Eden Valley, but many smaller wineries have followed suit. Replanted in the 1950s, Eden Valley has witnessed a steady expansion in viticulture, especially throughout the 1980s and 1990s. Moreover, its reputation has been greatly enhanced by the presence of two of Australia's leading vineyards, Hill of Grace and Mount Edelstone.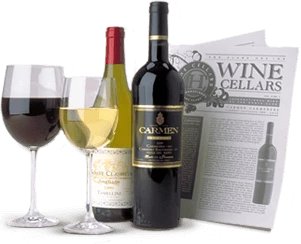 Enjoy Limited Production Estate
Bottled Wines
Discover limited production estate bottled wines such as Vergenoegd's internationally
acclaimed 2005 Cabernet Sauvignon, imported exclusively for our members.
DISCOVER OUR FOUR CLUBS