The 2005 Trinchero Vista Montone Chardonnay is no ordinary California Chardonnay. Grown on the hills overlooking San Pablo Bay just to the east of Carneros, the 120 acre Vista Montone Vineyard produces a Napa Chardonnay of true distinction, flavor, and finesse. Deep floral tones and pure ripe tropical fruit marry with a haunting spice box cachet to offer a beguiling set of aromatics in this wine. Add a pat of butter, a hint of oyster shell, and a touch of vanilla to the wine's already flamboyant olfactory and this wine's palate impression reveals the artist's intention: to create a bright, flavorful, racy Chardonnay that remains perfectly balanced and compelling to drink. All this goodness comes to fore once again in the 2005 Vista Montone's long, lovely finish. Enjoy this Chardonnay now and over the next few years. For optimum enjoyment of the 2005 Vista Montone, we suggest only moderate chilling (40°-50° F).
While so much California Chardonnay is consumed before dinner or when whiling away the time, the very best examples of the breed and that includes the 2005 Trinchero Vista Montone, provide superb accompaniments to a wide variety of foods. Fish, chicken, pork, veal, and most soft cheeses shine in the presence of first rate Chardonnay. For starters, we heartily endorse one of the specialties from the chef at Trinchero's Culinary Center: Pan Seared Sea Scallops, served over a Fire Roasted Pumpkin Risotto. Such full flavored specialties are a natural with the Vista Montone. Fettuccine Alfredo or any grilled chicken and pasta dish, served over an herb laced cream sauce will complement this Chardonnay with aplomb as well. Enjoy!
Trinchero is an historic name in Napa Valley. The Trinchero family immigrated to the United States from Italy in the 1920's during Prohibition. After World War II they purchased the abandoned 19th century Sutter Home Winery that lay fallow for decades. They revived the winery and the brand, and by 1960 the Trinchero family had garnered an enviable reputation for quality wines, most notably single vineyard Zinfandels from Amador County. In the early 1960's Sutter Home was at the forefront of fine wine production in California. By the late 1960's, the demand for Zinfandel and other traditional California varieties was on the wane in favor of Chardonnay, Cabernet Sauvignon, and other French grape varieties. White wine became the craze throughout the 1970's, which sent red Zinfandel to the proverbial backburner among consumers. The Trincheros responded by creating the world's first white Zinfandel in 1972 as an outlet for their award winning Zinfandel grapes. White Zinfandel was an immediate sensation, and most other Napa Valley producers followed suit. The rest is history. However, the Trincheros' quest has always been to produce only the finest premium California wines – a dream the family revived with the Trinchero Family Estate and a host of family vineyards. The Trinchero family owns 200 acres of the some of the finest vineyard land in Napa Valley. Trinchero's Reserve wines (of which the Vista Montone Chardonnay is a part) all come from the family's own home Napa Valley estate, which includes vineyards in Calistoga, St. Helena, Rutherford, and southern Napa Valley along San Pablo Bay. In addition to the family's elite Napa Valley vineyards, the Trincheros own 200 acres of vines in nearby Lake County and an additional 525 acres in Santa Barbara County. The Napa Valley Folie à Deux winery and vineyards are also part of the Trinchero family portfolio. All of Trinchero's estate bottled wines are produced using sustainable methods of agriculture and with the utmost care for the environment. Trinchero Family Estates and Environmental Leadership Trinchero Family Estates (TFE) is a leader in the employment of sustainable methods of agriculture, re-cycling, and green land management. Trinchero Family Estates employs only sustainable, organic, and biodynamic practices in their estate vineyards. Moreover, they eschew the use of potentially harmful chemicals and work with the state of California and other vineyards to develop healthy, natural alternatives to harsh chemicals. No chemical pesticides or herbicides are used at TFE and natural ground covers such as barley and clover prevail throughout all the estate vineyards. Furthermore, botanical oils and natural predators take the place of potentially hazardous chemicals. TFE, also, recycles 50 million gallons of water annually and re-cycles 20 tons of office paper, 850 tons of cardboard, and 100 tons of plastic each year. All proceeds from recycling revert to TFE's employees in the form of an employee-in-need fund. In addition, Trinchero has planted over 3,000 oak trees near their vineyards and created extensive greenbelts and lakes to improve the natural environment. Not surprisingly, Trinchero Family Estates has received California's Waste Reduction Awards Programs (W.R.A.P.) Award for seven consecutive years.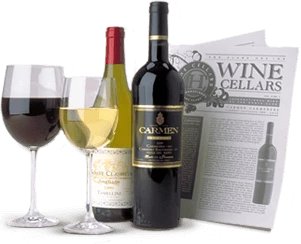 Enjoy Limited Production Estate
Bottled Wines
Discover limited production estate bottled wines such as Vergenoegd's internationally
acclaimed 2005 Cabernet Sauvignon, imported exclusively for our members.
DISCOVER OUR FOUR CLUBS