Suave, sophisticated, and utterly enjoyable now, the 2011 Trinchero Napa Valley Meritage is one of the vintage's great successes. A delicious blend of 70% Cabernet Sauvignon, 11% Merlot, 10% Petit Verdot, 5% Cabernet Franc, and 4% Malbec, Trinchero's 2011 Meritage delivers both the sophistication of top-rated Classified Growth Bordeaux and the clean, plush fruit of the finest Napa Valley Cabernet Sauvignons. In fact, the 2011 Trinchero Meritage has garnered numerous 90 point ratings, including 90 points from Wine Enthusiast, and it far outstrips in quality and enjoyment the vast majority of big names in Napa Valley Cabernet. With Trinchero's Meritage, each variety adds to the whole, with Cabernet Sauvignon lending backbone and structure, Merlot wonderful aromatics, Petit Verdot color and complexity and Cabernet Franc and Malbec a set of juicy flavors that elongate the finish. Rich in color and redolent with the scents of blackberry, cedar, and aromatic herbs, the 2011 Trinchero Meritage makes a formidable first impression. Luscious, concentrated layers of black and red fruit flavors emerge on the palate and are rendered immediately accessible by the wine's soft but substantial tannins. Drink this gracious Meritage now and over the next couple of years. For optimal enjoyment, we suggest 30 minutes of aeration before serving at cool room temperature (60°-64° F).
The balanced, complex flavors of the 2011 Trinchero Napa Valley Meritage pair beautifully with red and white meats as well as a host of hearty vegetable dishes. Thick juicy steaks, wild game, winter stews, and root vegetables are some of our favorite foods to pair with Trinchero's Meritage. A duo of veal medallions and lamb loin wrapped with prosciutto ham also deserves serious consideration. Roasted Colorado rack of lamb served with potato gnocchi, pearl onions, and mushroom makes another fine pairing. Duck breast prepared with a blackberry or dark cherry reduction provides plenty of pleasure, too, as will a selection of creamy soft cow's milk cheeses. Enjoy!
Trinchero is an historic name in Napa Valley, as the Trinchero family experience spans the modern revival of Napa Valley, America's foremost viticultural area. The Trinchero family immigrated to the United States from Italy in the 1920s during Prohibition. After World War II they purchased the abandoned 19th century Sutter Home Winery that had lay fallow for decades. They revived the winery and the brand, and by 1960 the Trinchero family had garnered an enviable reputation for quality wines, most notably single vineyard Zinfandels from Amador County. In the early 1960s, Sutter Home was at the forefront of fine wine production in California.
Unfortunately for many of California's iconic Zinfandel producers, the demand for Zinfandel and other traditional California varieties was on the wane by the late 1960s in favor of Chardonnay, Cabernet Sauvignon, and other French grape varieties. And, in the 1970s white wine became the craze, which sent red Zinfandel to the proverbial backburner among consumers. The Trincheros responded by creating, with a stroke of serendipity, the world's first white Zinfandel in 1972 as an outlet for their award winning Zinfandel grapes. White Zinfandel was an immediate sensation, and most other Napa Valley producers followed suit. The rest is history.
However, the Trincheros' quest has always been to produce only the finest premium California wines – a dream the Trinchero family revived with the Trinchero Family Estate, which specializes in Cabernet Sauvignon and Bordeaux blends. The Trinchero estate in Napa Valley is one of Napa Valley's true show pieces, and Trinchero's Cabernet Sauvignons and Bordeaux blends (Meritage) are among Napa Valley's finest. Moreover, all of Trinchero's estate bottled wines are produced using sustainable methods of agriculture and with the utmost care for the environment. Trinchero Family Estates (TFE) is a leader in the employment of sustainable methods of agriculture, recycling, and green land management. Trinchero Family Estates employs only sustainable, organic, and biodynamic practices in their estate vineyards. They eschew the use of potentially harmful chemicals and work with the state of California and other vineyards and wineries to develop healthy, natural alternatives to harsh chemicals. No chemical pesticides or herbicides are used at TFE and natural ground covers such as barley and clover prevail throughout all the estate vineyards. Furthermore, botanical oils and natural predators take the place of potentially hazardous chemicals. Not surprisingly, Trinchero Family Estates has received California's Waste Reduction Awards Programs (W.R.A.P.) Award more times than any other California winery.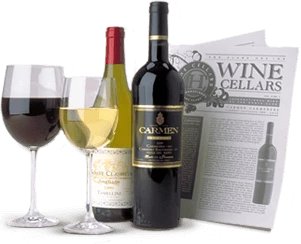 Enjoy Limited Production Estate
Bottled Wines
Discover limited production estate bottled wines such as Vergenoegd's internationally
acclaimed 2005 Cabernet Sauvignon, imported exclusively for our members.
DISCOVER OUR FOUR CLUBS