Lemon oil, grass, spring flowers and an eminent freshness mark the seductive bouquet of this flavorful white wine. Rich in savor, and natural fruit, the 1999 Torres Vina Sol delivers a mélange of flavors onto the palate without ever seeming to be overbearing of flabby. Already, the wine has developed a distinct mid-palate and a soft succulent center that is highlighted by a refreshingly long finish of citrus, fennel, and blooming meadowlands. Fully ripe, but never sweet or sugary, the Vina Sol typifies the great strides in white wine production made by Spain's greatest wine producer. Kudos to Torres for the purest, most delicate rendering of the native Catalan varietal Parellada, one of Spain's most pleasurable white wines. Unquestionably, the Torres Vina Sol is testament to the quality that is capable of being produced in Spain, when growers plant the appropriate varietals at high altitudes and limit their yields.
Excellent with traditional rice dishes, fish and shellfish, the 1999 Vina Sol is especially well matched with smoked or marinated salmon; both the salmon and the wine combine delicacy with consummate flavor. A lightly smoked spiral sliced ham or a seafood paella also provide a wonderful pairing with the Vina Sol. Sunsets at the beach and highbrow cocktail parties would do equally well as pairing for this delicious wine, which shows as well with food as without. Chicken or roast turkey with pearl onions and a savory onion and sage stuffing are other winning combinations with the Vina Sol. Enjoy!
The Torres family has made wine in the ancient Catalan town of Vilafranca del Penedes, since at least the 17th century. Yet, it wasn't until 1870 that Don Jaime Torres officially established a winery and began the house of Torres. Today, Torres wines are known around the world, as "the best Spain has to offer". First planted by the seafaring Phoenicians and later expanded by the Romans, the vineyards of Penedes have flourished for thousands of years. Situated in the Spanish province of Catalonia along the Mediterranean coast southwest of Barcelona, the Penedes enjoys a variety of microclimates, ranging from hot, arid tablelands to cool mountainsides, tempered by the sea. Such variations in terroir and climate foster the cultivation of a large variety of indigenous and imported varietals, including Spain's most acclaimed Chardonnay, Cabernet Sauvignon and Parellada. Fortunately for Spain and the wine consuming public, Jaime Torres, the second son of the vineyard owning family, went abroad in the middle of the 19th century to seek his fortune in the Americas. Returning to Spain in 1869 with a tidy stake, which he made in oil and shipping, Jaime built a winery to vinify grapes grown in his family's vineyards. Soon afterwards, the twin plagues of oidium and phylloxera devastated the vineyards of Bordeaux and most other French vineyards to the north, making Spanish wines more popular worldwide than they had been since the fall of the Roman Empire. Within a few years of establishing the winery, Torres wines were famous in Spain and shipped to markets all over the world, including America. Today, Torres is headed by Miguel A. Torres, the president and winemaker of this exclusively family-owned and managed winery. Trained in both Spain and Bordeaux, Torres has guided his family's winery to the top echelon of wine producers, not only in Spain but worldwide. Through a combination of deep traditional roots and innovation, Miguel Torres manages to turn out a dizzying array of white and red wines from both traditional Catalan grapes and the very best clones of imported varietals. Consequently, Wine & Spirits Magazine named Torres the International Winery of the Year in 1999, while others continue to heap accolades such as, "the most important winery in Spain," upon this estate. In the 1960's, it was Miguel Torres who pioneered the planting of Cabernet Sauvignon and established the firm's famous "Black Label" which is considered to be Spain's foremost 100 % Cabernet Sauvignon. Truly, this is only one of a hand full of Spanish wines, which favorably competes with first growth Grand Cru Bordeaux. In addition, Chardonnay, Sauvignon Blanc, Pinot Noir and even tiny quantities of Merlot are produced by Torres at his Penedes estate and earn great international acclaim. Simply, what makes Torres Spain's "First Family of Wine" is their commitment to excellence, controlled growth, and a deep, abiding bond with tradition, which is best explained by Miguel Torres himself when he says, "We can offer New World-style wines…, but we are still part of the historical and cultural background that represents Europe, which is very important. Every bottle of Spanish wine has to feel its history, tradition and culture…" No one better represents Spain than the Torres'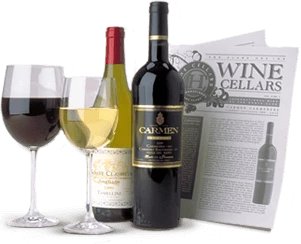 Enjoy Limited Production Estate
Bottled Wines
Discover limited production estate bottled wines such as Vergenoegd's internationally
acclaimed 2005 Cabernet Sauvignon, imported exclusively for our members.
DISCOVER OUR FOUR CLUBS