A full-bodied offering, Torbreck The Struie Barossa Valley Shiraz 2003 is a monolithic wine that powerfully embraces and soothes. A garnet hue deepening toward faded ruby hints at the lush, heady aroma that rushes from the glass. Like a bon vivant Australian who considers everyone a "mate," the rich, fruity nose of The Struie unabashedly invites a comfortable informality and license to indulge. Plum and fig tangibly emerge from the glass and mingle with an earthy, almost toasted oat or dry woodsy, fragrance. As the wine crosses the palate, all the olfactory promise of the nose is fulfilled. Characteristic of great Shiraz, the 2003 Torbreck The Struie offers an initial fruity sweetness that is simultaneously smooth, rich, and deep. Hence, a velvety, soul soothing texture spreads across the tongue and lingers as the tannic component of the wine swells from underneath the fruit to fully support and finish the tasting experience. Never overwhelming or biting, the 2003 Struie possesses a solid, well-formed structure in combination with a loaded fruit driven charm that suggest that as this wine ages it will become even more distinctive and pleasurable. As it stands now, Torbreck The Struie 2003 is nearly too much of a good thing – and, you know, there's nothing wrong with that mate. Cheers!
Pair Torbreck Barossa Valley 2003 The Struie with anything that comes off the grill and call it a day; your work is done. We're partial in this case to tender, succulent rib-eye steaks or beef tenderloin kabobs. These cuts of beef respond well for those of us who occasionally light up the backyard grill, and they will easily match The Struie for flavor and ease. If one wishes to experiment, try pork tenderloin or lamb chops. But be adventurous and dig out your favorite grilling cookbook and experiment with rubs and sauces. Generally speaking, rubs work seasoning into the surface and infuse base flavors, such as garlic, cumin, or oregano. Sauces then complement flavors of the meat and the rub with tantalizing taste combinations. Sauces to try with The Struie include those that mingle spice and fruit, such as orange, mango, apricot, or lime with chiptole or other chilies and peppers. A well-chosen sauce accentuates the various qualities of The Struie and allows you to get to know this wine and your dinner companions well. A tip when serving is to avoid over-saucing. Let the flavor of the meat shine through; you can always add additional sauce to taste. Enjoy!
Torbreck dates only to 1994, the first year that the erudite Dave Powell crushed just three tons of dry farmed, old vine grapes, which he fashioned into mighty fine wine. Today, Dave Powell remains the mastermind behind Torbreck Vintners. He is, also, one of Australia's most accomplished winemakers. Moreover, he has a knack for locating and securing some of the oldest vines in Barossa, which he so adeptly fashions into liquid gold – only Dave's liquid is mostly of the purple persuasion and the finest examples bear the venerable name Shiraz. Torbreck's amazing Shiraz line-up comes only from a select number of old Barossa growers, who continue to harvest every grape by hand and eschew the vagaries of mechanical manipulation. To Dave's credit, all of his Shiraz offerings are the exclusive progeny of low yielding, dry farmed old vines; and the results are nothing short of remarkable. Torbreck's stunningly rich, old vine Shiraz offerings include wines with such colorful names as Descendant, The Factor, Runrig, and The Struie. The Struie receives its name from a hill that rises above Scotland's Glenmorangie distillery. At first glance, this may appear all a bit surprising, but for Dave Powell this all makes perfect sense. Besides, Torbreck gets it name from a forest in Scotland where Dave once worked as a lumberjack. In addition, it seems that The Struie is also the home of a pub called the Altman Arms, a pub that Dave Powell frequented and where he once heard a band called Run Rig play. This information should tell us something about the nomenclature of Torbreck's wines, if nothing else. In the case of the Struie, this wine is an artful blend of 100% Shiraz from two distinct vineyards – one in the Barossa, the other in the high altitude of nearby Eden Valley. The result is classic Hermitage style Shiraz that will age beautifully and judiciously reward cellaring.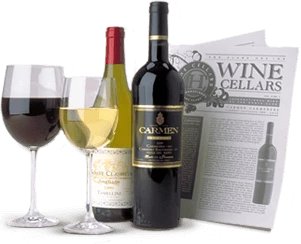 Enjoy Limited Production Estate
Bottled Wines
Discover limited production estate bottled wines such as Vergenoegd's internationally
acclaimed 2005 Cabernet Sauvignon, imported exclusively for our members.
DISCOVER OUR FOUR CLUBS