The 2001 Tim Gramp Watervale Riesling is perhaps the ultimate expression of noble dry Riesling in South Australia. A pale but luminescent robe catches the eye but hardly prepares the taster for the multitude of scents and savors that emerge from this beautifully made wine. A squeeze of lime, citrus oil, along with traces of exotic fruits caress the nose, while a long textured center blossoms with prolonged airing and hints of minerals, spring flowers, and tropical fruit. A complete Riesling, the 2001 Tim Gramp finishes as refreshing and pleasing as it begins. Serve this comely wine quite cool (40º-42ºF) and then allow it to breathe and slowly shed it chill; it will bloom in the glass. And if you think it tastes good now, just lay a few bottles down and see what magic is in store for you.
All the classic Italian American specialties (Eggplant Parmigiana, Lasagne, Veal, Scallopine, etc.) provide excellent accompaniments to the 2001 Fattoria Le Terrazze. However, if you are looking for something more, you need not look any further than the traditional cuisine of the Marches. Although simple in comparison to the heavy rich fare of Piemonte, Marchesan cooking is always quite flavorful, rich, and varied. Brodetto, the highly charged local rendition of bouillabaisse, smoked meats, such as salami, or just about any type of game all provide fine complements to the Terni's Rosso Conero. Yet, it is Porchetta, the Marches' version of a whole, roasted suckling pig, which is stuffed with onion, herbs, garlic and wild fennel that constitutes our favorite accompaniment to the 2001 Le Terrazze Rosso Conero.
Tim Gramp is one of the stars and unsung heroes of the Clare Valley, one of South Australia's most important and historical wine regions. In Australia, the Clare and nearby Watervale have become synonymous with the continent's finest Riesling, producing racy, full-flavored wines with a distinctive citrus, lime twist that rarely appear too austere or too sweet, even when young. With a few years in bottle, these magical Rieslings, which are all the rage in Australia at present, take on more overt tropical fruit flavors and lengthen considerably in the mid palate, without the kerosene or diesel fuel flavors often seen in older Rieslings from other areas of Australia and elsewhere. Most assuredly, Americans will one day "discover" the virtues of fine Riesling and the magical wares of the Clare and its budding environs. However, what most consumers don't realize, even in Australia, is that this magical corner of South Australia also produce fine red wines in addition to glorious whites. The affable TimGramp produces a splendid Watervale Riesling to complement several very exciting Cabernet and Syrah based reds. And if anyone in South Australia should know a little something about grape growing and winemaking, Tim Gramp certainly should. The Gramp family has been making wine in Barossa and McLaren Vale since the first German settlers arrived there in the 19th century. Tim's forebear, Johann Gramp planted the first vines at Jacob's Creek in Barossa in 1847. It's nice to know that the pioneering spirit is still alive and well, and there is yet another Gramp at the press. And what brought Gramp to the Clare and Watervale? By his own volition he admits it is the unspoiled landscape and affordable terra rossa soil. They furnish him with the wherewithal to produce excellent wines for those who know good wine, but by fate were not fortunate to be born millionaires. Thank you, Tim. May your reward be great in heaven as well as on earth. After all, even winemakers have to eat on occasion.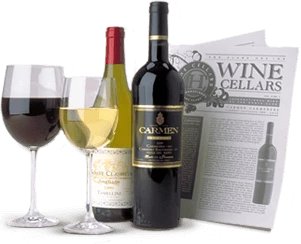 Enjoy Limited Production Estate
Bottled Wines
Discover limited production estate bottled wines such as Vergenoegd's internationally
acclaimed 2005 Cabernet Sauvignon, imported exclusively for our members.
DISCOVER OUR FOUR CLUBS