Blessed with fine weather in 2014 and spared the destruction from the earthquake that struck southern Napa Valley on August 24 of that year, the Russian River produced a bevy of exciting wines in 2014, with Syrah faring especially well as the 2014 Tierra y Mar Russian River Syrah can attest. Hailing from the renowned Christensen Vineyards, the 2014 Tierra y Mar Russian River Syrah offers up a deep draught of black cherry and blueberry aromas in the nose along with hints of black pepper to accompany the wine's eye-catching inky color. Syrah's classic savory black fruit and spice flavors emerge on the palate, backed by round tannins and a voluptuous texture that belies the wine's youth. Yet, there is enough flesh and bone in Tierra y Mar's 2014 Russian River Syrah to carry it through 2020 and beyond. Enjoy the youthful, thoroughly charming 2014 Tierra y Mar Russian River Syrah at cool room temperature (no more than 60°-65° F) after 15-20 minutes of aeration. Enjoy!
Rack of Lamb, Herb Encrusted Beef Tenderloin served over twice fried pommes frites, and Grilled Marinated Pork Tenderloin prepared with sautéed vegetables and Havarti-laced Arborio rice provide delicious accompaniments to the 2014 Tierra y Mar Russian River Syrah. Barbecued Baby Back Ribs served with homemade slaw offers another tasty accompaniment. Roast Chicken with rosemary and garlic, Stuffed Ravioli as well as most hearty pasta dishes made with fresh tomato sauce offer fine companions to Tierra y Mar's Russian River Syrah, too. A classic Florentine Pizza, topped with fresh garden spinach, garlic, chopped tomatoes, ricotta, and mozzarella, won't disappoint either.
Syrah provides the ideal accompaniment to many kinds of cheeses, whether from cows, sheep or goats. Mild goat cheese as well as hard, full-flavored Italian cheeses such as Provolone offer simple but delicious pairings to Tierra y Mar's Russian River Syrah. For more wine and cheese pairings or to learn more about the world's finest cheeses contact us at www.cheesemonthclub.com. Enjoy!
Tierra y Mar, meaning Earth and Sea, pays tribute to the elements that shape the rare and highly allocated wines that Tierra y Mar fashions from single vineyard sites in California's Napa and Russian River Valleys. Tierra y Mar dedicates itself to producing only wines that are the ultimate expression of nature's balance and harmony by allowing each wine to speak for itself as a unique creation of the grape, soil, water and climate of its individual terroir.
The Russian River Valley appellation or American Viticultural Area (AVA) is one of the largest and most important appellations in California. The Russian River AVA is centered in Sonoma County, south and west of Healdsburg, as it follows the Russian River itself towards Guerneville and the Pacific Ocean. The southwestern end of the AVA lies just 55 miles north of San Francisco's Golden Gate Bridge.
Along the cool fog-shrouded banks of the Russian River one finds some of the finest Chardonnay, Pinot Noir, Syrah, and Zinfandel in the world. Chardonnay constitutes the largest single grape variety in the valley, but Pinot Noir and Syrah are fast catching up. At present there are more than fifty wineries, hundreds of grape growers, and more than 16,000 acres of planted grapes in the Russian River Valley. The well-draining soils of fractured rock and gravel along with the cool climate of the Russian River Valley provide some of the longest hang time for grapes in California, which translates into highly aromatic, balanced wines of distinction.
Syrah is one of the planet's finest and most important red grape varieties. It has been grown for centuries in the Rhône Valley of France, where it is responsible entirely or in part for many of the greatest red wines of France, including Hermitage, Côte-Rôtie, and Châteauneuf-du-Pape specifically. The exact origin of the naturally full-flavored Syrah varietal remains somewhat of a mystery. However, most historians finally agree that Syrah was brought to Europe from the Middle East, but when and by whom remains a source of debate.
While some historians maintain that it was the Crusaders who first brought Syrah to France, others point to the earlier Roman legions under Probes, and yet others claim it was the remnants of Alexander the Great's army on its return from Persia. The latter theory is particularly intriguing since Alexander himself was so especially enamored of the wines he tasted (gulped in large quantities would be more accurate) around the city of Shiraz in Central Persia that he insisted on staying there. Some say he stayed in Shiraz far longer than he should have, since it was in Shiraz that he met an early, untimely death.
In spite of the mystery surrounding Syrah, the two points that everyone seems to agree upon is that the name Shiraz, from the Persian city of that name, is the origin of the grape varietal's name, and that Syrah produces more than its fair share of the world's most illustrious wines. Syrah flourishes today not only in the south of France but also in other Mediterranean climates. It fares particularly well in California, South Africa and Australia, where it is often called by its original name – Shiraz. Syrah and Shiraz are essentially the same grape and the two names are often used interchangeably.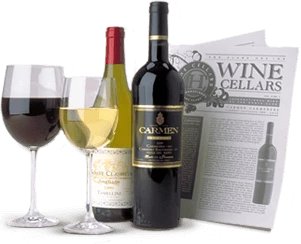 Enjoy Limited Production Estate
Bottled Wines
Discover limited production estate bottled wines such as Vergenoegd's internationally
acclaimed 2005 Cabernet Sauvignon, imported exclusively for our members.
DISCOVER OUR FOUR CLUBS