The 2015 Tierra Y Mar La Riviere Russian River Pinot Noir combines the best attributes of the New and Old Worlds. In deference to Burgundy, the 2015 Tierra Y Mar La Riviere offers up juicy scents of raspberry and strawberry that evoke memories of the savory Pinots of Burgundy's Côte de Beaune. From California's Russian River AVA, Tierra Y Mar La Riviere's Pinot Noir inherits a clean, well-toned body and flavorful hints of cinnamon and Christmas spices. Exuding elegance, flavor, and a suavity usually found in much pricier Pinot Noirs, the 2015 Tierra Y Mar La Riviere Pinot Noir is not only a bargain, it's delicious. For optimal enjoyment, we suggest serving Tierra Y Mar's tasty La Riviere at cool room temperature (60°-64° F) after 10-15 minutes of aeration.
Although the 2015 Tierra Y Mar La Riviere Russian River Pinot Noir needs no accompaniments to shine but a clean glass with a round bowl to hold its haunting bouquet, we suggest bringing the elegant La Riviere Pinot Noir to the table to share with friends and family. Brisket Stroganoff, braised brisket served with trumpet and oyster mushrooms, browned pearl onions, and egg noodles, makes a splendid accompaniment to this wine. A pork tenderloin wrapped in applewood-smoked bacon and seared in a skillet before being topped off with a Pinot Noir demi-glace provides another savory companion to the La Riviere Pinot Noir. Roast Duckling with Bing Cherries provides yet another opportunity with which to enjoy a glass or two of this Pinot Noir. For a wonderful vegetarian accompaniment, consider a grilled Portobello mushroom sandwich with organic greens, tomato, and caramelized onions along with a side of truffle fries. And if there's nothing on the stove, consider some delicious Cantal or Gruyere cheese on thin slices of Pink Lady apples as an appropriate companion to the 2015 Tierra Y Mar La Riviere Pinot Noir. Enjoy!
Tierra y Mar, meaning Earth and Sea, pays tribute to the elements that shape the rare and highly allocated wines that Tierra y Mar fashions from single vineyard sites in California's Napa and Russian River Valleys. Tierra y Mar dedicates itself to producing only wines that are the ultimate expression of nature's balance and harmony by allowing each wine to speak for itself as a unique creation of the grape, soil, water, and climate of its individual terroir.
Pinot Noir stands at the pinnacle of all of the world's grape varieties, but it is not because the planet's other favored varietals (Chardonnay, Cabernet Sauvignon, Syrah, Sangiovese, and Tempranillo to name a few) are incapable of greatness; rather Pinot Noir is the rare grape variety that is capable of being transformed annually into the planet's most complex red wines as well as the most exquisite rosé, still, and sparkling wines. Although born in Burgundy a millennium before Cabernet Sauvignon made its appearance in Bordeaux, it now thrives in Champagne, California, Oregon, and a few other hallowed parcels across the planet in addition to its native Burgundy. However, the difficult to grow, often unforgiving Pinot Noir varietal demands attention, a cool temperate climate, and a deft hand in the cellar. When all stars align, Pinot Noir yields light to full-bodied wines of stunning aromatics, depth, and length of flavor. Moreover, good Pinot Noir can age gracefully for as long as any wine when stored properly. Not surprisingly, it is also the world's most expensive wine on average, which makes it all the more attractive to collectors and a growing legion of admirers.
The Russian River Valley appellation or American Viticultural Area (AVA) is one of the largest and most important appellations in California. The Russian River AVA is centered in Sonoma County, south and west of Healdsburg, as it follows the Russian River itself towards Guerneville and the Pacific Ocean. The southwestern end of the AVA lies just 55 miles north of San Francisco's Golden Gate Bridge. Along the cool fog-shrouded banks of the Russian River one finds some of the finest Chardonnay, Pinot Noir, Syrah, and Zinfandel in the world. Chardonnay constitutes the largest single grape variety in the valley, but Pinot Noir and Syrah are fast catching up. At present there are more than fifty wineries, hundreds of grape growers, and more than 16,000 acres of planted grapes in the Russian River Valley. The well-drained soil and cool climate of the Russian River Valley provide some of the longest hang time for grapes in California, which translates into highly aromatic, balanced wines of distinction.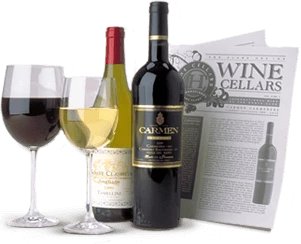 Enjoy Limited Production Estate
Bottled Wines
Discover limited production estate bottled wines such as Vergenoegd's internationally
acclaimed 2005 Cabernet Sauvignon, imported exclusively for our members.
DISCOVER OUR FOUR CLUBS