Big, bold, and beautiful are the words that best describe the 2014 Tierra y Mar Russian River Zinfandel. Born during the magical 2014 vintage, the third splendid vintage in a row in Northern California and a vintage when the earth moved, rocking Russian River's cousins in Napa Valley, the 2014 Tierra y Mar Russian River Zinfandel displays all of the hallmarks for which Russian River Zinfandel is renowned. For starters, deep ruby and regal purple hues capture the eye, while vibrant aromas of ripe blueberry, strawberry, and black fruits tantalize the nose. In the mouth, lush berry, bramble and spice flavors coat the palate, but that's not all. The wine finishes with plenty of fireworks in the form of ripe, lush tannins, beautiful spice tones, and considerable complexity born of 13 months in American and French oak. What is most shocking though is how the wine's 16.8% alcohol goes almost unnoticed until after the wine has been consumed and it continues to work its magic. Consider yourself forewarned. Enjoy the youthful, thoroughly captivating 2014 Tierra y Mar El Rio Vivo Russian River Zinfandel at cool room temperature (60°- 65°F) after 15-20 minutes of aeration. Enjoy!
As one of "America's Own Wines," the 2014 Tierra y Mar El Rio Vivo Russian River Zinfandel can elevate mid-week staples to the status of haute cuisine as easily as it can accompany spicy Mediterranean dishes or hold court at an elegant dinner party. So why not consider juicy hamburgers topped with goat cheese, organic greens, and all the fixings; pork sliders with a spicy slaw; or the finest ribeye steak smothered in portabella mushrooms? Lamb burgers, lamb shanks, and a whole roast leg of lamb also offer ideal companionship to Tierra y Mar's rich, power-packed Zinfandel. The 2014 El Rio Vivo Zinfandel provides the ideal companion to Mediterranean specialties, and most especially to southern Italian staples such as penne pasta in a rich tomato cream sauce served with grilled chicken, broccoli, and roasted eggplant; manicotti; lasagna; sausage and peppers, and nearly any dish prepared with a heady tomato sauce. Grilled, barbecued bone-in pork chops served with braised greens and polenta also make tasty complements to the 2014 Tierra y Mar El Rio Vivo Russian River Zinfandel.
Tierra y Mar, meaning "Earth and Sea", pays tribute to the elements that shape the rare and highly allocated wines that Tierra y Mar fashions from single vineyard sites in California's Napa and Russian River Valleys. Tierra y Mar dedicates itself to producing only wines that are the ultimate expression of nature's balance and harmony by allowing each wine to speak for itself as a unique creation of the grape, soil, water and climate of its individual terroir. Tierra y Mar's specialty under award winning winemaker Douglas Danielak is fashioning small quantities of full-throttle Russian River Zinfandel and Napa Valley Syrah. Come and see what Tierra y Mar's "Earth and Sea" has to offer.
Although its DNA points to Eastern Europe's Primitivo grape and its New World appearance still remains under investigation, Zinfandel has been dubbed "America's own grape variety." In California, Zinfandel produces a wine quite different from its Croatian and Italian forbearers, and nowhere is that more apparent and welcome than in Sonoma County – the spiritual home of Zinfandel. In Dry Creek Valley and along the banks of Sonoma County's Russian River, Zinfandel relishes the cooling Pacific breezes that funnel up the appellations' canyons and valleys as Zinfandel's fruit basks in the long, dry summer afternoons, which bring the grape to the pinnacle of perfection. Zinfandel's deep, rich colors, intense berry, bramble, and herb flavors, high alcohol, and lush tannins result in wines that fill the mouth and satisfy all of the senses. One of Zinfandel's keys to success is an extraordinary lifespan of productivity, which can last well into old age (100 years or more) and result in increasingly finer fruit from the oldest vines. The grape can be quite versatile, too (think White Zinfandel as well as many of California's most celebrated and intense red wines).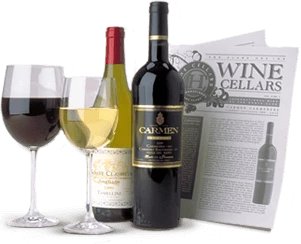 Enjoy Limited Production Estate
Bottled Wines
Discover limited production estate bottled wines such as Vergenoegd's internationally
acclaimed 2005 Cabernet Sauvignon, imported exclusively for our members.
DISCOVER OUR FOUR CLUBS