Thomas Morey's 2011 Chassagne-Montrachet Les Chenevottes hails from the Premier Cru vineyard adjacent to Le Montrachet, the world's most illustrious terroir. More importantly, Morey's Les Chenevottes epitomizes elegance and breed – the qualities that have made white Burgundy the world's most renowned Chardonnay and earned Thomas Morey's 2011 Les Chenevottes numerous accolades, including 90 points from Wine Spectator and Stephen Tanzer. From the moment it is poured, the 2011 Thomas Morey Les Chenevottes delights the eye, offers a sparkling sun-kissed robe, and provides an entrancing bouquet of ripe citrus and poached pear along with hints of spice and wood smoke. With each sip, this wine caresses the palate with gentle fruit and soft, seductive, mineral driven flavors. Although quite refined and deceptively ethereal when first poured, Thomas Morey's world-class Chassagne-Montrachet Les Chenevottes takes on weight in the glass and delights the palate with complex flavors that continually escalate as the wine reaches ambient temperature. Afford Thomas Morey's pure, graceful 2011 Premier Cru Chassagne-Montrachet Les Chenevottes a moderate chill (40°-45° F) and enjoy it now and throughout 2017. Enjoy!
A good part of the joy in serving exceptional mature white Burgundy as elegant and flavorful as the 2011 Thomas Morey Chassagne-Montrachet Les Chenevottes is pairing it with artfully prepared morsels equal to its stature. A perfectly smoked Scottish Salmon served on toasted French rounds with capers and a light creamy aioli offers a splendid opening act to Morey's flagship Chassagne-Montrachet. Grilled Salmon served on a cedar plank, Steamed Lobster with drawn butter, and Sea Scallops sautéed in butter and white wine with pistachio nuts and fresh herbs provide more mouthwatering accompaniments. Escalopes de Veau à la Crème, a French classic of Veal Medallions in Mushrooms and Cream, makes a splendid companion, too. Another rewarding accompaniment includes a savory Herb Encrusted Pork Tenderloin served with an onion and sage stuffing. Halibut, sole, trout and nearly all fresh and salt water white fish offer more tasty companions with which to enjoy this delicious white Burgundy. Bon appétit!
The Morey name is one of the most revered in Chassagne-Montrachet, Burgundy's premier appellation for Chardonnay. In fact, many would argue that Chassagne-Montrachet, the ancestral home of Chardonnay, is not only Burgundy's star appellation for Chardonnay, it reigns as the planet's single greatest source for white wine. Within this hallowed appellation, Thomas Morey, the tenth generation of his family in Chassagne, fashions an extraordinary array of wines.
A scion of the Bernard Morey family, Thomas grew up among the Morey family's wine holdings and worked for the family domaine for 12 years before pursuing his own venture. In 2006, Thomas and his wife Sylvie established Domaine Thomas Morey and produced their first vintage in 2007. Today, Domaine Thomas Morey consists of 9 incredible hectares (22 acres) of vines, mostly in Chassagne-Montrachet along with scattered plots in the Burgundy villages of Maranges, Santenay, Saint-Aubin, Puligny-Montrachet, and Beaune. Thomas Morey's flagship offering is the Thomas Morey Premier Cru Chassagne-Montrachet Les Chenevottes, this month's feature. Morey's Les Chenevottes vineyard sits next to Burgundy's most illustrious Grand Cru, Le Montrachet, which covets the distinction of being the world's greatest and most expensive white wine year in and year out.
Burgundy is a wine as well as a place. In fact, it is many wines and many distinct locales, all of which were once part of the ancient duchy of Burgundy. Situated several hundred kilometers southwest of Paris, Burgundy is hallowed ground to serious lovers of the vine. From its golden hillsides, whose center slopes are so aptly named the Côte d'Or, flow France's most expensive and profound wines. Names such as Romanée Conti, Chambertin, and Clos de Vougeot for red wines and Chassagne-Montrachet, Puligny-Montrachet and Le Montrachet itself for white wines have been delighting serious wine aficionados for centuries. Yet, there is much more to Burgundy and its wines than a few illustrious names. For starters, Burgundy is the ancestral home of two of the world's most revered grape varieties – Chardonnay and Pinot Noir.
Clearly, Burgundy is much more than a single wine or one great vineyard: it is a special place, a land almost entirely devoted to wine in one fashion or another. However, what remains surprising to many wine drinkers is that Burgundy is both red and white wine, the best of which come from Pinot Noir and Chardonnay exclusively. With a few rare exceptions, the finest Burgundies emanate from the region's core, the Côte d'Or, which begins on the fabled Côte de Nuits, just to the south of Dijon, and flows all the way south to Santenay at the tip of the Côte de Beaune. The Premier, Grand Cru and single vineyard wines from these illustrious hillsides rank among the world's finest. Salut!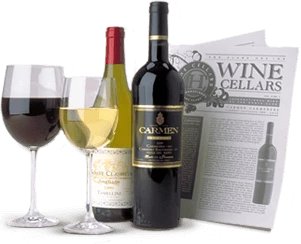 Enjoy Limited Production Estate
Bottled Wines
Discover limited production estate bottled wines such as Vergenoegd's internationally
acclaimed 2005 Cabernet Sauvignon, imported exclusively for our members.
DISCOVER OUR FOUR CLUBS