The 2006 The Show is a crowd pleaser and every bit as good as its predecessor, The Show's debut vintage. In fact, if more California wineries made affordable Cabernet like Bieler, Gott, and Scommes, there wouldn't much of a market for ridiculously priced California Cabernet Sauvignon, let alone Merlot or Syrah. Once again, this latest rendition of The Show opens up with an eye catching, royal purple robe and an immensely gratifying aromatic profile. Soft scents of black cherry, cedar, plum, and chocolate quickly set the tone for the wine's next act – a palate pleasing performance. Each sip of The Show glides across the tongue and quickly disappears delightfully down the gullet, even at this tender age. Soft tannins and a lovely patina of oak add both structure and finish to this charming fruit driven, medium-bodied Cabernet, which makes us wonder why more California wineries haven't followed suit. Shame on them! Meanwhile, enjoy The Show; it's a very talented Cabernet that's ohh so easy to drink. Furthermore, The Show needs no fuss to shine, so you can open it and drink it straight away. Nonetheless, allowing it 30 minutes or more of breathing time will double your pleasure and no doubt evoke a standing ovation. Cheers!
The 2006 The Show Cabernet Sauvignon is the perfect accompaniment to everyday "All American fare." Steaks, chops, pork barbecue, grilled chicken, guacamole, corn chips, vegetables dips, and of course pizza and burgers provide all the props The Show ever needs. This gregarious Cabernet also shines with a hearty salad because, unlike so many other California Cabernets, there is so much more to The Show than just power and tannin. With this in mind, we can heartily recommend the 2006 The Show with more elaborate fare as well. So don't be afraid to put on your Sunday best and whip up some fancy fare; there is no need to dress down to enjoy this succulent red. Chateaubriand, served with a truffle sauce reduction, tiny game birds in puffed pastry, and other haute cuisine favorites will be as comfortable with The Show as a regular mid week meal. Take The Show on the road, too: it's a great picnic and party wine. And for the record, the 2006 The Show Cabernet Sauvignon does a terrific solo, too. Just be sure you have a clean glass, or two. And come to think of it, you may want to reserve a second bottle; it won't go to waste. Enjoy!
The Show is back! Once again, The Show stars Charles Bieler, Joel Gott, and Roger Scommes in a (Scommegna) Production. Collectively, these three characters are known as The Three Thieves. However, the name Three Thieves does not connote any wrongdoing or lack of integrity on the part of this dynamic and wildly successful triumvirate. Instead, the name is meant tongue-in-cheek because these three guys have procured, though some would say "stolen" once again, some of the finest Cabernet grapes in Northern and Central California and turned them into one high-class, expensive-tasting Cabernet that shames the competition. Enter The Show, the name of this act of course. The Show is in its second year; the winery's first release was in 2005. However, the sequel is every bit as fine as the original. Begun in 2003, The Three Thieves have rapidly become legendary for fashioning eco friendly wines that out class the competition. Joel Gott brings his reputation to the table or barrel if you will as one of the finest, yet unpretentious winemakers in California. A fourth generation winemaker, Gott enjoys nearly cult status in California where he has been putting out some of California's most interesting and affordable wines for years. He has been called "one of the most talented winemakers alive today" and his wines have received accolades in every major wine publication. The Show is one of his most recent ventures and an attempt to take his great show on the road. To help Gott in his endeavor to go national with The Show are partners Charles Bieler of the outstanding Château Routas in Provence and Roger Scommes (né Scommegna), advertising, entrepreneur and viticulturist extraordinaire. Together, they make a formidable team, and The Show is all the proof one needs of that The Show is a blend of 80% Cabernet Sauvignon, with the remaining 20% of the cépage consisting of Merlot, Cabernet Franc, Petit Verdot, and a tiny quantity of Petite Sirah. The Show's labels were designed by Nashville's Hatch Show Print, who have made many a country music star a legend. The Show's labels come in three distinct colors and formats, even though the wine inside all of the bottles is exactly the same. Each of the three partners preferred a slightly different motif, so they went with all three, which should tell us a little something about these three thieves. We bet they got, or should we say stole or at least cajoled, all three designs for the same fee – more power to them. Enjoy The Show . . . it's a good one!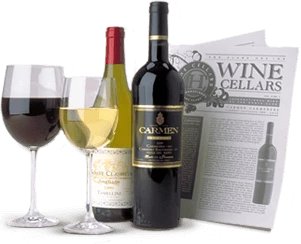 Enjoy Limited Production Estate
Bottled Wines
Discover limited production estate bottled wines such as Vergenoegd's internationally
acclaimed 2005 Cabernet Sauvignon, imported exclusively for our members.
DISCOVER OUR FOUR CLUBS