Terra d'Oro Zinfandel is born on old vines that grow on the steep golden hills of Amador County, and Terra d'Oro's 2013 Amador Zinfandel testifies to why Amador County has been the spiritual home of California Zinfandel since the Gold Rush. Rich, vibrant and beautifully balanced, the 2013 Terra d'Oro Zinfandel offers a deep garnet color, an enticing aroma of blackberry, plum, bramble and spice, and plenty of mouth-filling flavors to match the wine's heady olfactory. Framed by sleek, ripe tannins and an elegant mouthfeel, this Zinfandel's 14.5% alcohol is barely noticeable until after it has easily and quite surreptitiously made its way down the hatch. Pure, natural and wonderfully varietal in character, the 2013 Terra d'Oro Amador Zinfandel pays homage to the Trinchero family's commitment to sustainable and organic agricultural practices in order to fashion high quality, natural tasting wines. Allow this classy Zinfandel at least 15 minutes of aeration at cool room temperature (60º-66º F). It will unfold slowly in the glass and become more intriguing with each successive sip. Enjoy!
There is nothing quite like old vine Amador County Zinfandel and the 2013 Terra d'Oro Amador County Zinfandel once again brings that point home. Billed as the "24 carat partner to barbecues and burgers and almost anything else," Terra d'Oro's 2013 Amador Zinfandel provides ideal companionship to thick, juicy burgers with all kinds of toppings. Lamb burgers topped with tomato, goat cheese and organic greens get our nod as does a bison burger with avocado and spicy tapenade. Terra d'Oro's Zinfandel also provides the ideal companion to a Mediterranean diet and a host of southern Italian specialties. Penne pasta in a rich tomato cream sauce with chicken, broccoli, and roasted eggplant makes for a splendid accompaniment to the 2013 Terra d'Oro Zinfandel. Manicotti, lasagna, sausage and peppers, and almost any dish prepared with tomato sauce pair well with this wine, too. Grilled herb encrusted pork chops served with braised greens and polenta; hummus with roasted red pepper and bits of sun dried tomato; and chipotle chili tortillas stuffed with a three cheese blend provide other fine complements. And if the culinary arts are not your forte, the 2013 Terra d'Oro Zinfandel will happily hold court with a plate of fresh cut apples and creamy, crustless cheeses.
Terra d'Oro is a premium selection of wines made at Montevina, one of the oldest and most prestigious wineries in California. Set amid the foothills of the Sierra Nevada Mountains, Terra d'Oro lies at the heart of California's "Gold Rush Country." However, today Terra d'Oro is best known for its liquid gold in the form of excellent Syrah, Zinfandel, Barbera, Pinot Grigio, and other Italian grape varieties that emanate from the golden Amador foothills as well as choice vineyards in Santa Barbara County.
The Trinchero family has owned Terra d'Oro since 1988, but this winery's passion for growing outstanding fruit and producing many of California's finest Rhône and Italian style varietals dates back even further to the 1960s. And since 1986, Jeff Meyers, unquestionably one of the most experienced California winemakers with Italian varietals, has been the General Manager and guiding force behind Montevina and Terra d'Oro's huge success. Possessing an encyclopedic knowledge of the region's viticulture along with a knack for fashioning distinctive Mediterranean varietals that possess elegance as well as fabulous flavor, Jeff is one of the first California winemakers to be enormously successful with Mediterranean varieties. Montevina's Barbera, Pinot Grigio Sangiovese, Syrah, and Zinfandel, produced under the Terra d'Oro label, create a benchmark portfolio for these grape varieties that would be hard to find elsewhere. And unlike most of the wines from this estate's competitors, Terra d'Oro's wines are produced from a high percentage of old vines.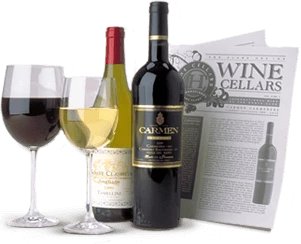 Enjoy Limited Production Estate
Bottled Wines
Discover limited production estate bottled wines such as Vergenoegd's internationally
acclaimed 2005 Cabernet Sauvignon, imported exclusively for our members.
DISCOVER OUR FOUR CLUBS