The 2014 Terra d'Oro Clarksburg Chenin Blanc-Viognier hails from hand-picked Chenin Blanc vineyards in the Sacramento River Delta and from the Voteau Vineyard of Amador County, a vineyard known for its exceptional Viognier. The result is one tasty, mouth-filling glass of white wine. Alluring aromas of tropical fruits, mango, and papaya grace the nose and enliven the palate. In the mouth, the Terra d'Oro Chenin Blanc-Viognier displays plush fruit flavors as well as plenty of refreshing acidity and a citrus twist, thanks to the preponderance of Chenin Blanc and its natural acidity. Enjoy this aromatic, exuberant blend moderately chilled (40º-45º F) now and for the next year.
The 2014 Terra d'Oro Clarksburg Chenin Blanc-Viognier makes a fine aperitif, as its hedonistic aroma and bracing acidity awaken the taste buds and stimulate the appetite. Yet, Chenin Blanc and Viognier yield versatile wines that truly come into their own in the company of food, particularly foods that are difficult to pair with more mundane varietals. The dominance of Chenin Blanc in this delightful Terra d'Oro blend makes it a natural accompaniment to Southeast Asian dishes, sweet and sour concoctions, sushi, and sashimi as well as all kinds of vegetables and organic greens such as arugula. Consider, too, serving the 2014 Terra d'Oro Clarksburg Chenin Blanc-Viognier with vegetable quiches and soufflés or hearty salads with goat cheese and toasted cranberries and almonds. In France, the ancestral home of Chenin Blanc and Viognier, foie gras and pâtés provide preferred accompaniments to Chenin Blanc and Viognier as the acidity in the Chenin Blanc cuts the fat in the pâtés and the plush texture of the Viognier complements the texture and rich flavors in the meats. Chicken and pork dishes provide enjoyable accompaniments, too. And if all else fails, a plate of freshly cut Gala apples paired with creamy cheeses makes a more than satisfactory companion to the 2014 Terra d'Oro Clarksburg Chenin Blanc-Viognier. Enjoy!
Terra d'Oro is a premium selection of wines made at Montevina, one of the oldest and most prestigious wineries in California. Set amid the foothills of the Sierra Nevada Mountains, Terra d'Oro lies at the heart of California's "Gold Rush Country." However, today Terra d'Oro is best known for its liquid gold in the form of excellent Syrah, Zinfandel, Chenin Blanc, and Viognier as well as a host of Italian grape varieties that emanate from the golden Amador foothills, Santa Barbara County and the Sacramento River Delta.
The Trinchero family has owned Terra d'Oro since 1988, but this winery's passion for growing outstanding fruit and producing many of California's finest Rhône and Italian style varietals dates back even further to the 1960s. Since 1986, Jeff Meyers, unquestionably one of the most experienced California winemakers with Italian varietals, has been the General Manager and guiding force behind Montevina and Terra d'Oro's huge success. Possessing an encyclopedic knowledge of California viticulture along with a knack for fashioning distinctive Mediterranean varietals that possess elegance as well as fabulous flavor, Jeff is one of the first California winemakers to be enormously successful with Mediterranean varieties. Jeff is equally adept at fashioning one of California's finest Chenin Blanc-Viognier blends from a vineyard in Clarksburg in the Sacramento River Delta. The 2014 Terra d'Oro Chenin Blanc-Viognier (this month's feature) garnered 90 Points from Wine Spectator and earned a coveted place on the wine magazine's list of Top 100 Values.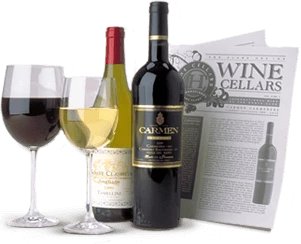 Enjoy Limited Production Estate
Bottled Wines
Discover limited production estate bottled wines such as Vergenoegd's internationally
acclaimed 2005 Cabernet Sauvignon, imported exclusively for our members.
DISCOVER OUR FOUR CLUBS