The 2017 Scaia Corvina Veneto IGT sports a deep ruby/purple robe that portends the deep well of flavors in this robust Corvina. Deep draughts of wood smoke, black cherry, wild berries, and roses greet the nose from the moment the wine is poured. And in the mouth, savory scents seep almost surreptitiously into the rich flavor profile of the wine. From the extroverted nature of this young wine and the rich savory flavors that emanate from a rare bottling of 100% Corvina, one might expect a boatload of tannin, yet this wine's tannins are soft and its texture rather plush, allowing multifarious flavors to glide across the palate. The 2017 Scaia Corvina is a balanced, medium-bodied wine that offers intense flavors that evolve in the glass for an hour or more, so afford it a little aeration. Smooth but long on flavor, the 2017 Scaia Corvina Veneto IGT offers a wonderful expression of the unique Corvina varietal. Serve just lightly chilled at 58°-62° F. Enjoy!
The warm floral and woodsy flavors that characterize the 2017 Scaia Corvina Veneto IGT make it an ideal companion to accompany a wide range of foods. Bruschetta, crostini, flatbreads, and smoked meats such as pepperoni, prosciutto, and salami all happily lend themselves to pairing with a bottle of Scaia's deliciously smooth Corvina. Creamy risottos made with plenty of Parmegiano Reggiano (Parmesan) also make fine complements to Scaia's medium-bodied but bold flavored Corvina. An herb-encrusted pork roast, served with sautéed green beans, roasted beets, and braised fennel or endive over polenta, makes another splendid companion to Scaia's 2017 Corvina. You may even want to pair this wine with some fine Italian cheeses in place of dessert or serve it with dessert in the company of the finest morsels of dark chocolate or, even better, with chocolate covered figs or strawberries. Buon appetito!
Tenuta Sant'Antonio ranks as one of Italy's top producers of estate Veronese wines, specializing in award-winning Amarone, Valpolicella, Soave, and varietal bottlings of indigenous grape varietals from the Veneto such as Corvina, which are bottled under Tenuta Sant'Antonio's Scaia label. Four brothers, Armando, Tiziano, Paolo and Massimo Castagnedi, carved out Tenuta Sant'Antonio from their father's vineyards in San Zeno di Colognola ai Colli in Valpolicella in 1989 to launch their estate wine production. The brothers' estate has since grown to 247 acres and now includes a beautiful modern winery.
Tenuta Sant'Antonio's vineyards cloak the gentle hillsides of the Illasi and Mezzane valleys in the Northeast corner of Italy close to Lake Garda, where the climate is mild and the light luminous and crystal clear. The Veneto's premier indigenous varietals all make their appearance at Tenuta Sant'Antonio. Corvina, Corvinone and Rondinella are responsible for the red wines, which include the region's most famous offerings: Valpolicella and Amarone. Garganega and Trebbiano account for most of the white wine production for the estate's highly acclaimed Soave, but small amounts of Chardonnay are also grown at Tenuta Sant'Antonio and find their way into a delicious blend of Garganega and Chardonnay under the Scaia label.
Corvina is widely planted in northeastern Italy, and it ranks as one of the Veneto's most important indigenous red grape varieties. Along with Rondinella, it figures significantly in the production of the Veneto's three premier red wines: Amarone, Valpolicella, and Bardolino.
Corvina is a late ripening varietal that yields a wine of exemplary bouquet, often exhibiting notes of wild cherry and forest berries. The grape's thick skin, bright cherry color and light tannic structure make it a fine companion to Rondinella, as the two grape varieties are often fermented using the Veneto's apassimento process, which is employed for Amarone and Ripasso, whereby the grapes are air-dried before pressing. Although Corvina is the key factor in the Veneto's DOC and DOCG wines, it can only bear an IGT regional designation when it is bottled as a 100% varietal in the Veneto. This is the case with Tenuta Sant'Antonio's Scaia Corvina as it is for Tuscany's most illustrious wines, most notably Super Tuscans, when a wine contains grape varieties or percentages of grape varieties that are not deemed traditional for wines bearing a DOC or DOCG designation.
While Corvina figures heavily in the quality of premium Veronese wines, enjoys widespread appeal, and is widely planted throughout Northeast Italy, it has not traveled much outside of its native land. However, Australia and Argentina have jumped on the Corvina bandwagon in recent years with promising results. With the current demand for Amarone and Ripasso style wines, Corvina may just become the planet's next "hot" grape varietal.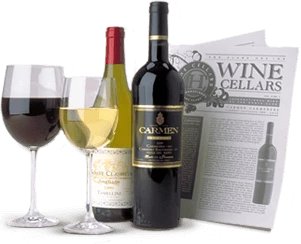 Enjoy Limited Production Estate
Bottled Wines
Discover limited production estate bottled wines such as Vergenoegd's internationally
acclaimed 2005 Cabernet Sauvignon, imported exclusively for our members.
DISCOVER OUR FOUR CLUBS