The 2006 Tenuta Marsiliana Maremma impresses the eye immediately with its dark, concentrated color and then promptly delights the nose with a soaring bouquet of dark red and black fruits blended with juniper, myrtle, leather, and fresh cut tobacco. In the mouth, the wine's rich fruit blends seamlessly with soft notes of sandalwood and spice. Concentrated and full-bodied, the wine positively fills the mouth with deep, complex flavors. Yet, all the elements in this offering work in symphonic harmony. Although ample in stature, the 2006 Marsiliana Maremma embodies supreme elegance to match the wine's substantial size and concentration. In his 2006 Marsiliana Maremma, Duccio Corsini has most assuredly realized his dream of creating a sophisticated wine in which elegance prevails, a wine that is capable of subtly seducing. This Super Tuscan is truly a wine to be savored and enjoyed. For optimum pleasure, we suggest opening the Marsiliana Maremma an hour or so ahead of serving at cellar or cool room temperature (57°-65°F).
What better to serve with Tenuta Marsiliana's beautiful 2006 Maremma than Tuscany's signature dishes? Florentine Steak, an oversized T-bone rubbed with garlic and rosemary and basted with olive oil, presents an outstanding companion to Marsiliana's Maremma. Wild Boar in almost any fashion provides another traditional pairing with this wine. At a recent tasting we especially enjoyed a delicious Mushroom and Wild Boar Sausage Ravioli with red wine braised figs and Ricotta cheese. Seared Flank Steak prepared with honey lavender demi-glace and accompanied by sautéed kale and butternut squash au gratin makes our mouths water with this wine, too. Rabbit stuffed with a truffle infused wild rice provides an excellent complement, too. For those with little acumen in the kitchen, we suggest pairing the 2006 Marsiliana Maremma with a plate of soft and semi-hard un-crusted cheeses from around the world. Provolone, Gouda, Munster, and Port Salut are just a few superb cheeses worthy of Duccio Corsini's Super Tuscan Maremma, though many other gourmet cheeses will likely provide equal pleasure. Buon Appetito!
"I try to create sophisticated wines, in which elegance prevails over excessive structure; wines that are capable of subtly seducing, just like a landscape, or an encounter between two people who use every nuance to communicate; wines that welcome good food and good company. Simply, wines to be enjoyed." -Duccio Corsini
For eight centuries the Corsini family, whose members include popes, statesmen, and saints, have played an integral role in shaping the agricultural, economic, political, and social landscape of Italy. In addition, they have been the owners and guardians of some of Tuscany's grandest and most respected estates, including Tenuta Marsiliana, which has been in Corsini hands since 1759. Today at Tenuta Marsiliana, Duccio Corsini oversees the crafting of two special wines: Birillo and Marsiliana. Both are made exclusively from Bordeaux varietals, which have been cultivated in and around Maremma for centuries.
La Marsiliana is Duccio Corsini's most renowned offering, an age worthy Tuscan red made to grace the finest of tables. It emanates from a tiny four hectare parcel (just under ten acres) of Cabernet Sauvignon, Merlot, and Petit Verdot, and it rightly takes a place among the hierarchy of Super Tuscan reds. Birillo, a delicious but lighter blend of Cabernet Sauvignon and Merlot, is meant for nearer term consumption.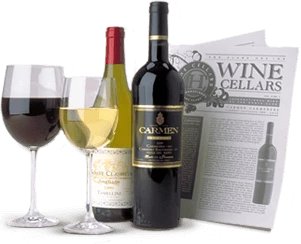 Enjoy Limited Production Estate
Bottled Wines
Discover limited production estate bottled wines such as Vergenoegd's internationally
acclaimed 2005 Cabernet Sauvignon, imported exclusively for our members.
DISCOVER OUR FOUR CLUBS