Juicy and supple, the 2004 Tenuta Le Calcinaie Colli Senesi Chianti ranks as one of the most forward and disarming of all Chiantis, a novelty for a wine known more for its elegance and style than its warmth and charm. Le Calcinaie's 2004 Colli Senesi is already quite forward and aromatic; its ripe friendly scents recall a visit to the strawberry patch or a walk through northern woodlands. Pure and very easy to drink, Simone's Chianti possesses a light dollop of fruit, just a hint of spice, and a friendly finish. This is the kind of Chianti one always hopes to encounter in a good Tuscan trattoria. Unquestionably, Tenuta Le Calcinaie's Colli Senesi brings out the most amicable and engaging side of Sangiovese, Chianti's primary grape variety. We highly recommend consuming this wine at cool room temperature (about 65º F) in order to capture all of its charm.
The Tuscan table contains many culinary delights – simple flavorful dishes that beg for a wine like Tenuta Le Calcinaie's 2004 Colli Senesi Chianti. Sienese crepes, filled with smoked Tuscan meats and pecorino cheese; fennel pie with melted cheese and vegetables; or homemade semolina pasta with a mushroom or truffle sauce are just a few such Tuscan treats that provide first rate accompaniments to Simone Santini's Chianti. Ribollita, Tuscany's quintessential country cooking, which consists mainly of bread and vegetables, and what ever else is left in the kitchen from the night before, is another excellent choice with Le Calcinaie. In fact, almost any fresh pasta, light meat, or intriguing bean dish will prove a successful partner to the Great Santini's best kept secret – at least until now. Enjoy!
The tiny Tenuta Le Calcinaie estate is situated within the confines of San Gimignano, the medieval Tuscan hill town, made famous by its many towers. Considering the location and attention to quality at Le Calcinaie, this little jewel of a property has become quite renowned for its rare and exceptional Vernaccia di San Gimignano for which the town is justly famous. Considering the dearth of fine Tuscan whites, it should come then as no surprise that Tenuta Le Calcinaie has been so keenly identified with Tuscany's finest white wine. However, what the world has not yet discovered is just how wonderful this brilliant estate's red wines are, most notably Le Calcinaie's Colli Senesi Chianti and its proprietary Super Tuscan red Teodoro. Behind the success of Tenuta Le Calcinaie is the affable and witty Simone Santini, known near and far as the Great Santini! Simone is gifted with an archetypal Tuscan sense of humor; he possesses a vibrant wit and an acute sense of irony. He is also a very fine winemaker. His Vernaccia di San Gimignano is classically wrought, exceptionally focused, and bursting with flavor. Meanwhile, the true irony lies in Simone's reds; they are as magnificent as his whites and, perhaps, even better. Yet, few people outside of San Gimignano have ever tasted one of his delicious red wines. Come to think of it, how many people outside of Tuscany have ever tasted Colli Senesi Chianti, the friendliest of all Tuscan reds in the hands of a fine craftsman the likes of the Great Santini?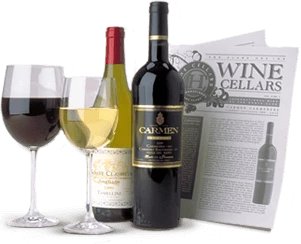 Enjoy Limited Production Estate
Bottled Wines
Discover limited production estate bottled wines such as Vergenoegd's internationally
acclaimed 2005 Cabernet Sauvignon, imported exclusively for our members.
DISCOVER OUR FOUR CLUBS