Tenuta Capofaro's 2020 Didyme Malvasia captures the beauty of Sandri's indigenous Malvasia di Lipari with delicate scents of apricot and elderflower and a salty freshness born of the nearby sea. Pale yellow in color and endowed with superb texture, this medium-bodied white wine graces the palate with savory fruit tones: ripe apricot, pear, and pink grapefruit infused with the islands' volcanic minerality and a splash of sea spray provide palate pleasing pleasure. Dry and fresh on the finish, Tenuta Capofaro's 2020 Didyme Malvasia is a joy to drink now, though Malvasia is like a butterfly: it has the ability to mature, morphing into an entirely different entity, yet gorgeous to behold. Serve chilled to 40°-45° F. Anticipated maturity: 2022-2024. Enjoy!
Fish figures heavily in the Sicilian diet and there is no better wine to pair with the island's traditional seafood specialties than Tenuta Capofaro's 2020 Didyme Malvasia. Pan-seared Rockfish, grilled octopus, Penne with Calamari and Malvasia, and crab cake beignets are just a few seafood specialties to serve with Tenuta Capofaro's 2020 Didyme Malvasia. Seafood salads provide additional flavorful accompaniments to this distinctive Sicilian specialty. Poultry and vegetable pâtés make fine accompaniments, too. Chicken with black olives and capers also provides a tasty pairing. Pasta Primavera wins two thumbs up as do most pasta dishes with cheese and vegetables that are not steeped in tomato sauce. The 2020 Tenuta Capofaro Didyme Malvasia also makes an interesting palate pleasing aperitif. Buon Appetito!
Sicily is a large and varied land that wears as many faces as a circus harlequin. Its land and people are as diverse as any earthly realm. At the crossroads of Europe, Africa, and the Middle East, Sicily possesses a history and personality all its own. The Greeks called Sicily and nearby southern Italy Enotria, land of the vine, a description that is as apt today as it was 2,800 years ago. However, like its geography and people, viticulture in Sicily remains an immensely varied proposition.
In terms of wine, Sicily is, indeed, more a continent than an island. Its sheer variety of grapes, autochonous and otherwise, set it apart from the rest of Europe. In addition, due to the proliferation of mountains, the surrounding sea, Sirocco winds, and extreme temperatures, more micro-climates and distinctive terroir exist in Sicily than in any other single wine producing region on earth. Additionally, the island's soils are a countless array of colors and textures that are capable of imparting infinite variations to the wines they render.
Given the wide array of soils and climates that exist in Sicily, both red and white grape varieties thrive in this ancient land. Indigenous red varietals such as Nero d'Avola and Malvasia Nera produce most of the island's full-bodied red wines that are the match for any fine Syrah. Syrah, too, is well-suited to Sicily's hot, dry summers and is gaining in popularity. However, the most pleasant surprise may be just how good the still, dry white wines of the island are, especially those made from the native Insolia (also called Inzolia or Anzolia) and Malvasia. Marsala, the island's most famous wine, is making a comeback as well. Produced in both dry and sweet styles, Marsala is a fortified wine made on the western side of Sicily from the indigenous Grillo grape and other assorted varietals. Marsala is best known for the flavor it adds to chicken or veal dishes that bear its name, but fine renditions of Marsala constitute some of the world's greatest dessert wines.
Today, as always, Sicily remains an exciting and passionate place, savagely beautiful and always full of surprises. From a wine grower's perspective, it remains akin to an artist's palette or a blank canvas. Both canvas and palette speak forever of infinite potential and variety; they whisper the promise of greatness, and increasingly give birth to masterpieces for which a thirsty world is grateful.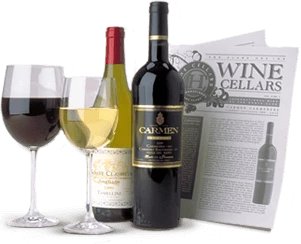 Enjoy Limited Production Estate
Bottled Wines
Discover limited production estate bottled wines such as Vergenoegd's internationally
acclaimed 2005 Cabernet Sauvignon, imported exclusively for our members.
DISCOVER OUR FOUR CLUBS