The 2001 Tamellini Le Bine Soave Classico is everything good Soave ought to be, and more. Slightly golden in color, the Le Bine reminds us of sunshine in a glass, and from the first draught of this elegant, immensely flavorful wine, one can see why it has been likened to Pouilly-Fuissé. The scents and savors of ripe creamy fruit, lemon zest, a hint of almond, and pinpoint minerality all add up to making this aristocratic offering from Tamellini easy and intriguing to drink. In fact, the 2001 Le Bine was so refreshing and beguiling that the tasting panel was clamoring for more, long after the last drops had been squeezed from the bottles. And without the heavy layer of oak that normally obscures the flavor and very soul of many New World white wines, the Le Bine stands out for its purity and breed. We suggest serving the Tamellini Le Bine moderately chilled (40º-45º F), and often.
The 2001 Tamellini Le Bine Soave Classico is the wine to serve to people you like or you want to like you. It provides the ultimate opening act to an elegant dinner party or casual get together. But whether you serve Le Bine to casual company or a special group of friends, we suggest that it be served as an aperitif or in the company of light, well-prepared morsels; it would be a shame to overshadow all of the charm, freshness, and personality of this medium-bodied wine by pairing it to obtrusive fare. Fish, shrimp, light hors d'oeuvres, smoked salmon with capers, and caviar provide some of our favorite accompaniments to the Tamellini Le Bine. A mild goat cheese offers another winning combination that we endorse. Enjoy!
Tamellini is one of less than two-dozen estate bottled growers and producers of Soave. Shocking, but true, especially when one considers that Soave is the largest white wine-producing DOC in Italy. Most Soave growers provide grapes or bulk juice to be blended into any number of the pleasant but innocuous brands of Soave that a few large commercial ventures, whose only current claim to fame is that they have become household names, churn out by the truckload. For many years Gaetano Tamellini was one of those nameless, faceless suppliers, whose superlative Garganega and Trebbiano grapes were sold to the massive Soave Cooperative to be ground down into the lowest common denominator, despite the consistent, superlative quality of his fruit from two prime hillside sites. With the assistance of Paolo Caciorgna, one of Italy's most accomplished white wine makers, Gaetano and his brother Pio Francesco took a leap of faith in 1998 and began estate bottling their Soave, including two exquisite single vineyard offerings, Anguane and Le Bine. Each expresses the blithe, elegant spirit of true Soave in its own unique way. These are the kinds of wines that originally made Soave famous years ago when writers and cognoscenti alike would sing the praises of the Veneto's most enjoyable white wine. Anguane appears to be the more feminine and delicate of the two, while Le Bine possesses richer fruit and a greater strength of flavor that has earned it the title of the Pouilly- Fuissé of Soave no mean feat. In an ideal world, one has a case of each in the cellar and a bottle or two in the cooler; Tamellini's Soaves are truly nothing short of enticing, which makes us wonder why dedicated Soave growers don' take the hint and start putting out some real Soave.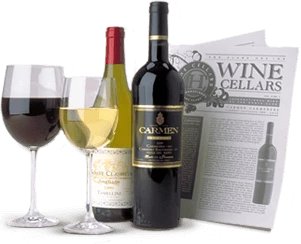 Enjoy Limited Production Estate
Bottled Wines
Discover limited production estate bottled wines such as Vergenoegd's internationally
acclaimed 2005 Cabernet Sauvignon, imported exclusively for our members.
DISCOVER OUR FOUR CLUBS